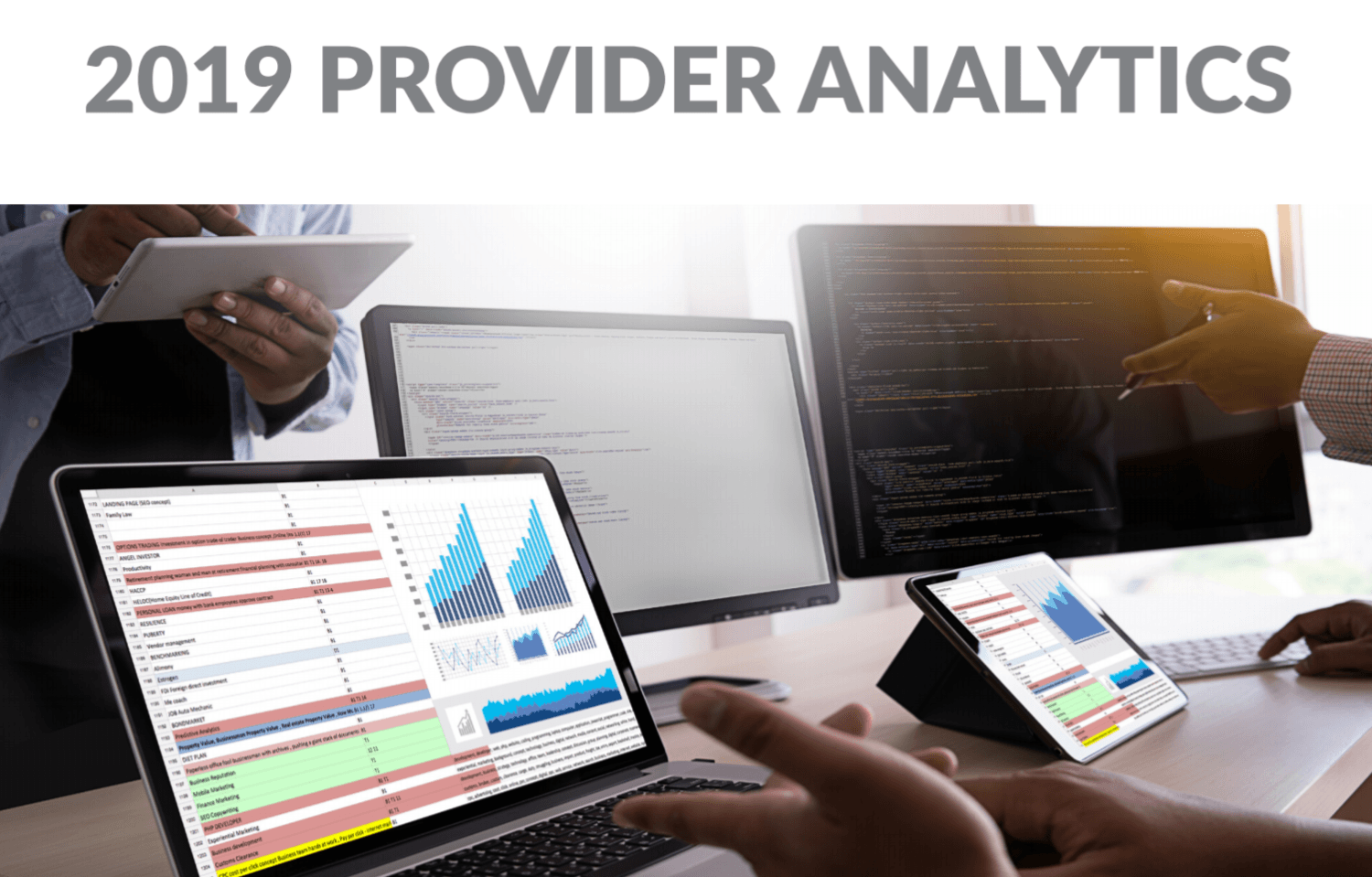 Vendor analytics and reporting solutions are rapidly evolving to serve provider needs for enterprise performance management (EPM), according to Chilmark's latest report. While value-based care (VBC) initiatives remain the driving business reason for analytics adoption, leading healthcare organizations (HCOs) today recognize the need to expand the use these tools to achieve performance improvements in a variety of clinical, financial, and operational use cases.
Chilmark Research's latest report, 2019 Healthcare Provider Analytics Market Trends Report, uncovered a market wherein today's leading analytics applications are beginning to address broader needs than just VBC. This is causing greater separation in the relative capabilities of vendor solutions in the market today, with some vendors still primarily focused on VBC and care management needs, while others move to address EPM. 
Vendors profiled in the report include: Allscripts, Arcadia, athenahealth, CareEvolution, Cerner, Change Healthcare, eClinicalWorks, Epic, Forward Health Group, Health Catalyst, HealthEC, IBM Watson Health, Innovaccer, Lightbeam, MedeAnalytics, Medecision, MEDITECH, NextGen,Optum, Philips, SCIO Health Analytics, SpectraMedix, and SPH Analytics.
Report Key Takeaways
Analytics Across the Continuum
– Providers in acute and ambulatory settings have many choices for analytics across multiple use cases. Providers in post-acute settings and others with low-EHR penetration have relatively fewer choices.
– EHR vendors are often, but not always, providers' first choice for analytics and reporting often due to perceived workflow integration and existing relationship. But independent vendors – not owned by an
– EHR vendor or a payer – are a strong alternative to EHR companies. These best-of-breed vendors often provide unique, highly focused solutions. In all applications, vendors provide ways to improve costs, quality, and utilization performance.
Traditional and Advanced Analytics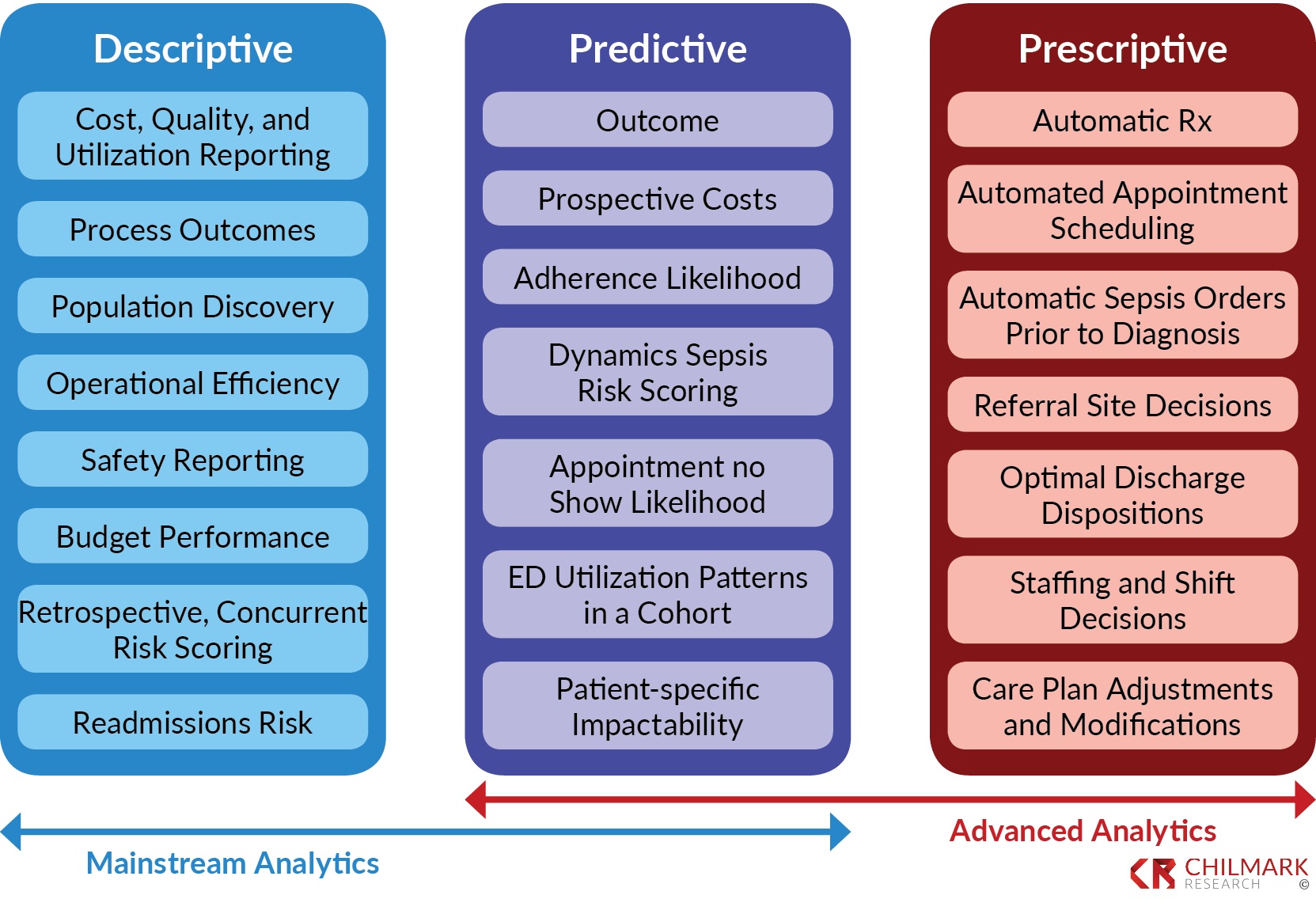 – Most HCOs have experience with mainstream analytics – applications that characterize and summarize current performance. While the underlying technology and general approach is well-established, mainstream analytics has yet to supply a robust predictive insight and prescriptive guidance; for that, HCOs are looking at advanced analytics.
– Advanced analytics consists of interrelated technologies, the most common of which are artificial intelligence/machine learning, natural language processing (NLP) and extraction, and big data technologies. These technologies and techniques, while not widely deployed in healthcare, are all used to varying degrees by most of the vendors profiled in this report. The expectation is that as these technologies mature, advanced analytics will offer more accurate predictive and prescriptive capabilities.
– Realizing the full value of these tools remains a challenge, however, as HCOs find that current analytics tools are excellent at identifying areas for improvement, but still rely on provider leadership to build support for organizational and process change.