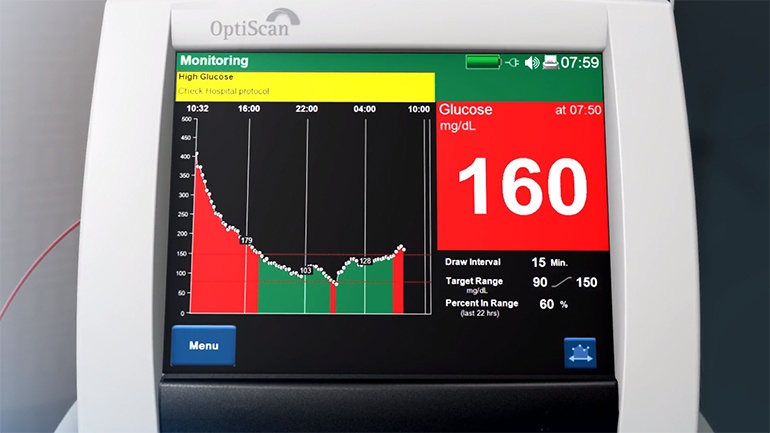 OptiScan Biomedical, a developer of an innovative continuous monitoring system for use in the surgical intensive care unit (SICU) has raised $20 million in Series E funding. The company plans to use the funding to support the commercialization of the company's lead product, the OptiScanner 5000, in the United States. OptiScan will also use a portion of the funding to continue the expansion of the company's OptiScanner platform to monitor additional analytes of interest for critically ill patients.
Currently, many hospitals have difficulty obtaining baseline and follow-up lactate readings which are essential for meeting sepsis treatment guidelines.  This is largely due to current labor-intensive monitoring technologies that require special handling of samples at central laboratories. Trending lactate levels in critically ill patients can serve as an important tool for the early diagnosis of tissue hypoperfusion and sepsis, as well as a guide for resuscitation.  However, access to trending lactate levels requires automated bedside monitoring with readings available at least hourly or more frequently.
"The clear correlation between lactate and mortality is broadly understood in the care of patients with sepsis, as well as those critically ill patients at risk for developing sepsis.  However, current lactate monitoring practices and technologies limit a physician's access to timely lactate readings. Presently, it is virtually impossible to access a series of trending lactate measures which can be used as a tool for the early diagnosis of tissue hypoperfusion and an endpoint for resuscitation," said Dr. Bochicchio.  "With the OptiScanner platform, we see for the first time that an automated, bedside monitoring technology can meet physicians' needs in this area, providing timely, trending lactate information right at the patient's bedside without requiring additional workload for the nursing staff."
OptiScanner 5000: Beside Blood Monitor for ICU
The OptiScanner is the first-of-its-kind automated, bedside blood monitor for use in the intensive care unit.  The OptiScanner 5000 measures glucose values directly from a micro-sample of blood using spectroscopy technology without the need for calibration, providing trending glucose data with updates every 15 minutes to help manage patients' glucose levels within a target range.  To support its U.S. commercialization efforts, OptiScan has initiated several post-market studies designed to further highlight the need for continuous glucose monitoring in the ICU setting, as well as the benefits delivered by the OptiScanner 5000 as compared to traditional manual monitoring technologies.  The company expects these studies to be completed in the coming months.
"This funding will allow OptiScan to strategically launch the OptiScanner 5000 in the United States.  In doing so, we will be able to provide both patients and healthcare providers in intensive care units across the country with the proven benefits of our plasma-based, continuous glucose monitoring technology.  At the same time, we will continue to advance our ongoing platform expansion efforts to incorporate monitoring of key additional analytes," said Cary G. Vance, chief executive officer of OptiScan. "We would like to express our gratitude to our investors whose continued support enables the important work we are undertaking in meeting the complex monitoring needs of critically ill patients."