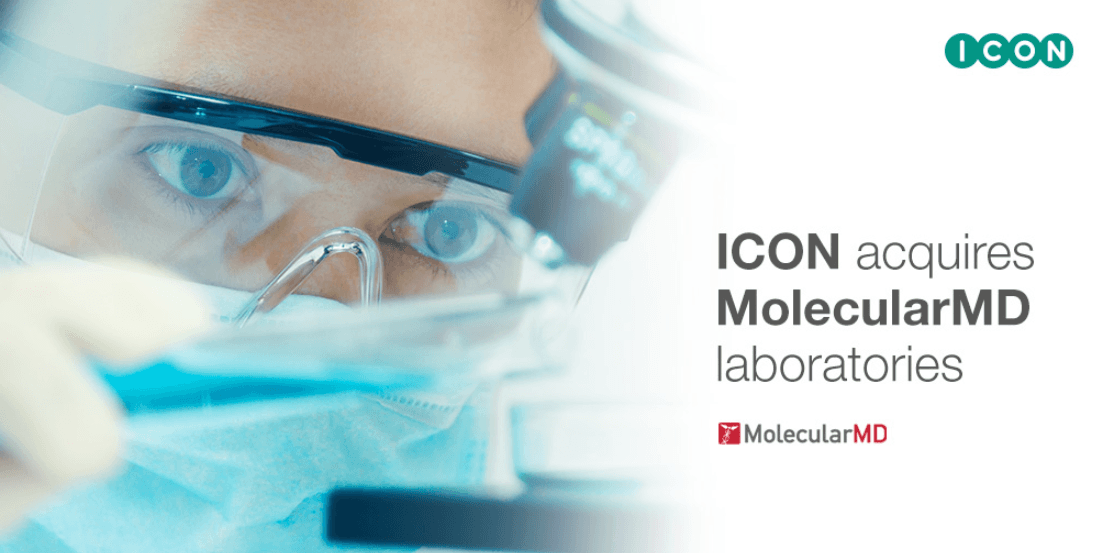 ICON, a global provider of drug development solutions and services has acquired MolecularMD, a molecular diagnostic specialty laboratory that enables the development and commercialization of precision medicines in oncology. The acquisition of MolecularMD's extensive scientific and clinical biomarker experience expands the ICON's capabilities in molecular diagnostic testing and also adds expanded testing platforms, including next-generation sequencing and immunohistochemistry, to ICON's laboratory service offering.
Founded in 2005, MolecularMD integrates gold standard and innovative platform technologies with custom clinical assay design and validation to accelerate all phases of clinical development, including FDA approval and commercialization of in vitro companion diagnostic tests for novel anti-cancer agents. MolecularMD is the exclusive manufacturer of the MRDx® BCR-ABL Test.
ICON/MolecularMD Acquisition Impact
MolecularMD's specialty central laboratory offering and associated client base extend ICON's reach into the support of precision medicine programs across all phases of drug – diagnostic co-development. For MolecularMD, the acquisition will provide their client base access to a comprehensive range of services offered globally to support drug development programs. For over a decade, MolecularMD has built capabilities and experience in drug-diagnostic co-development and is highly respected within the industry and with regulatory agencies.
"We remain committed to providing agile clinical trial assay development across technology platforms and extending all the way through regulatory approval and commercialisation of companion diagnostics," commented Dan Snyder, President, MolecularMD. "The integration with ICON's full spectrum of drug development services across all therapeutic areas and global reach will be recognised as very high value to our pharmaceutical and biotechnology clients."
Financial details of the acquisition were not disclosed.