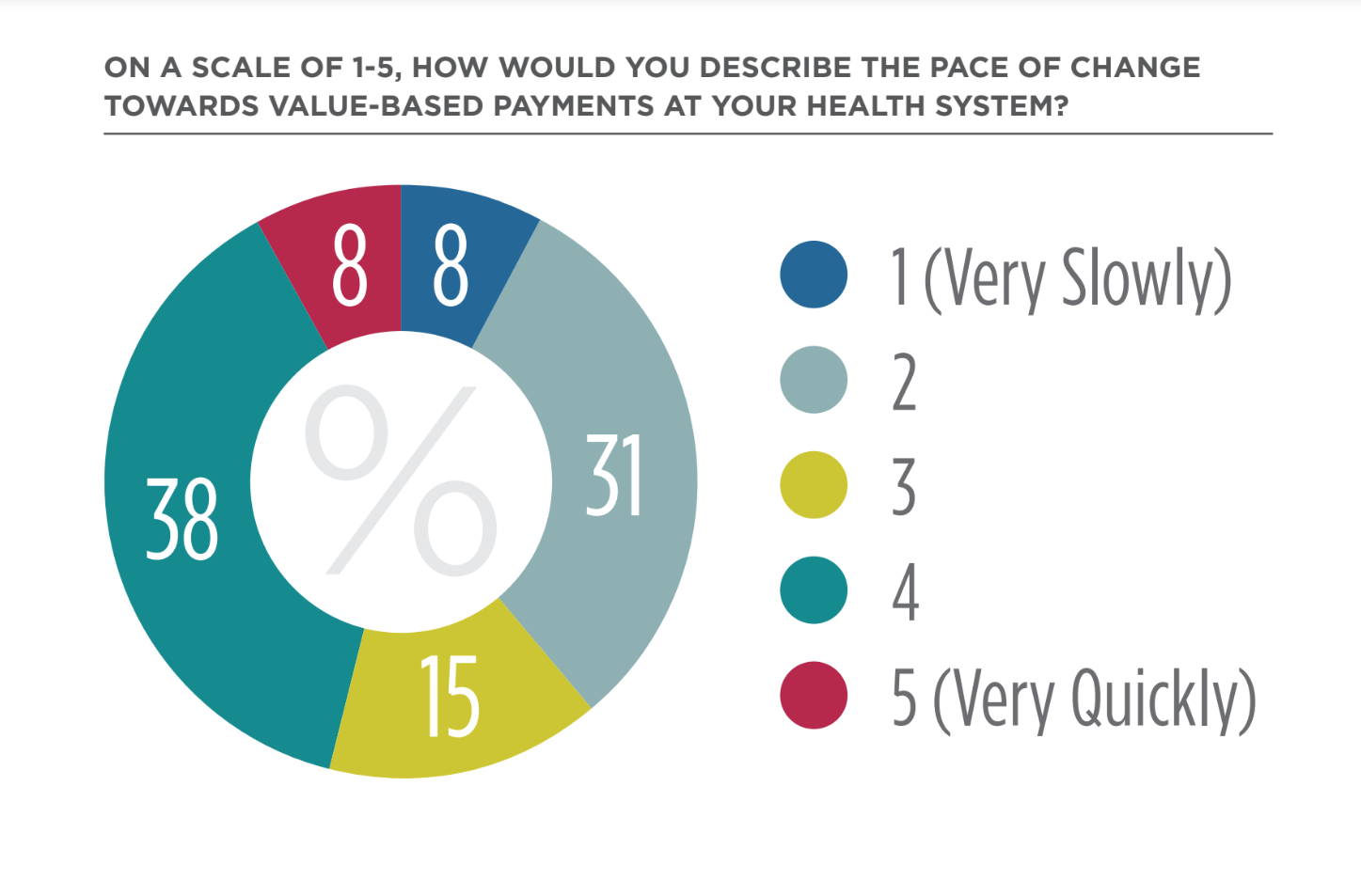 According to a recent Lumeris-sponsored survey, forty-six percent of healthcare executives believe their organization's pace of change toward value-based payment is moving quickly or very quickly, up 14 points from Q2 2018. Additionally, sixty-two percent of health systems indicated that they plan to assume additional risk in the next 12 months.
Of these, ACOs (46%), Medicare Advantage (31%), and bundled payments (23%) were common methods for increased risk assumption. The Lumeris-sponsored survey confirms that fee-for-service payments still account for the majority of care delivery but payments are increasingly tied to value. 
Survey Background/Methodology
This survey of leading health systems was conducted by The Health Management Academy and sponsored by Lumeris. The responding C-suite executives represent health systems with median revenue of $3.8 billion and own or operate 172 hospitals with over 34,250 beds.
Here are four things to know about this report: 
1. Movement Towards Value-Based Care Remains Slow 
The movement toward value-based care at Leading Health Systems remains slow in Q3 2018, with value-based payments comprising 22% of care delivery. Fee-for-service payments still account for the majority (78%) of care delivery, though this percentage has decreased five percentage points over the last year. Health system executives expect modest growth in value-based care in the next year, projecting an average of 25% of care to be delivered through value-based payment arrangements by Q3 2019.
2. Value-based Metrics Tied to Compensation
Reflective of health systems' continued movement toward value-based payment models and to ensure alignment across the organization, most (81%) health systems have adjusted compensation structures to include value-based metrics for employees, including physicians, nurses, executive leadership, and/or C-suite executives. 
Most executives indicate value-based metrics are included in physician and leadership compensation plans, most often tied to the organization's incentive plan.
3. Prioritizing Consumer Loyalty
Health systems understand the total cost of care for Medicare patients, with 50% reporting that they understood the cost well or very well.
– Health systems indicated they best understand the cost of care Medicare patients in specific value-based payment arrangements (e.g., Medicare ACOs, Medicare Advantage)
– Cost of care for other payers, such as Medicaid and private commercial payers, were more opaque
Almost all health systems have plans in place to prepare for and evaluate the impact of proposed policies that would cut payment rates to outpatient hospital departments to 40% of current rates, as a broader push towards site neutrality. Most health systems intend to move away from hospital-based outpatient care and focus on providing care in lower cost settings.
"Looking at our business model, I think this is the right thing. Site neutrality changes are actually a good thing for healthcare—as both a patient and a consumer. One of our top priorities is to move to full risk by 2021." (CSO)