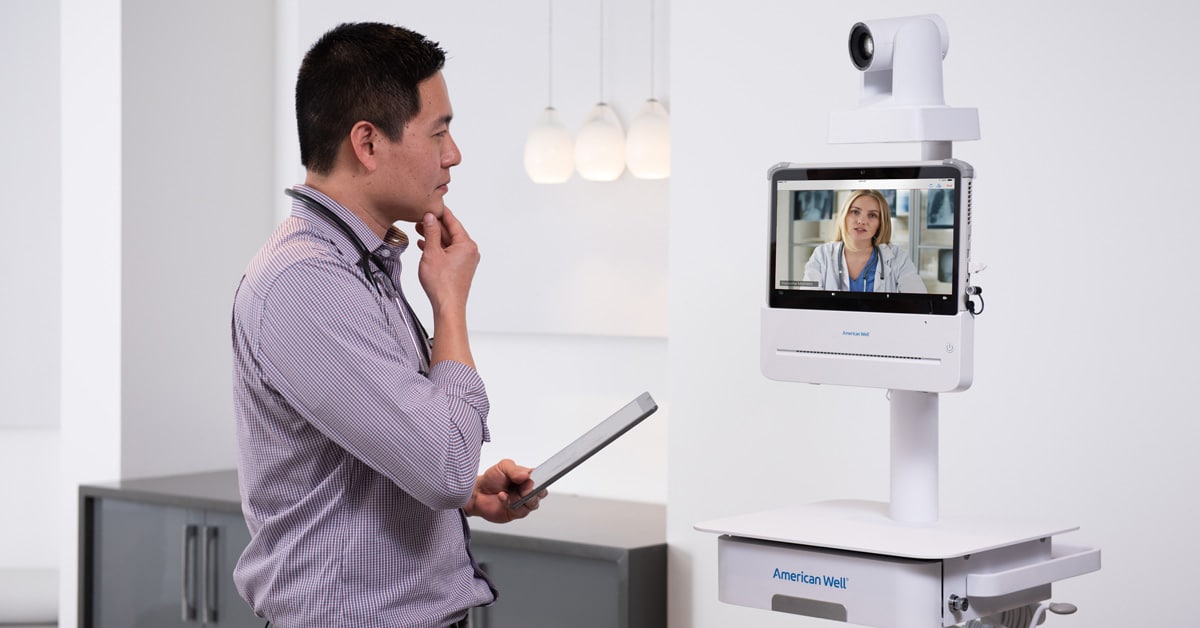 Telehealth platform American Well, today announced the launch of American Well 250 Cart, an FDA-cleared multi-functional telehealth cart that will enable health systems to digitally load-balance clinical services for on-demand and scheduled visits, leveraging both in-system and cloud-network providers and specialists. The 250 cart joins the Cisco-Based 760 Cart, which American Well launched In January, also focused on acute care use cases.
American Well 250 Telemedicine Cart Overview
The American Well 250 Telemedicine Cart is an FDA Class I registered medical device that enables access to providers either via the Cloud, beyond a health system's current network, or the health system's own providers. Clinicians can start a telehealth consult with one click and integrate peripheral images seamlessly into the telehealth consult. The pan-tilt-zoom camera option on the 250 cart delivers optimal conditions for remote providers to better diagnose and recommend treatment for the patient, and embedded remote monitoring tools ensure the cart is ready for use at all times.
"We have passed the point-of-no-return when it comes to health systems embracing telehealth as a core competency," said Roy Schoenberg MD, CEO of American Well. "Focus is quickly shifting from the thrill of instant video connectivity to the recognizing the operational efficiencies that come from the redistribution of clinical skills across buildings, facilities and networks. The new 250 cart allows for the consumption of a mix of services – from both clinicians inside the institution, as well as clinicians from affiliated networks across the country – at any point-of-care. This is the first time health systems will be able to digitally load-balance their clinical services, all through a single device."
Key use cases of the telehealth carts include:
– Behavioral Health. Patients receiving therapy at a local hospital can connect with a remote psychologist using the 250 cart. Patients and providers save hours of "windshield time" and more patients can be treated immediately, with less wait time.
– Emergency Department Triage. For non-acute visits to the ED, health systems can use the 250 cart to connect patients with a remote provider which saves the patient wait time and enables the hospital to better triage non-urgent visits and better manage patient volumes. An entire visit, from arrival to discharge, takes about a half hour—just a fraction of what is typically a much longer wait.
– School Health. The 250 cart provides on-demand or chronic care for school children, with the ability for the school nurse to staff the cart and specialized digital equipment – otoscopes, stethoscope – to connect with an experienced remote provider to treat everything from injuries and illnesses, to asthma and diabetes. Students benefit from better access to care and parents don't have to take time off work to take their children to the doctor.
– Skilled Nursing Facilities. Skilled Nursing Facilities can use the 250 cart to call in remote providers to treat seniors in their current surroundings, instead of moving them to the ED. The cart can be used for on-demand purposes, as well as for post-acute follow-up care, reducing readmission rates and transfer costs. Patient outcomes are also improved by leaving the senior in their familiar environment, sparing them the ordeal of a transfer.