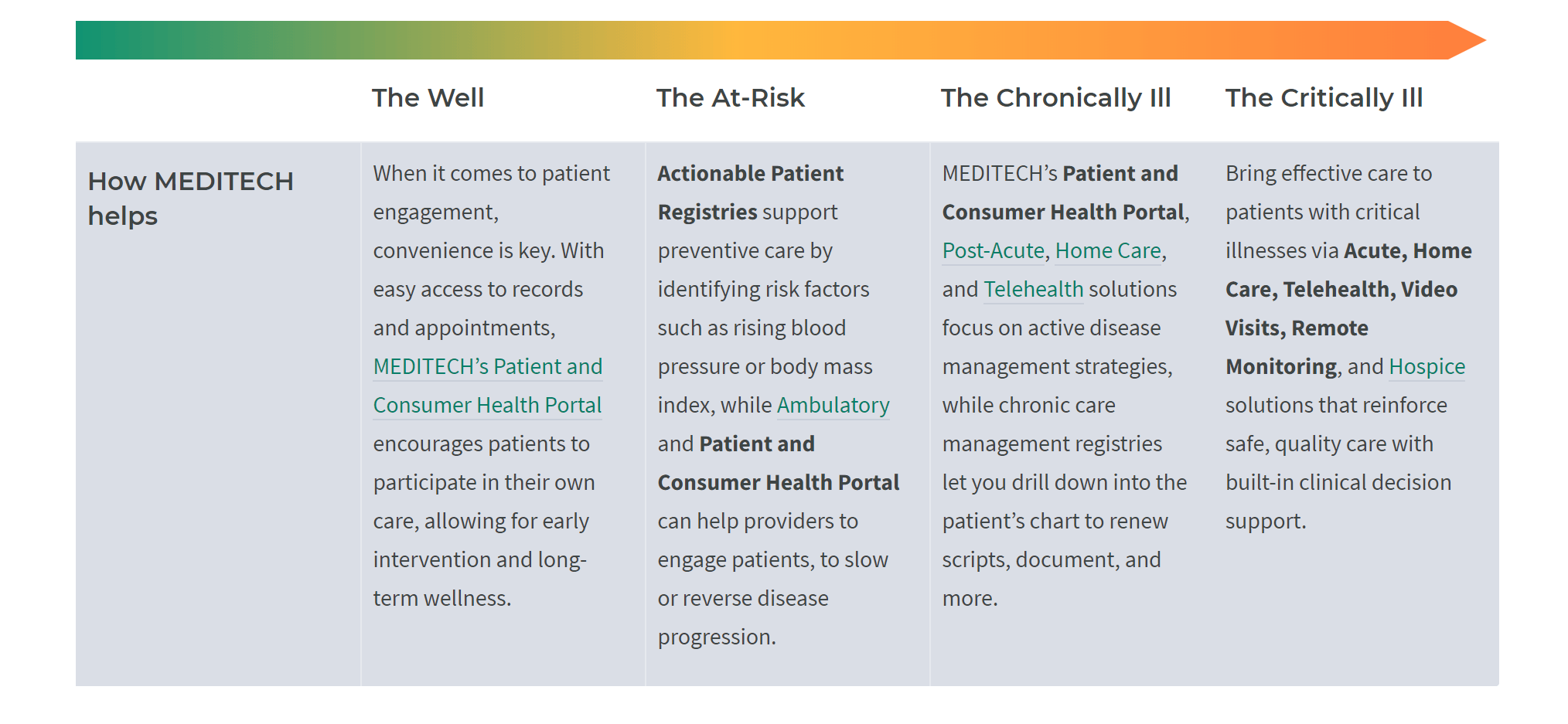 EHR vendor MEDITECH announced it is expanding its collaboration with Arcadia.io to enhance its Population Health offering within the clinically innovative Expanse solution. Within the progressive EHR, MEDITECH equips clinicians and care teams with Expanse Population Health, a population analytics database, coupled with an integrated collection of embedded clinical workflows, external data assets, and standardized toolkits, to aid organizations with population health initiatives. Expanse Population Health isn't a bolt-on solution. All the functionality you need to manage your populations is embedded directly into the MEDITECH EHR, making this one of MEDITECH's strongest pieces of integration to date.
Why Population Analytics Is Vital to Value-based Care Models
As the healthcare paradigm continues to shift from fee-for-service to value-based reimbursement models, organizations are realizing the need to have the necessary IT infrastructure in place — processes, workflows, programs, and services — to handle this transition. Expanse Population Health embeds Arcadia-supplied data elements and analytical insights, such as risk scores, attribution, and gaps in care, into care management workflows. MEDITECH, equipped with aggregated data not commonly available in EHRs today, gives customers the advanced tools and analytics needed to thrive under new care models.
Expanse Population Health Overview
Expanse Population Health features an embedded clinical workflow comprised of two major components: comprehensive population analytics and care management. From a single, integrated web platform, these two components work together, enabling care teams to reach across the spectrum of care to manage and understand populations in all settings. External data assets, comprised of claims and non-MEDITECH EHR data, enable clinicians to leverage key value-based care insights related to risk, care gaps, cost, and utilization.
"We are excited to broaden our population health management functionality by working with Arcadia and integrating valuable information derived from an aggregated data asset," says Scott Godbout, manager of population health at MEDITECH. "Expanse Population Health provides an opportunity to create a comprehensive, data-driven experience for those members of healthcare delivery organizations tasked with understanding trends and challenges within their patient populations."