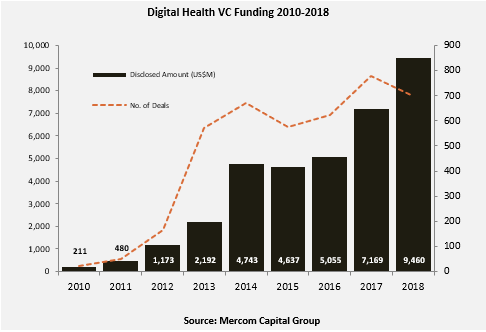 Global venture capital (VC) funding in digital health/health IT, including private equity and corporate venture capital, reach a record-breaking $9.5 billion in funding in 2019, according to market research firm Mercom Capital. The Q4 and Annual 2018 Digital Health (Healthcare IT) Funding and M&A Report also contains year-over-year (YoY) and quarter-over-quarter (QoQ) information on market activity displayed in easy-to-digest charts, graphs, and tables, as well as data-driven analysis 
The report reveals $9.5 billion in funding across 698 deals represents a 32 percent increase from the previous record set in 2017 of $7.2 billion in 778 deals. Total corporate funding for digital health companies – including debt and public market financing –  reached $13 billion in 2018, a 58 percent increase from the $8.2 billion raised in 2017.
In addition, the report reveals since 2010, digital health companies have received $35 billion in VC funding in over 4,000 deals and almost $12 billion in debt and public market financing (including IPOs), bringing the cumulative funding total for the sector to $47 billion.
Other key findings of the report include: 
– Consumer-centric companies brought in $5.2 billion in 447 deals in 2018, up 24 percent from $4.2 billion raised in 514 deals in 2017. Practice-centric companies raised close to $4.3 billion in 251 deals in 2018, a 43 percent increase compared to the $3 billion raised in 264 deals in 2017.
– The highest funded categories in 2018 included: Data Analytics with $2.1 billion, mHealth Apps with $1.3 billion, Telemedicine with $1.1 billion, Mobile Wireless Technology companies with $847 million, Clinical Decision Support with $714 million, and Wearable Sensors Technology companies with $703 million.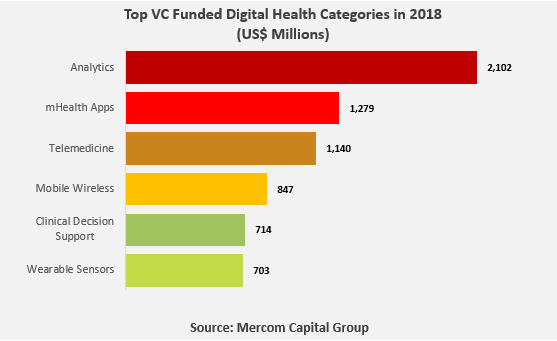 – There were 223 M&A transactions in 2018, compared to the 203 transactions in 2017. There were 18 companies that participated in multiple transactions in 2018.
– mHealth Apps were the most acquired category in 2018 with 32, followed by Data Analytics companies with 27 transactions, and companies offering Practice Management Solutions with 22 transactions.
– The top five disclosed M&A transactions in 2018 were: Veritas Capital and Elliott Management's acquisition of athenahealth for $5.5 billion, Platinum Equity's acquisition of LifeScan for $2.1 billion, Vista Equity Partners' acquisition of MINDBODY for $1.9 billion, Roche's acquisition of Flatiron Health for $1.9 billion, Inovalon's acquisition of ABILITY Network for $1.2 billion, Veritas Capital's acquisition of General Electric's (GE) Healthcare IT division for $1 billion, and 3M's acquisition of M*Modal for $1 billion.