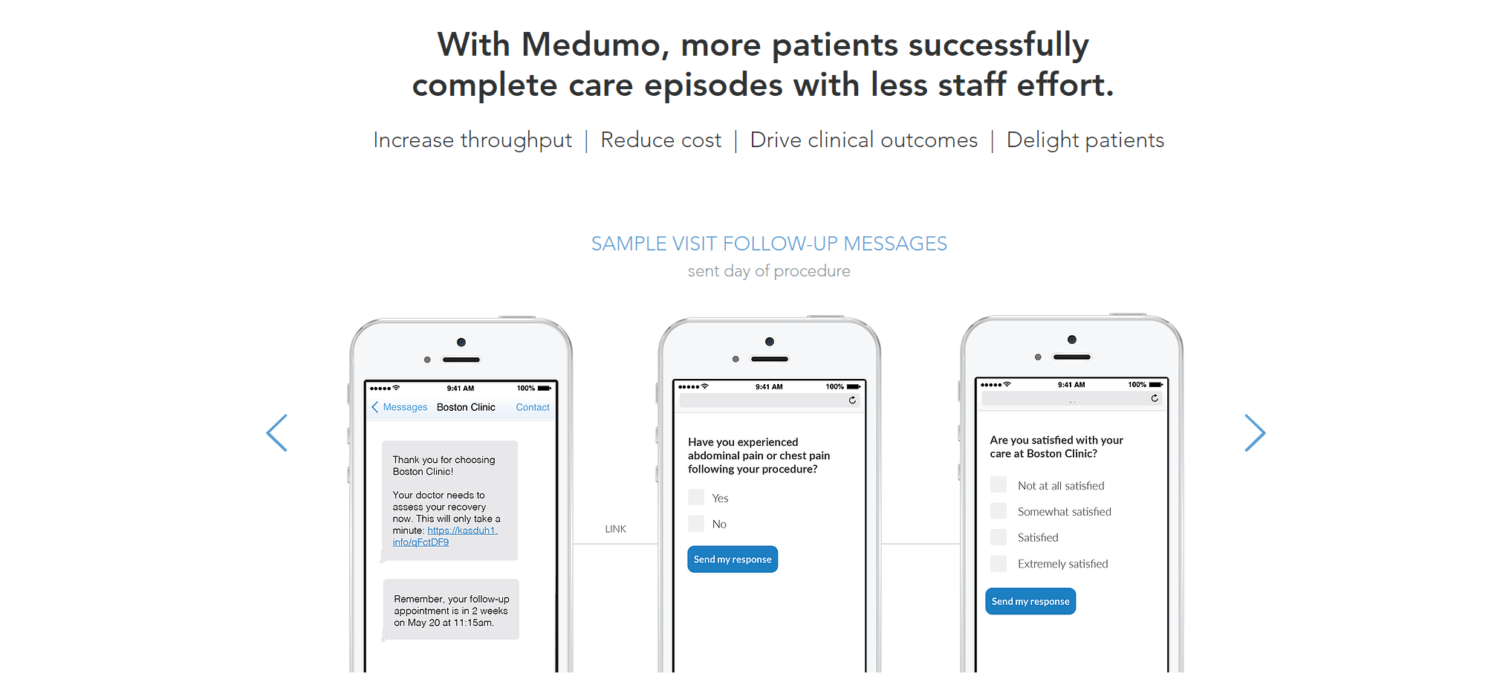 Pediatric hospital Boston Children's Hospital has partnered with Medumo, a patient navigation platform whose technology promotes better patient engagement and activation, to deliver a targeted pediatric care messaging service to improve access and patient experience.  Loss-to-follow-up missed appointments, and improper procedure preparation or discharge follow up leads to worse patient outcomes and is a multi-billion dollar a year problem to hospitals.
Exclusive License with DisCo
With this relationship, Medumo obtains an exclusive license of DisCo, an application developed by BCH to improve patient follow up care and prevent avoidable readmissions by enabling communication with specialists for patients and their families. DisCo addresses vulnerabilities encountered during care transitions and assists patients and their families in carrying out care instructions given to them at discharge to ensure continuity of care.
DisCo offers a proven model with a pediatric-centric design that works seamlessly in conjunction with Medumo's current patient navigation framework. "We are excited to incorporate Boston Children's technology and expertise into Medumo's core platform and offer specialized pediatric CareTours to hospitals and clinics across the country," said Adeel Yang, CEO, and Co-Founder of Medumo.
Partnership Benefits
This opportunity will bring together the pre-visit engagement functionality of Medumo's CareTour™ platform with DisCo's post-discharge technology, offering patients comprehensive support throughout their care journey, pre- and post-visit. As part of the partnership, BCH and Medumo will co-deploy the initial technology solution across three departments within Boston Children's Hospital: Gastroenterology, the Adolescent Medicine Long-Acting Reversible Contraception (LARC) program, and Bariatric Surgery.
By tracking patient behavior at scale, Medumo's technology predicts which patients are at higher risk of no-show/cancellation/poor preparation to alert clinicians and administrators for earlier intervention. Through the Medumo platform, pediatric hospitals throughout the world will now be able to access post-discharge patient engagement and communication features developed at Boston Children's Hospital.