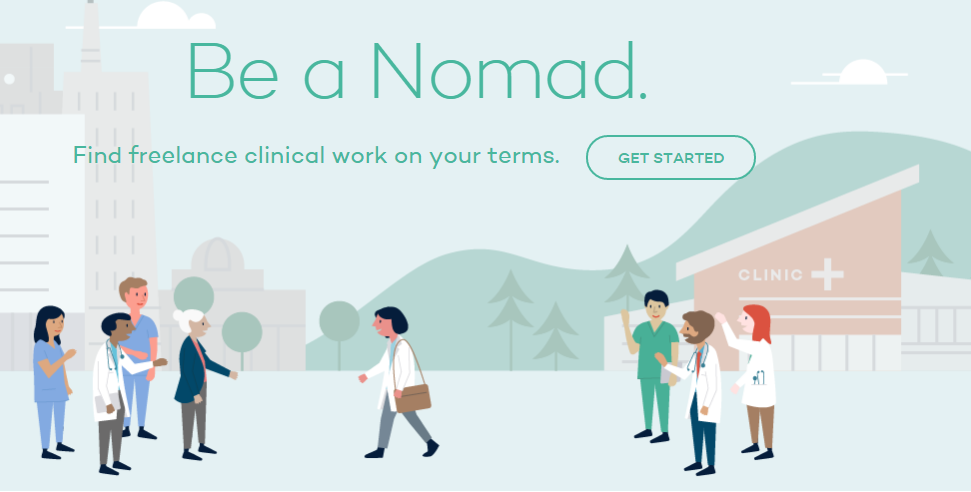 Nomad Health, the first online marketplace for healthcare jobs, today announced that they have received an investment from the California Health Care Foundation (CHCF). CHCF is providing funding through its Health Innovation Fund, which has previously invested in a number of breakthrough healthcare companies, including Quartet Health, Landmark Health, Omada Health, and Propeller Health. 
As a partner, CHCF will leverage its relationships with healthcare organizations across the state to help Nomad publicize and optimize its marketplace to meet the unique needs of the safety net. The company has built the first online marketplace that enables clinicians and the institutions that hire them to find each other and transact directly, without a recruitment broker.
The NYC-based startup will use the investment to bring its more efficient and affordable hiring solution to the safety net, where resource constrained providers to struggle to compete for talent. California is an important emerging market for Nomad and the company looks forward to utilizing the CHCF investment to improve the speed and efficiency of getting clinicians to the bedside in California. 
Physician access varies radically across California, and for Medi-Cal enrollees, in particular, finding a primary care provider or specialist can be especially difficult. Further complicating the issue, California's healthcare workforce is expected to shrink dramatically — one-third of the state's physicians and nurse practitioners are over 60 years old, exacerbating a looming workforce shortage. That's where Nomad comes in according to Sandra Hernández, MD and President & CEO of the California Health Care Foundation.
"Nomad Health's focus on swiftly bringing providers to areas in need aligns with CHCF's mission of making care more accessible and affordable to Californians. We look forward to collaborating with Nomad to accelerate the hiring process for hard-to-find physicians and nurses and to maximize the recruiting reach of California's safety-net organizations."
Founded in 2015 by a team of doctors and serial entrepreneur Kevin Ryan, Nomad Health built the first online marketplace where clinicians and medical employers can directly connect for healthcare jobs, from travel nursing to doctor jobs including locum tenens, permanent, and telehealth. The company's aim is to reduce as much friction as possible, so clinicians can spend less time in the recruiting process and more time doing the work they do best.