Change Healthcare today announced that it is collaborating with Health Fidelity to offer a risk adjustment solution that embeds natural language processing (NLP) and machine learning technology into its risk adjustment coding offering to help Medicare Advantage, ACA commercial, and Medicaid payers increase claim accuracy and better address compliance obligations.
How AI Can Transform Risk Adjustment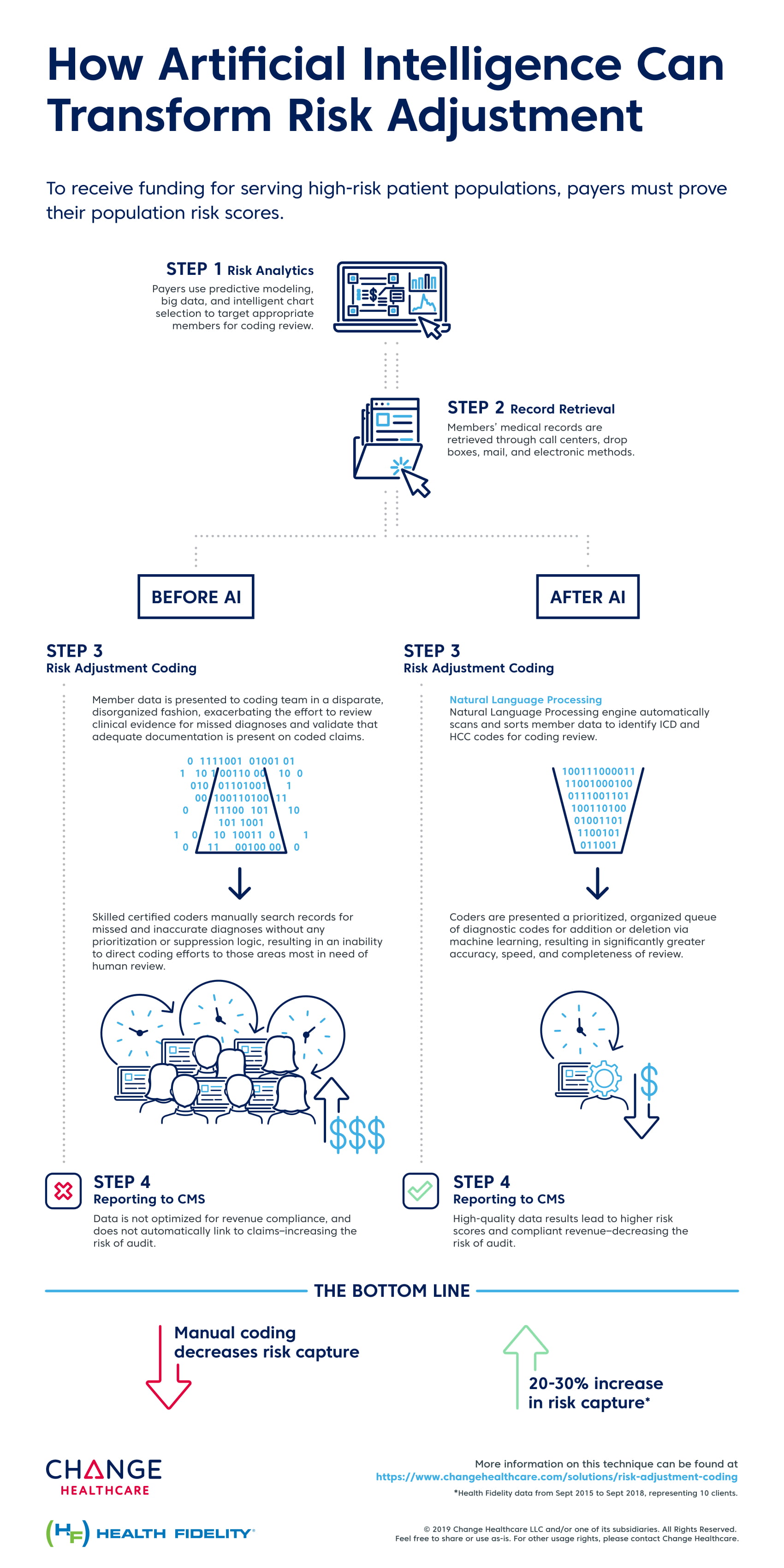 In today's value-based environment, health plans are under mounting pressure to submit well-supported codes, and the cost of non-compliance can be substantial. .Risk adjustment coding hasn't seen a technical innovation in a generation. It demands that tons of medical records are analyzed and there is no better way to do it than by using AI to verify the coding. By leveraging Health Fidelity's NLP technology, Change Healthcare brings AI to one of the most labor intensive and error-prone processes. Without increases administrative overhead, payers will be able to improve coding accuracy and compliance in ways not possible before.
The combined Change Healthcare–Health Fidelity offering represents a single enterprise solution covering analytics (identifying which medical charts to examine for which patients), chart retrieval, coding, and submission. The application of NLP technology during the coding phase provides greater accuracy, which in turn translates to better compliance and more precise reimbursement.
"Risk adjustment requires a high level of clinical data acquisition and careful analysis of millions of medical records to assign the proper diagnosis code to claims," said Doug Duskin, senior vice president, and general manager, Clinical Review, Change Healthcare. "Health Fidelity's NLP engine has demonstrated very high sensitivity in identifying ICD and HCC codes, enabling their clients to realize a 20-30% increase in risk capture. This added capability is exciting as we expect it will lead to better gap closure and improved quality of care and outcomes for members."