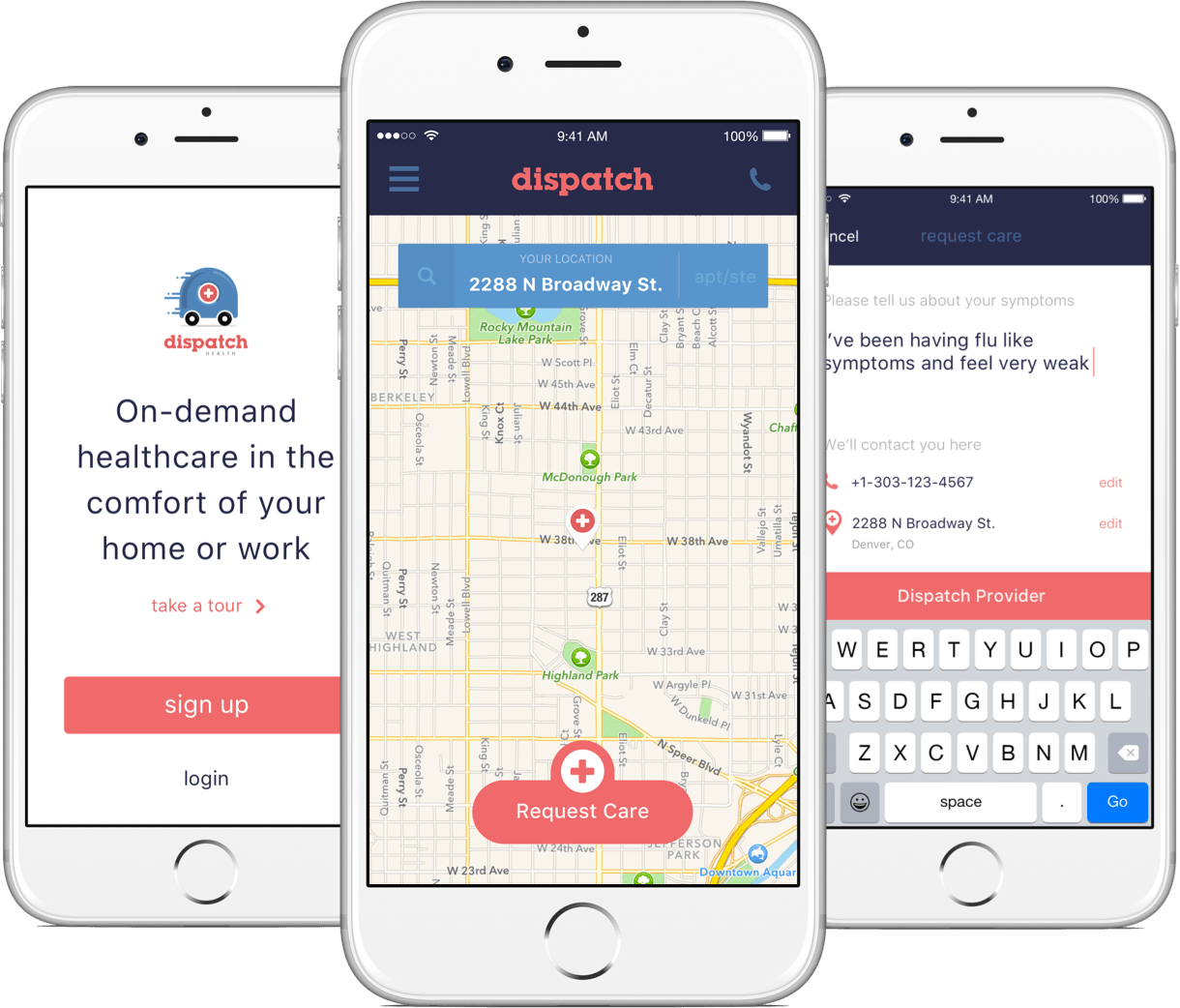 DispatchHealth, a company bringing on-demand urgent care directly to patients' homes, today announced a nationwide expansion and partnerships with numerous healthcare companies. These partnerships and new markets include: Baystate Health in Springfield, Massachusetts; Texas Health Resources in Dallas, Texas; and MultiCare in Tacoma, Washington.
With the expansion, DispatchHealth can deliver acute care to an additional 80,000 patients nationwide throughout 2019, saving an estimated $100 million in medical expenses. Whether a patient wakes up with the flu, a migraine, a UTI or pneumonia, they can contact DispatchHealth to have a medical team arrive in under two hours to treat them from the comfort of their home.
DispatchHealth Overview
DispatchHealth is redesigning the facility-based care model by bringing high-acuity care to those patients who typically struggle with access to care in their time of need. DispatchHealth teams arrive with the ability to treat common to complex clinical problems, such as pneumonia, chronic obstructive pulmonary disease, skin infections, minor trauma, UTIs, sprains, laceration repairs and much more. Services are conveniently requested via phone, web or the DispatchHealth mobile app.
Once a request is made and screened for medical appropriateness, a medical team is dispatched to the patient's home (or other location of need, such as at work or a senior living community) in under two hours. Each medical team consists of either a physician assistant or nurse practitioner, along with a medical technician, in addition to a board-certified and locally licensed emergency medicine-trained physician on-call. To ensure continuity of care, a detailed report is provided to each patient's care management staff, home health agency and/or primary care physician.
Pricing & Availability
DispatchHealth partners with most major insurance companies and handles billing directly with those companies, including Medicare, Medicaid, Medicare Advantage plans, Managed Medicaid plans, Anthem/Blue Cross Blue Shield, United Healthcare, Aetna, Humana, and Cigna. The medical cost for a visit with DispatchHealth is just a tenth of the cost of the average emergency room visit.
DispatchHealth is available seven days a week from 8:00 a.m. to 10:00 p.m. local time in most locations. The company serves 10 markets across the country and more than doubled its employee headcount in 2018 to over 200.
"It's surprising that up to 70 percent of people who visit the emergency room every day could be treated in a lower cost setting," said Dr. Mark Prather, CEO, and co-founder, DispatchHealth. "This staggering number contributes to the $18 billion spent annually on emergency care. In addition to the cost, emergency room visits can be inconvenient. 20 percent of patients return to the emergency room within 30 days of discharge for the same problem. Our model has proven that quality and affordable acute medical care can be delivered safely in our patients' home or location of need."