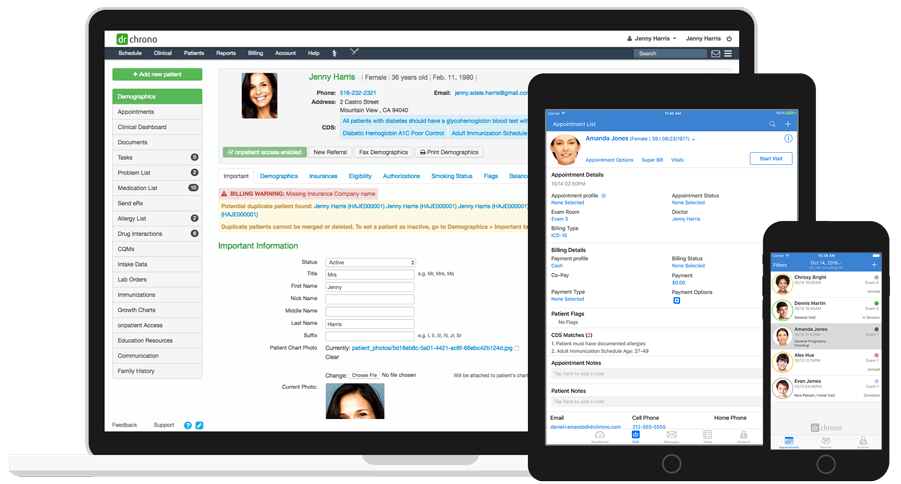 DrChrono Inc., the company enabling the medical practice of the future announced it has raised $10 million in funding from SQN Ventures to globally expand its business. Founded in 2009, DrChrono's platform comprehensive platform includes EHR, practice management, medical billing, revenue cycle management, and patient portal. DrChrono also built the one of the first iPad EHRs and the health platform was built for iPad, iPhone, Apple Watch and the web. 
DrChrono Overview
Since its inception, DrChrono has expanded its EHR features, capabilities and RCM services for larger healthcare organizations as well as its API to allow other developers to build on top of the DrChrono platform.  Hundreds of developers have integrated apps on the platform from startups like Eko Devices wearable digital stethoscope, to Health Gorilla, which allows practices to connect to any lab company. Larger companies like ZocDoc and DemandForce have also integrated with DrChrono to create a better provider experience.
DrChrono's Rapid Growth
The company plans to utilize the latest round of funding to accelerate growth, invest in the revenue cycle management offerings, expand engineering, sales, and support and grow market share further into large-scale practices. To date, the platform has booked over 41.6 million patient appointment visits and 13.2 million patients are under the care of DrChrono providers. Over 3 billion dollars in medical claims are being processed per year through the platform.
"The team at SQN Venture Partners are passionate entrepreneurs who immediately understood our long-term vision with DrChrono and how we are scaling and building a new operating system for healthcare," said Daniel Kivatinos, Co-Founder and COO of DrChrono.  "With our platform and services continuing to evolve and mature, we are poised to accelerate growth, bringing the platform to larger facilities and specialty practices.  With this additional funding from SQN, we will be hiring across departments, putting resources in place to ensure DrChrono brings the most innovative technology to clinical care teams."