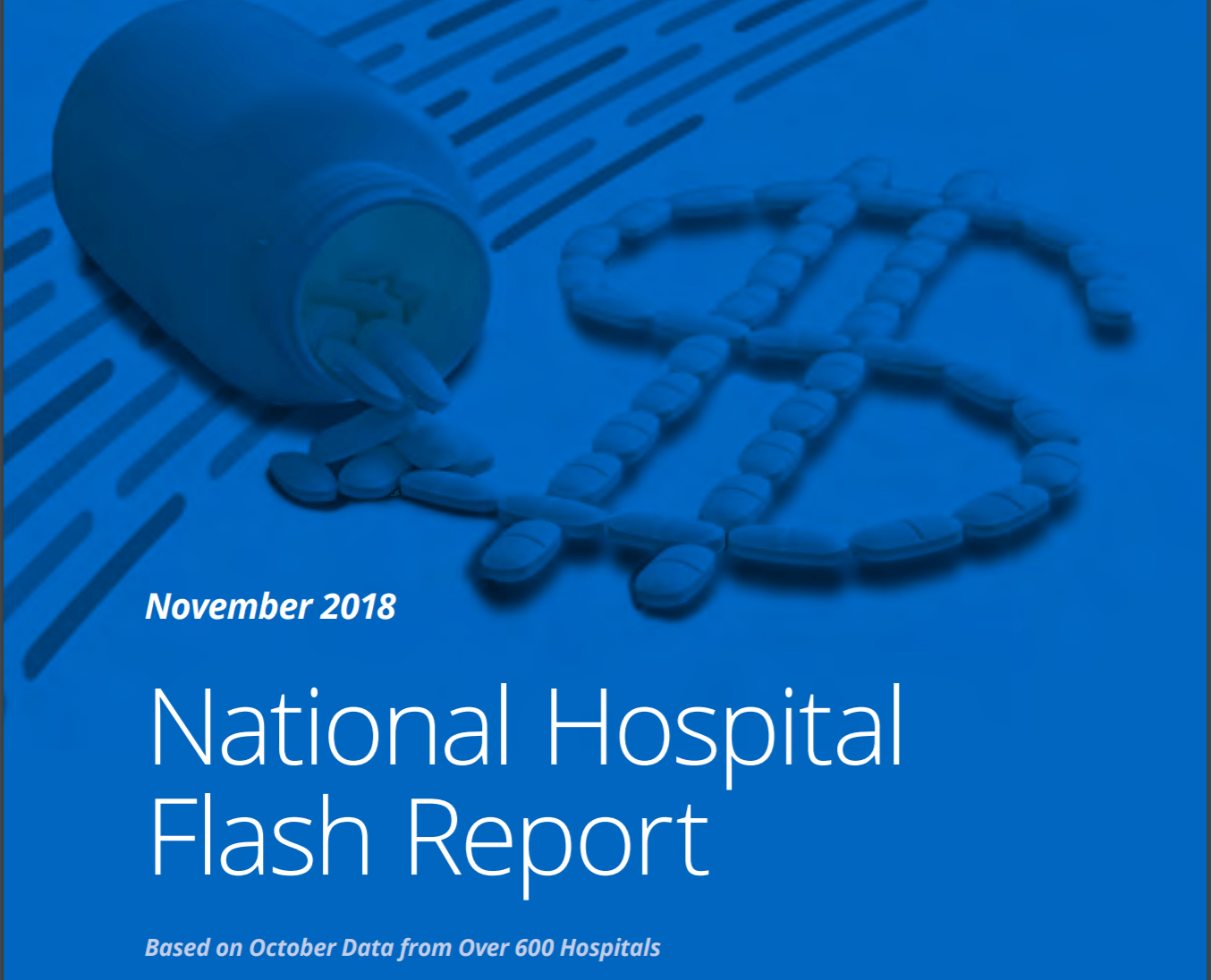 Rather unexpectedly, hospital results for October were quite favorable – with overall increased volume, revenue, and profitability compared with last year, according to the findings of Kaufman Hall's latest National Flash Report. The latest October report provides a comprehensive look at metrics from more than 600 hospitals reveals profitability metrics rose more than 225 basis points (bps) for both EBITDA and Operating Margin compared to last month, and more than 125 bps compared to 2017.
Contributing Factors to Increased Profitability for U.S. Hospitals
Contributing factors to increase profitability included improvements in adjusted discharges and surgical volumes, lengths of stay, revenues, bad debt, and charity care, and expense management. The Midwest region experienced the greatest profitability gains for the third consecutive month, with a 400 bps year-over-year increase in profitability. This solid performance was driven by modest revenue growth along with sound cost management.
Other key findings and trends from the report include:
· Hospital volumes rebounded significantly in October, contributing to positive financial performance. Moving forward, it is imperative that organizational leaders actively manage the transition to outpatient care, as the inpatient business remains a major component of hospital operating margins
· Revenue performance was strong in October, with Net Patient Service Revenue (NPSR) per Adjusted Discharge increasing month over month and year over year. NPSR per Adjusted Discharge also slightly outperformed budget expectations. While Adjusted Patient Days increased, NPSR per Adjusted Patient Day also increased, highlighting that the majority of hospitals still operate on a majority fee-for-service basis.
· Nearly all expense metrics were unfavorable to budget and the prior year's performance in October, with the exception of Labor Expense per Adjusted Discharge, FTEs per Adjusted Occupied Bed (AOB), and Purchased Service Expense per Adjusted Discharge. It is normal to see Purchased Service Expense per Adjusted Discharge well below budget and prior year performance, as organizations typically do not engage third-party services as the holiday season draws near.
· Significant changes in investment markets and interest rates overshadowed continued positive economic news in the U.S. in October. Third-quarter GDP growth was estimated at 3.5 percent, a slowdown from 4.2 percent in the second quarter, but still strong historically.
· Recent trends indicate that scale is increasingly important relative to an organization's ability to perform. Of particular note, the largest hospitals significantly outperformed their smaller peers relative to outpatient services. However, the largest hospitals were not able to translate this positive volume performance into similar financial performance.
· U.S. and global stock markets traded down considerably. The S&P 500 lost almost 200 points for the month (a 6.9 percent decrease), the MSCI World Index was down 7.4 percent, and the MSCI Emerging Markets Index retreated 8.8 percent. Most major stock and bond indices have given up all 2018 gains and are at or below where they started the year.
Report Background/Methodology
The National Hospital Flash Report uses both actual and budget data over the last three years, collected from over 600 hospitals on a recurring monthly basis. The sample of hospitals for this report is representative of all hospitals in the United States both geographically and by bed size. Additionally, hospitals of all types are represented, from large academic to small critical access. Advanced statistical techniques are used to standardize data, identify and handle outliers, and ensure statistical soundness prior to inclusion in the report.
For more information, click here for the full report.