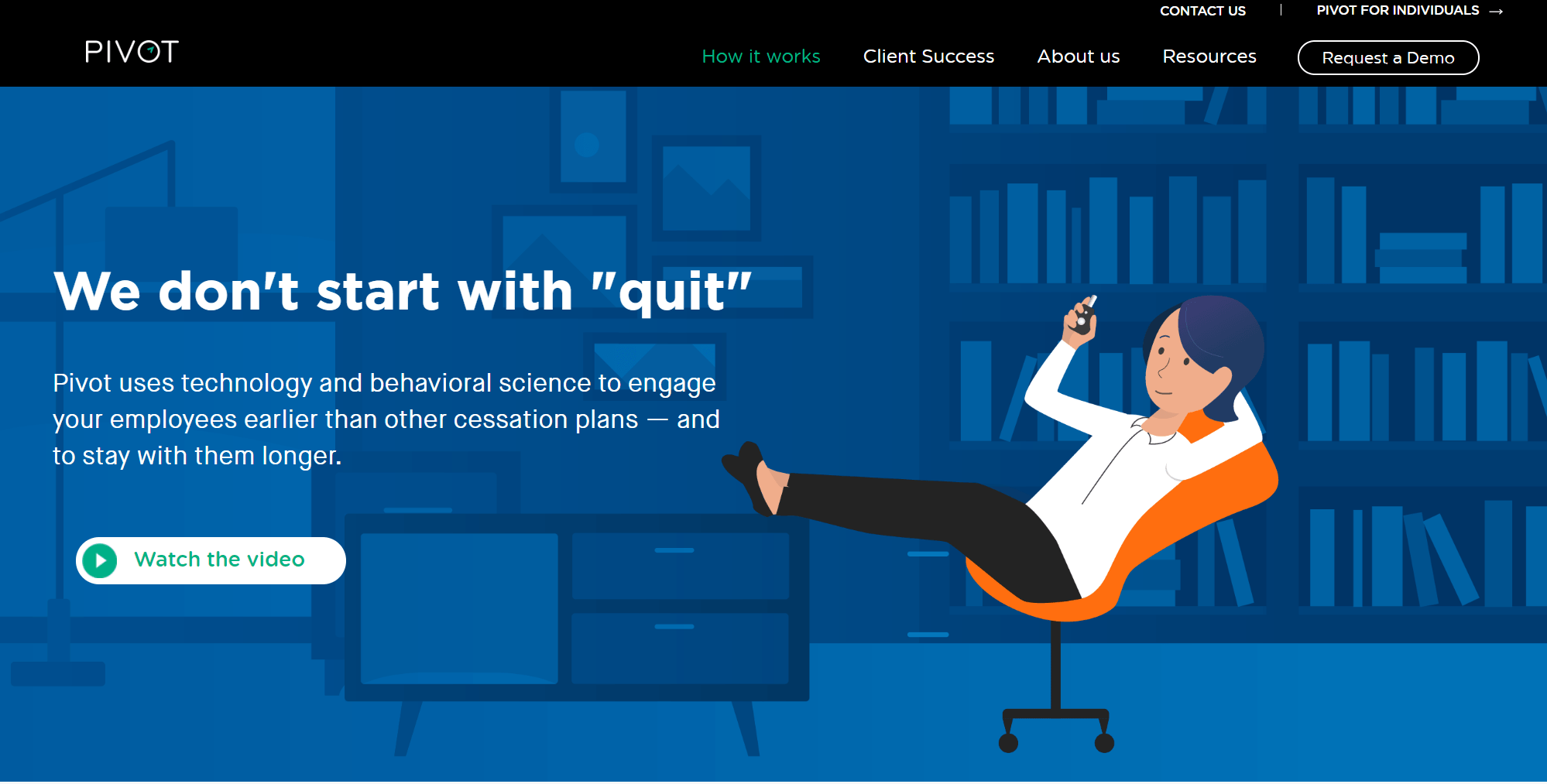 Carrot Inc., a Redwood City, CA-based digital health startup has raised $25 million in funding led by JJDC to commercialize its smoking cessation digital health platform, Pivot. The round also included participation from  New York Life Ventures and existing investors Khosla Ventures, Marc Benioff, Carrot founder David S. Utley, M.D., and R7 Partners.
Financial Impact of Smoking for Employers
Smokers cost their employers more than $7,000 annually, per person, in excess healthcare and lost productivity. They are also up to two times more likely to develop diabetes and take twice as long to recover from fractures. Typical employer-provided cessation programs enroll only 7 percent of eligible smokers, on average. With Pivot's turnkey marketing campaigns, our partners have averaged about three times that — in just the first month of enrollment.
Pivot's Approach to Smoking Cessation
Pivot combines proven, evidence-based strategies with human coaching and a model of behavioral science called self-determination theory to help participants quit for good. In place of antiquated telephonic quit programs, Pivot uses an FDA-cleared carbon monoxide breath sensor, engaging smartphone app, in-app coaching, pharmacotherapy, and community to deliver proven quit methods in a novel, consumer-grade package.
Pivot App Dashboard
The Pivot app includes a personal dashboard that creates feedback loops that help participants see changes to their smoking behavior in real-time. It also includes client reports for participant engagement, progress, quit rates, and satisfaction across the workforce; and financial impact for both participants and employers.
Carrot is initially partnering with self-insured employers and health plans to offer Pivot to help their employees and members quit smoking. Due to its novel approach and positive voice, Pivot has demonstrated enrollment rates many times higher than the national average for employer-delivered cessation programs. According to Pivot, After just one week with an FDA-cleared breath sensor, 71 percent of Pivot clinical participants reported being more motivated to quit smoking.
"Quitting smoking greatly reduces chances of developing smoking-related diseases, yet successful quit attempts require a multi-disciplinary approach," said Utley, Carrot's founder, President, and CEO. "Given Johnson & Johnson's expertise across its medical device, consumer health and wellness, and pharmaceutical sectors, we are excited to have JJDC lead this round as we believe it takes a concerted healthcare approach to address the consequences of smoking on a global scale. We're also pleased to have the funding of New York Life Ventures and the continued confidence of our existing investors. Their support furthers our mission to help millions of people to quit smoking."