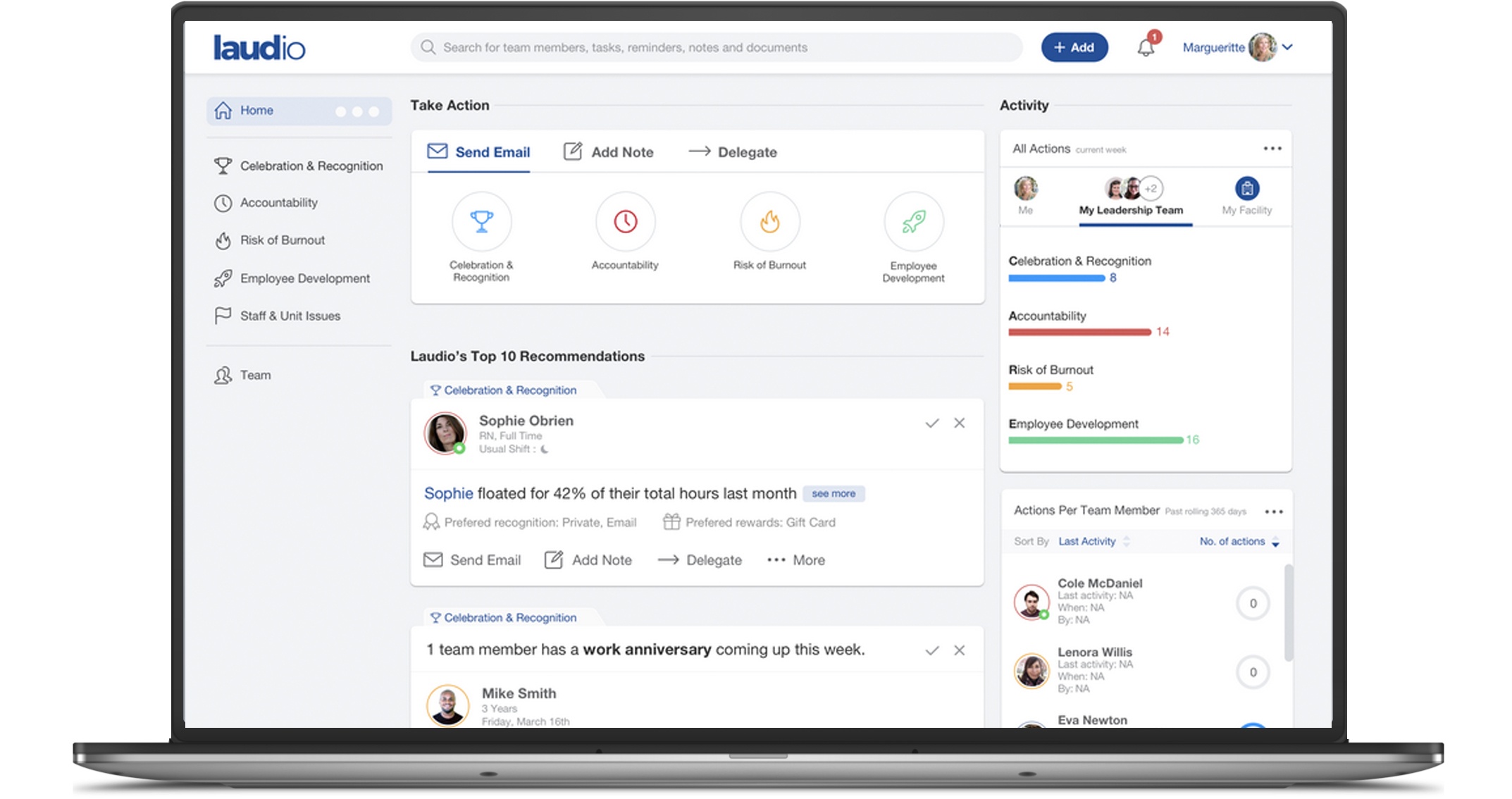 Boston-based health IT entrepreneurs have teamed up to launch Laudio, a healthcare staff relationship platform designed to solve health system staff burnout. Laudio uses artificial intelligence to predict and prevent staff burnout, through more frequent, timely, and relevant manager interactions. This new software-as-a-service solution reduces turnover rates, which saves even a medium-sized acute care facility millions of dollars on annual replacement costs.
Founded by a team led by Russ Richmond, MD, Laudio was developed following his recovery from a nearly-fatal skiing accident. According to Richmond, during his lengthy hospital stay, he received high-quality and compassionate care from a large number of bedside staff, but also came to understand that his caregivers felt both underappreciated and overburdened. Motivated by his first-hand experience and his previous success building nurse and physician-based technology solutions, he founded Laudio to address the root causes underlying staff burnout.
Addressing Staff Burnout
Laudio aggregates vast amounts of data imported from the health system's data sources. Using research-based benchmarks, Laudio's algorithms calculate turnover risk for each staff then continually generate data-driven observations. Laudio quickly becomes the manager's unified digital workflow by eliminating the manager's need for multiple software logins, paper-based notes, and time-consuming workarounds, while allowing them to collaborate with colleagues.
In an era defined by cost reduction strategies, managing staff burnout, or churn, has become a top priority for all health systems. This priority is perhaps most critical for nurses, one of the largest segments of the hospital workforce. For example, the average nursing staff turnover rate is 16 percent, per year, with the cost of replacing one nurse averaging $66,000. As a result, the average hospital is forced to spend $5M-$10M annually on nursing turnover, alone. This expense is even greater when extended to all health system staff, beyond nursing.
"We set out to understand why high-performing staff was disconnected from their workplace and burning out in their role," said Russ Richmond, MD, the CEO at Laudio. "Once our research identified that the manager was a key leverage point across a variety of the issues, we developed technology to equip these managers with data intelligence, personalized recommendations, and workflows to proactively and sustainably engage with every member on their team. Our goal is to facilitate one billion timely and meaningful manager-driven interactions through Laudio by 2028."
"We know that the right engagement with the right staff, at the right time, can prevent burnout and reduce turnover. With Laudio, we now have the technology to make this possible, and to improve workplace culture in health systems everywhere. We also look forward to measuring and quantifying impacts on patient satisfaction, safety, and quality, as well as extending the tool to physicians", said Dr. Richmond.