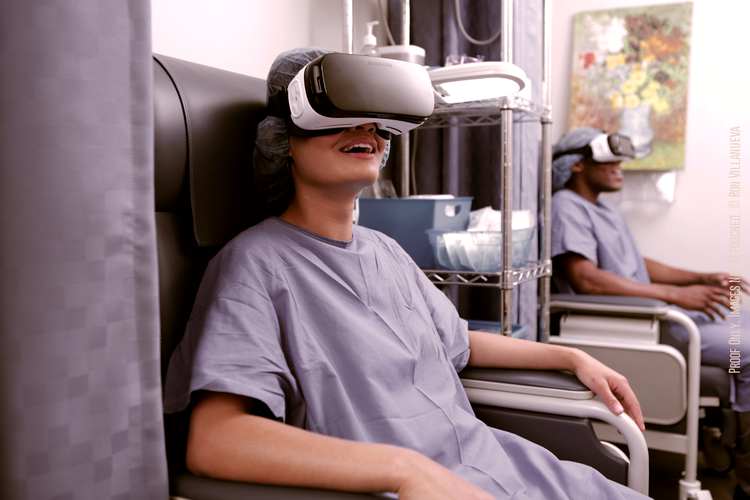 Hospitals can be depressing, scary or boring, making people feel isolated and out of the loop. But this experience is several times more challenging for children, especially those in need of prolonged treatment. There can be unpleasant tests and procedures, strict visiting rules, and not so many available activities to entertain or distract young patients.
Thankfully, technology is ready to alleviate hospital stay for the youngest patients, as mixed reality gradually integrates with pediatric care. VR & AR are already adopted across care continuum – from supporting clinical staff training to patient education and engagement.
Now, VR and AR developers put on their superhero capes and sweep kids out of their beds towards new adventures, where even a disabled child can walk, ride a horse or fly up in the space.
Here are 4 superpowers of mixed reality that already improve clinical settings and make hospitals feel fun and friendly for little patients and their families.
1. Distraction from pain and discomfort
Augmented experiences are so immersive that they can keep kids focused on exploring new worlds while they undergo unpleasant or painful procedures, reducing the discomfort. This approach is highly effective for dressing changes, blood draws, chemotherapies, sleep study preparations, and other cases when children may struggle to cooperate with treatment, whether it is painful, uncomfortable, scary, or boring. Moreover, mixed reality allows cutting on drug interventions for pain management, which is especially valuable for children with chronic conditions.
Real-world example
Children's Hospital L.A. started a trial to explore the influence of VR gaming environment on pain and anxiety levels in children and adolescents during blood draws. Jeffrey Gold, Ph.D., a clinical psychologist, and director of the Pediatric Pain Management Clinic within the institution, states that these games can engage the brain biologically so that the frontal lobes would inhibit the incoming pain signal and it won't reach a kid's perception.  At times, children won't even notice the procedure is already complete and would ask their nurse about when they'll start drawing blood.
2. Smooth adjustment to the hospital reality
Let's look at hospitals from the 9-year old's perspective. The unfamiliar place full of strangers, weird smells, limitations, and uncertainty in upcoming activities can be overwhelming, especially at first.
The multi-sensory nature of mixed reality includes a range of elements that can transform the clinical environment from troubling to fascinating:
– Sound
– Sight
– Touch
– 3D
– Animation
– Real-world context
Both layering digital images on physical objects and immersing a child in a visionary world make surrounding a lot less scary for little patients. Of course, VR and AR can be used differently in helping kids adjust to the hospital environment smoothly.
AR allows for natural movement and keeps the view of the real world, that's why it can effectively familiarize children with their room, upcoming tests and procedures as well as the treatment plan. VR, in its turn, makes hospital beds disappear for a moment, opening up doors to secret worlds waiting for exploration. It introduces more activity options to little patients that are unable to leave the facility for a long time, especially for those in wheelchairs or with muscle disorders.
Real-world example
Alder Play is an AR game for tablets, created by Alder Hey Children's Hospital in the UK to help little patients get accustomed to the hospital in an entertaining way. The app offers little patients to choose an animated avatar supported by chatbot functionality that will:
– Guide children across different facility areas and explain what they are for.
– Show therapeutic education videos about tests and procedures.
– Suggest challenges to complete to unlock new content.
Moreover, Alder Play awards children with badges for procedures, tests, operations, and treatment activities they undergo during the hospital stay.
3. Physical rehabilitation support
Pokémon Go's success has shown that AR can take pleasure from spending time outdoors up a notch, encouraging children to walk more in a search for imaginary creatures. But AR is capable to help with other motor skills too, including shifting body position, sitting up, standing, moving limbs or head, twisting fingers and more.
AR can accelerate physical rehabilitation in a playful way, offering kids to pass a certain challenge, for example, hit various targets in magical environments.
Real-world example
SpellBound is an AR app that brings characters and scenes to 3D life by layering animations on printed cards and pages. With this app, kids can play during physical rehabilitation from injuries and illnesses. Children can practice fine motor skills by touching specific spots on a tablet or smartphone as well as improve gross motor skills when sitting and standing in front of the table while playing. This way, little patients can exercise more and regain body movements faster because it doesn't feel like completing daunting tasks, they're just having fun.
4. Engaging therapeutic education
Traditionally, health specialists share their findings with patients and their families using printouts that then become part of a patient's medical record. Unsurprisingly, these clinical documents are highly text-based and formal. Even adult patients won't always grasp the condition's description without a thorough explanation from their physician, let alone children.
Mixed reality makes therapeutic education engaging and comprehensive for both little patients and their parents, whether it is a VR trip through the patient's body, AR anatomy lesson or visualization of treatment in action. It helps kids to understand their condition and possible symptoms to track them in the future, so they could recognize and communicate them timely, improving health outcomes and reducing risks.
Real-world example
Boston Children's Hospital and Klick Health created a VR platform for medical education, named HealthVoyager. Currently, this platform targets pediatric gastrointestinal (GI) patients with such conditions as Crohn's disease and ulcerative colitis. HealthVoyager allows physicians to create 3D anatomical imageries of a patient's colonoscopy and endoscopy procedure results with their individual findings. Then, the child can access these results on a smartphone with VR goggles on, traveling through their GI tract and exploring the outcomes of completed procedures.
The main superpower of mixed reality
The alliance of VR and AR technologies changes the perception of hospitals, transforms patient experience and improves therapeutic intervention. But the main magical power of mixed reality is allowing children to stay children even when facing the disease or treatment. That's why we can't wait for this technology to get a widespread adoption across pediatric hospitals and become a recommended tool for at-home rehabilitation acceleration too.
Inga Shugalo is a Healthcare Industry Analyst at Itransition, a custom software development company headquartered in Denver, Colorado. She focuses on Healthcare IT, highlighting the industry challenges and technology solutions that tackle them. Inga's articles explore diagnostic potential of healthcare IoT, opportunities of precision medicine, robotics and VR in healthcare and more.