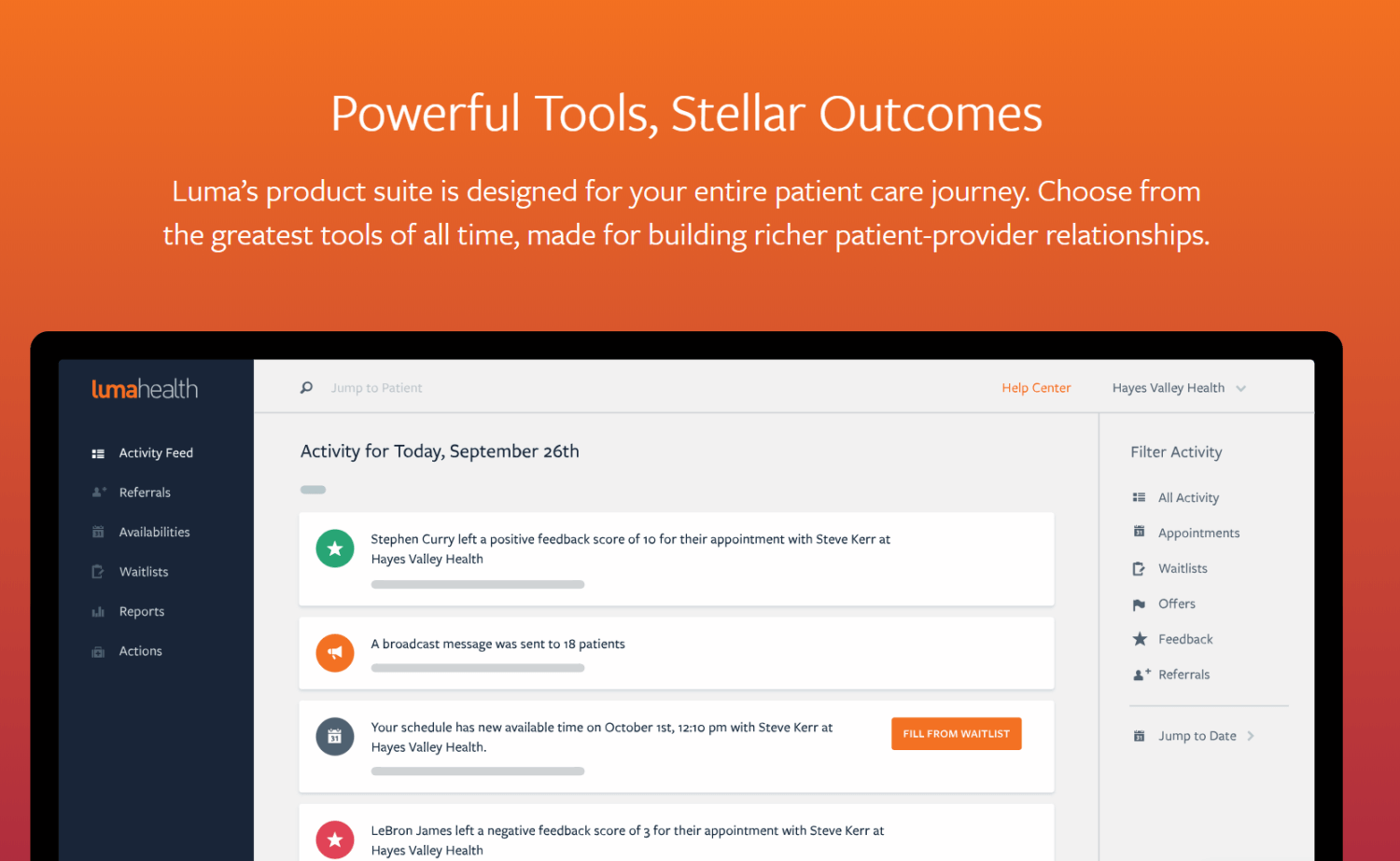 Luma Health, the leader in patient relationship management, today announced major enhancements to its platform, empowering health system and provider care teams to more efficiently collaborate and communicate with their patients, resulting in faster care access for patients.
Available immediately, these new capabilities include Custom Audience Broadcasts, Collaboration Hub and mobile insurance card uploads, that together improve care team productivity and patient communications and experiences. Most recently, during Hurricane Florence, Luma Health's custom audience broadcast beta helped dozens of local healthcare providers and clinics to quickly reach thousands of patients informing them of office closures and evacuation care availability.
To assist in and accelerate compliance with value-based programs, healthcare providers have a big incentive to deploy solutions that help them more quickly and better deliver care to their patients to drive optimal outcomes. A significant barrier to effective care delivery has been poor communications between patients and providers, resulting in missed appointments, long delays to see a doctor and ultimately, incomplete patient care. Connecting with the patient throughout their lifecycle of care is crucial to delivering value-based care.
Unfortunately, in most health systems today, manual processes and legacy systems have resulted in data silos, poor care team collaboration, and ineffective means of patient communication and experiences. Where consumer and patient behavior and communication has transitioned into mobile messaging, most provider-patient communications still occur in the form of pre-appointment email or voicemail reminders, resulting in delays, inconvenience, patient frustration and often less-than-ideal health outcomes.
"Patients are first and foremost consumers and the healthcare industry is quickly learning that the most effective and convenient way to communicate with them is through their mobile devices and text messaging," said Dr. Tashfeen Ekram, Co-Founder and Chief Medical Officer at Luma Health. "Today's new capabilities in Luma Health's Patient Relationship Management platform empower medical providers to collaborate more efficiently and quickly reach their patients in a manner that is not only more convenient for them but also more responsive, leading to higher health outcomes and lifetime value of patients."
The new Patient Relationship Management platform enhancements include:
– Mobile upload and capture of insurance card: Patients can easily upload from their mobile phone a picture of their insurance card via a text messaging link sent by the healthcare provider. This allows for insurance validation prior to a visit, rather than over the phone or in person on the day of the appointment. The image capture automatically extracts and saves the patient's name and policy number, reducing manual data entry for staff and the risk of human errors.
– Custom Audience Broadcasts: Clinics can now quickly alert existing, new, or any segment of patients with messages ranging from operational notifications such as office holiday closures and physician sick days to patient care messaging such as flu shots during flu season, seasonal allergies, or even epidemic outbreaks.
– Collaboration Hub for clinical messaging. The new collaboration hub improves team productivity and efficiency by enabling care teams to collaborate virtually online by bringing the right people together to make faster and better decisions around both business and patient care. Staff members can send or respond to patient SMS messages or invite other relevant team members into a conversation via @mentions in order to privately collaborate on a patient's care before responding directly to the patient. The collaboration hub can also be used for internal operation activities that span across teams or distributed office locations.
For Accountable Care Organizations (ACOs) and other value-based care organizations, customizable group messaging is an effective tool to reach and communicate with the communities they serve. For example, ACOs can now send relevant text messages to specific demographics to drive positive health outcomes including annual wellness visits, obesity prevention, diabetic care, and immunization. These audience broadcast messages can be delivered in up to ten languages, allowing clinics to communicate in patients' native languages. This helps community care organizations more effectively drive value-based care through increased awareness, engagement, and participation.