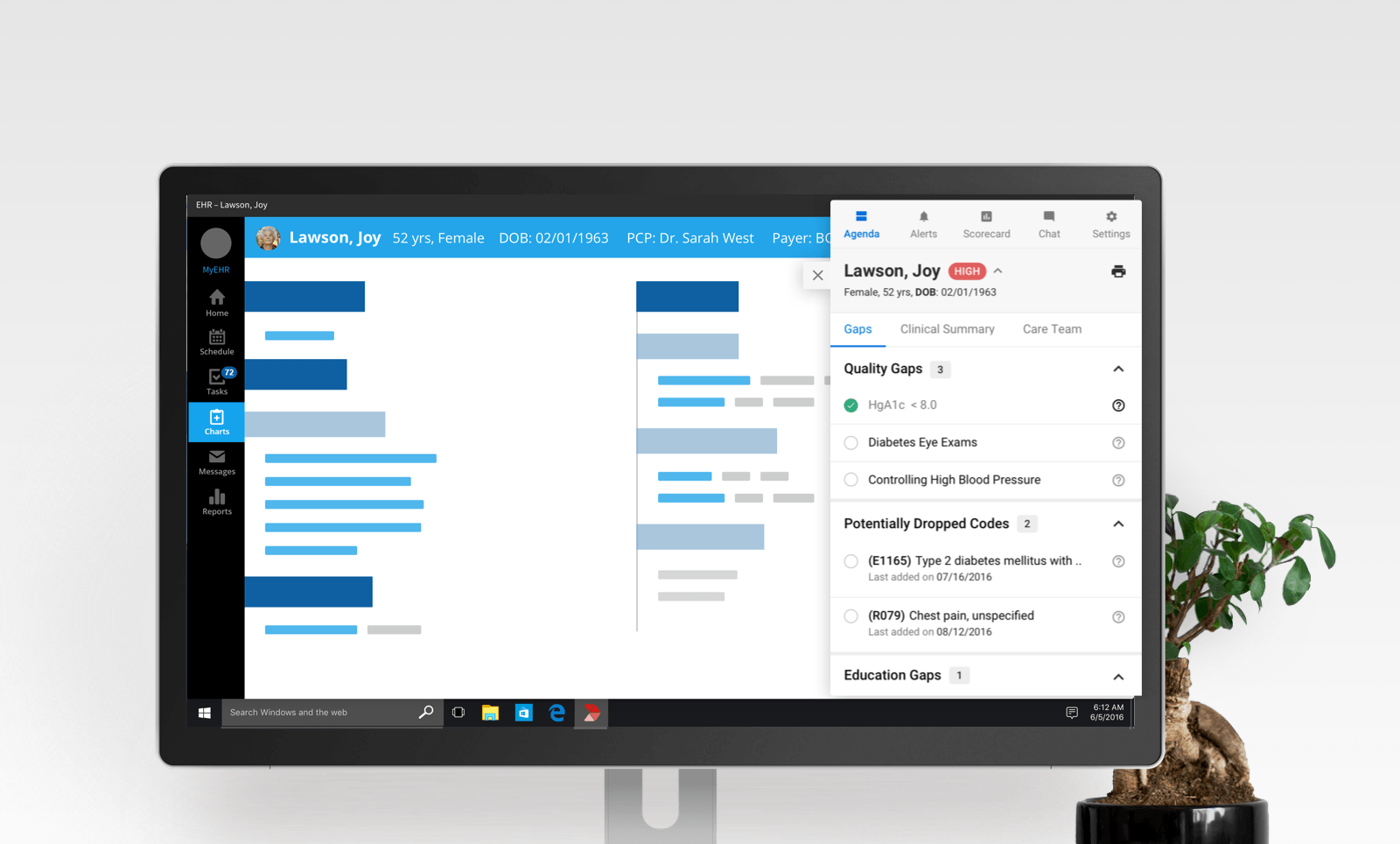 The role of physicians is instrumental in the rapidly-transforming healthcare. There have been many strategic initiatives or restructured payment models- but the physicians have almost always been disconnected. Physicians are either overburdened with the data around them or have limited real-time visibility into the analyzed data.
Limited access to the right data at the right time has dramatically increased the number of burned out physicians in the country. Additionally, the time-taking tasks of finding gaps in patient care and updating them result in suboptimal care and quality outcomes.
To help healthcare organizations engage their physicians and deliver them actionable information, Innovaccer launched and deployed InNote– the first ever EHR-agnostic physician engagement solution. InNote cuts through the noise and surfaces relevant clinical information for physicians without having to leave the EHR experience. The EHR-agnostic application runs with all browser-accessible EHRs and integrates with any third-party data source to deliver rich, consolidated information. 
As soon as the physician looks up a patient in their EHR, InNote surfaces critical patient information such as their risk score, missed gaps, prior referrals, and much more- right within their EHR. Additionally, InNote synchronizes itself with a physician's calendar and informs them of the upcoming visits and the number of gaps that need to be addressed against every appointment. Physicians can capture these gaps in real time, and update them within a click without having to switch between different platforms. Physicians can also view details of the extended care team associated with their patient, and collaborate their care efforts across the network to plug the gaps entirely.
"I know the quality gaps… I know where the quality gaps are. Any of the major measures that we have to meet are going to pop up here [the EHR screen]… What happens often is that patients seek their care elsewhere and I never know about it. And because I don't know about it, I can't impact them. This [InNote] will hopefully help me open a dialogue with the patient… and then I can try to figure out what's going on and retrieve those records and be able to care for them better," says a physician at Louisiana Physicians ACO, where InNote is actively deployed.
InNote's team-based approach to referral management is an added functionality to ensure seamless referrals and increased efficiency across the network. Physicians can schedule referrals based on specialization, payer organization, or even the patient's zip code and language preference. The referring physician can monitor the generated list of specialists from both in- and out-of-network based on their cost and quality of care, and loop in nurses and MAs to streamline the scheduling and appointment process.
InNote also enables physicians to keep track of their own performance via concise scorecards, learning about their value rank across the network, the number of care gaps closed, cost efficiency, and the patient loyalty across lives managed.  InNote will be a part of Innovaccer's existing suite of solutions- the healthcare data platform, InData; care management module, InCare; and analytics module, InGraph.
In terms of an MA at the LPACO, "the real-time information is wonderful… [not] having to hunt through the charts and see what codes have been dropped by other physicians that we don't know- that is especially helpful because there's a lot of things that get dropped at other offices that we don't know… It absolutely makes us more efficient. If we can save one phone call, we're more efficient."