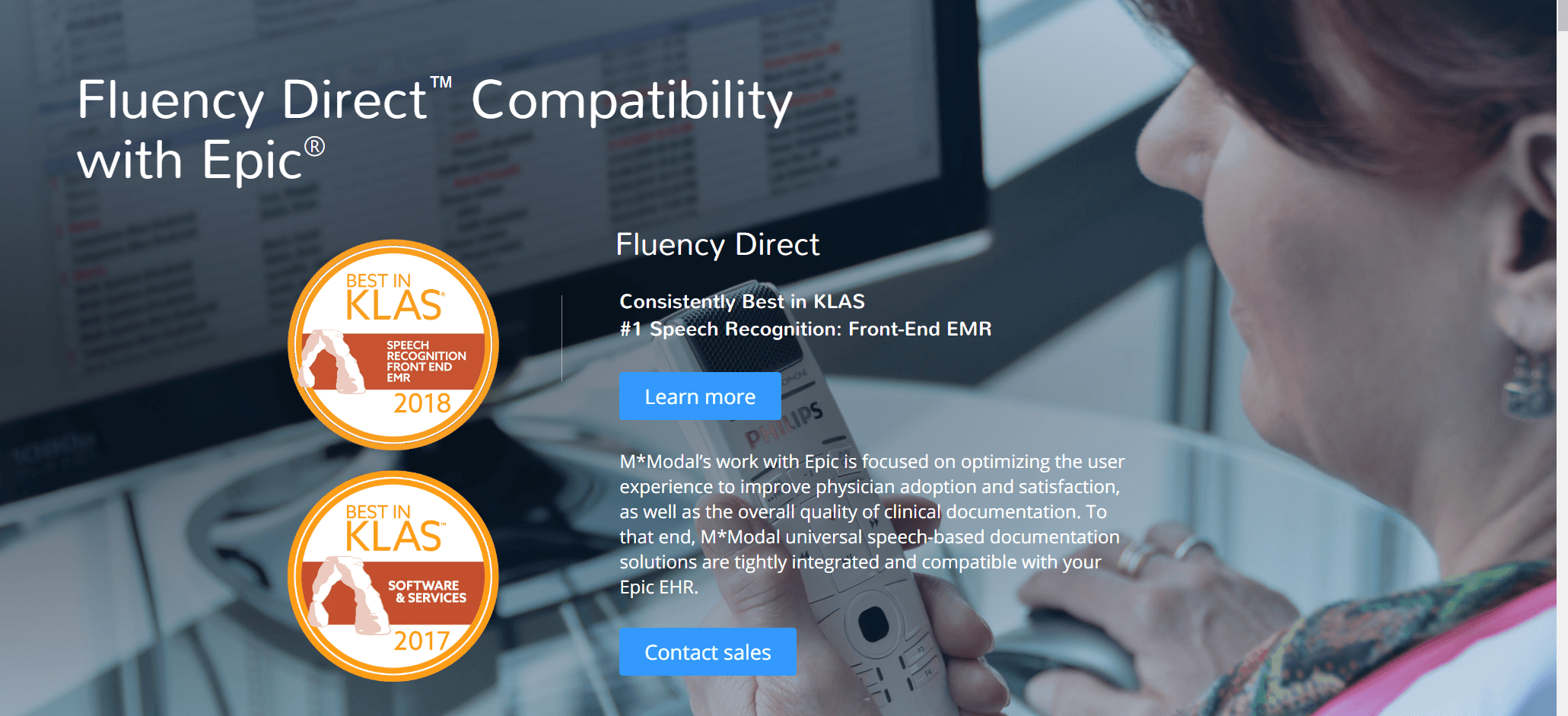 M*Modal integration with Epic EHR supports virtual assistants and nursing applications for an advanced workflow in Epic
M*Modal, a provider of clinical documentation and Speech Understanding solutions, announced that it is integrating its artificial intelligence (AI) powered platform with the Epic EHR to support clinical workflows. Creating time to care through smarter, more unified workflows, M*Modal® speech and AI enabled solutions are designed to significantly improve the productivity of the entire care team while driving quality-centric outcomes.
Leveraging M*Modal's long history of delivering industry-leading, cloud-based conversational solutions integrated with the Epic EHR, M*Modal further simplifies documentation tasks for clinicians with fully speech-driven workflows. The two companies have worked together over the years to enhance the user experience of joint clients by improving physician adoption and satisfaction, as well as the overall quality of clinical documentation with AI-powered solutions such as Computer-Assisted Physician Documentation (CAPD).
M*Modal is currently working on the following integrations to enhance the clinical documentation experience:
· M*Modal integration with Rover: Using embedded M*Modal technology, nurses will conversationally engage with flowsheets as the AI-powered system automatically finds the right row to record patient information such as vitals. Taking the nursing workflow to the next level, Epic's task management module is designed to enable nurses to conversationally create task reminders that help streamline the workday and reduce care gaps.
· M*Modal integration with Haiku Voice Assistant: Furthering the experience of clinicians using the Haiku mobile app with embedded M*Modal Speech Understanding, clinicians can use the EHR's Voice Assistant with M*Modal AI technology to also speech enable physician tasks such as querying the patient record, performing scheduling functions, placing orders, and more.
· M*Modal integration with Hyperspace Voice Assistant: In this next-generation EHR workflow, clinicians can benefit from a fully speech-driven and interactive experience (powered by M*Modal technology and hundreds of speech commands) to document the entire patient encounter and navigate the EHR. Bringing the Voice Assistant to Hyperspace creates an entirely new way of interacting with the EHR, which enables physicians to spend more and better time with patients.
· M*Modal integration with NoteReader CDI: Already installed at several healthcare facilities, NoteReader CDI can utilize embedded M*Modal market-leading CAPD technology to proactively deliver quality-focused insights to physicians at the point of care. Additionally, it uses the M*Modal CAPD infrastructure and robust reporting capabilities to monitor and improve physician engagement with the system.
"We are delivering on the critical necessity for bringing clinician-assistive technologies to market to improve efficiency and ease of documentation for multiple caregivers while also providing proactive insights on patient care in real time," said Michael Finke, President of M*Modal.