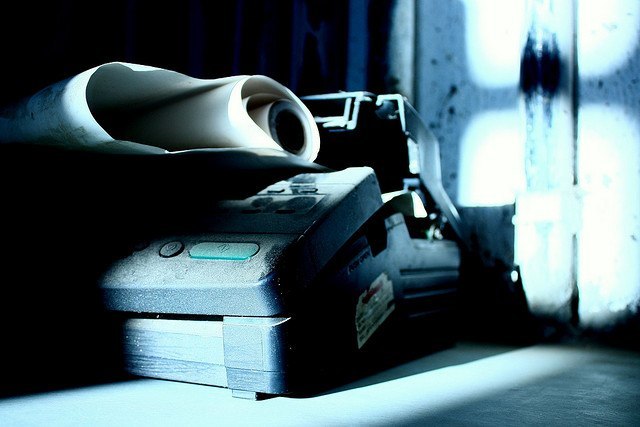 Fax machines have been a common fixture in medical practices across the country since they reached peak popularity in the late 1980s; the convenience, reliability, and security of faxing meant it was, and still is, the communication medium of choice for the majority of healthcare organizations. But, technology has come a very long way in past 30 or so years, and expectations have changed – what was deemed to be convenient, reliable, or secure two or three decades ago, might not be anymore. So, does faxing still have a place in modern healthcare? To answer this question, we first need to explore how faxing itself has evolved.
The State of Fax Machines Today
While many industries have replaced fax machines with modern, paperless alternatives such as email or mobile messaging, in the healthcare sector, fax is as dominant as ever. In fact, one study suggests that fax machines account for 75% of all medical communication, which in today's digital-first world, is a staggering statistic.
Encouraging healthcare organizations to ditch their fax machines isn't easy, and it's not through a lack of trying. In 2009, the Obama administration spent in excess of $30 billion on an initiative to digitize healthcare through incentive schemes. While in one sense this worked, as proven by a significant adoption of electronic health records (EHR), from 9% in 2008 to 83% in 2015, it didn't account for the sharing of health records between different offices and organizations.  In the rush to deploy, systems interoperability was left behind, which left old-fashioned analog fax as the common denominator for communications.   
Aside from this, there are a number of reasons why faxing continues to thrive in the healthcare sector, including:
– The sense of security. Many believe fax is more secure than its digital alternatives because a person must gain physical access to either the endpoint or the lines in between them, to be able to intercept a fax. But therein lies the issue – without proper controls in place, paper documents left unattended in a fax machine at either end of the journey become vulnerable and could be accessed by unauthorized individuals. Furthermore, faxing is prone to user error, as highlighted by a case in 2017 that saw doctors' offices in Texas accidentally fax patients' protected health information to the wrong fax number, a not uncommon occurrence.
– Government regulations specifically exempt faxed documents from the definition of electronic protected healthcare information (ePHI), because the information being exchanged did not exist in electronic form before the transmission. Traditional Fax is therefore not covered by the HIPAA Security Rule, although the Privacy Rule does require appropriate protection of the faxed documents at each end-point.  This has led to the erroneous perception that fax is always compliant, even though that is not always the case.
– It's analog. In a world where virtually everything is increasingly digital and heavily reliant on an Internet connection, analog fax is the rare exception. When the network goes down, fax machines will often carry on working. The same cannot be said for Voice over IP, for example.
– Fear of change. Fax machines have been around for so long now that they've become second nature for many. More generally, people just have a hard time letting go of a technology they've gotten comfortable with. Having to relearn how to use a new form of communication, and deal with the potential disruption caused by this phase of transition, is too much for some organizations to contemplate.
This reliance on traditional fax technology won't disappear anytime soon unless some big changes occur. Thankfully, some changes are already beginning to happen.  The latest trend in healthcare is towards interoperability, as evidenced by the proposed new rules from the Centers for Medicare & Medicaid Services (CMS), of the U.S. Department of Health and Human Services (HHS), regarding the renaming and proposed redesign of the hospital Meaningful Use (MU) program as the "Promoting Interoperability (PI)" program.  This new program offers the promise of end-to-end digital connectivity across platforms and even health systems. But change at this immense scale is glacial, and so true interoperability likely to be a multi-year work-in-progress. What do to in the meantime?
Enter Cloud Fax
Online hosted fax in the cloud, otherwise known as cloud faxing, provides a means to bridge the gap by combining the best of fax with the best of email – the ability to send and receive information securely, to and from recipients' fax machines, combined with the ease of use of desktop or mobile email.  
With a secure cloud fax solution, the entire fax process is handled digitally via the web; either through a company's email application, multifunction printer, workflow application, mobile app or secure web-portal. Faxes transit the Internet via encrypted tunnels, while faxes in storage are likewise encrypted for security and compliance, with delivery confirmations that provide a clear audit trail of everything that was sent or received and when.  Using any of these options, organizations are able to develop permissions and restrictions to ensure that only authorized personnel are able to access confidential healthcare faxes and documents containing PHI, which significantly improves security and regulatory compliance.
In conclusion, faxing isn't going away, but it is changing. Cloud fax enables organizations to maintain all of the benefits of fax, without the need for cumbersome machines or paper records. You could think of it as an updated and more advanced fax server, but instead of it operating from an organization's physical location, it operates from the cloud – for significantly less cost and virtually no management overhead.
Brad Spannbauer currently oversees product strategy and planning and provides direction and market leadership for j2 Cloud Connect's worldwide business as their Senior Director of Product Management. His focus in the Healthcare and Legal verticals led to Brad's involvement with the j2 Cloud Services compliance team, where he leads the team as the company's HIPAA Privacy & Compliance Officer.