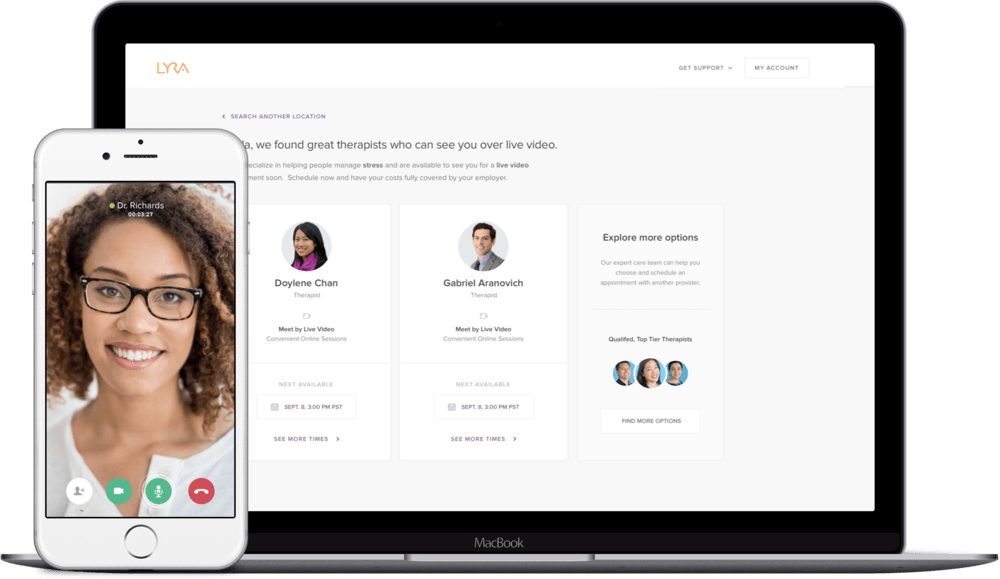 Lyra Health, a Burlingame, CA-based digital health startup has raised $45 million in Series B funding to expand access to effective mental healthcare for companies and their employees. The round included participation from new investors  Tenaya Capital, Glynn Capital, Crown Ventures, and Casdin Capital with existing investors including Greylock Partners, Venrock, and Providence Ventures. The company plans to use the latest round of founding to develop technology that improves treatment outcomes for patients and to expand support for Lyra's network of elite therapists with tools to better manage their practice.
Accessing and receiving mental health care is notoriously challenging for many Americans today. Cost, social stigma, and navigating the mental health system make it daunting for individuals to get the care they need. In addition, only a small fraction of therapists in traditional health plans are practicing proven methods and accepting new patients. Founded in 2015, Lyra connects employees to high quality, effective mental health providers, and gives employees the flexibility of in-person care, live video therapy, and digital self-care tools. Lyra's therapists only practice evidence based therapies, like Cognitive Behavioral Therapy (CBT), and are available for appointments in just a few days.
Using machine learning, sophisticated algorithms, and its curated network of providers, Lyra's solution includes different care options that support the diverse needs of their customers' workforce — in-person and live video therapy, coaching programs, and digital self-care apps. Lyra works with therapists who typically don't participate in traditional health plan networks, and the company has built technology to help these providers streamline their practice and devote more time to care.
Companies that offer Lyra typically see engagement rates 7x higher than traditional employee assistance programs, faster access to care for their members, and improved clinical outcomes. Lyra offers convenient online sign-up, effortless online appointment booking, flexible care options, and 24/7 support from an expert care team dedicated to patient success.
"Three years ago, Lyra set out to help people navigate a cumbersome, fragmented, and opaque mental health system and we're proud of the impact we are making with our employer partners," said David Ebersman, CEO and co-founder of LyraHealth. "With this new funding, we look forward to creating technology-enabled experiences to deliver better, faster, and more personalized care."