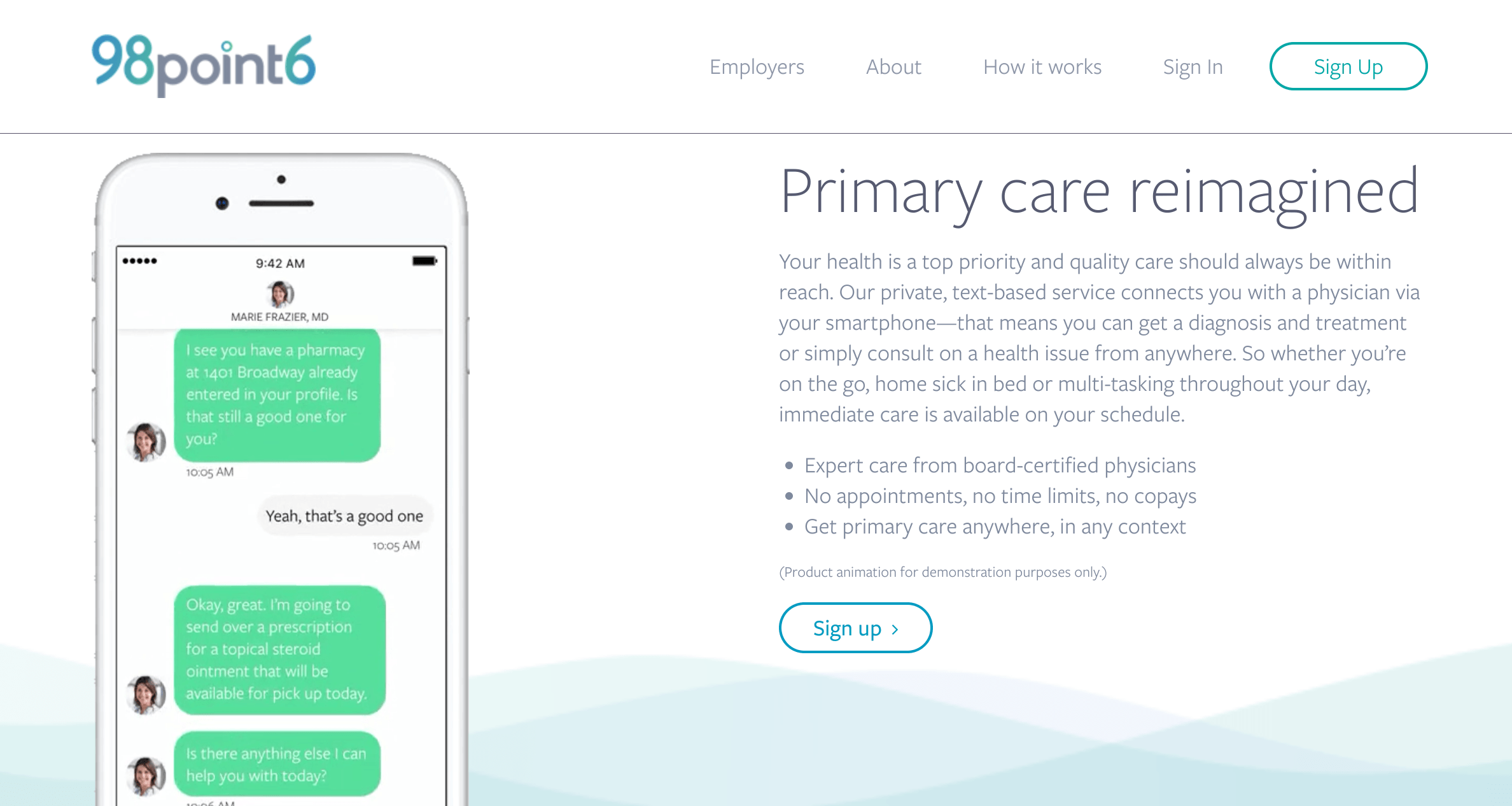 After three years of R&D and a year of beta, 98point6 has announced the launch of its on-demand primary care service to deliver personalized consultation, diagnosis and treatment to patients across the country.  The on-demand primary care platform combines innovative AI technology with board-certified physicians to deliver affordable and high-quality care right to a patient's smartphone. 
On-Demand Primary Care with Digital Platform 
Primary care is a necessity for all, serving as the front line for healthcare and disease prevention. However, seeing a doctor is increasingly difficult with an average wait time of 24 days just for an appointment. To provide patients primary care anytime and anywhere, 98point6 leverages machine learning and automation, helping doctors optimize and complete tasks that don't require direct physician interaction. Rather than having doctors ask administrative questions, gather patient history or chart information, 98point6's AI technology does it for them. Patient profiles are automatically built and the 98point6 system learns from each visit, avoiding redundancy.
From there, 98point6 board-certified physicians take over and engage with the patient via private and secure in-app messaging to diagnose, treat and answer any health-related questions, no matter how large, small or embarrassing. Patients will then receive a personalized care plan detailing their diagnosis and treatment, including prescriptions and labs as needed.
Pricing & Availability
Now, anyone 18 years and older – whether they have health insurance or not – can download the 98point6 app and receive unlimited access to primary care for 12 months for a one-time introductory fee of $20. That's a full year of primary care services for less than the cost of a typical copay.
98point6 physicians are currently seeing patients in 10 states: California, Connecticut, Florida, Maryland, Michigan, New York, Ohio, Oregon, Pennsylvania and Washington. 98point6 will roll out the service to patients in all 50 states and Washington D.C. by the end of 2018, reinventing primary care coast to coast.
Benefits for Employers
For employers, 98point6 increases primary care utilization among those not actively or appropriately engaged in their healthcare. Employees can now access primary care in between meetings, during their commute or while getting ready in the morning. Similar to the consumer pricing model, 98point6 offers a low subscription fee for employers, resulting in little to no cost for employees while enabling earlier medical intervention and reducing overall cost of care.
Current Customers
Seattle Children's, recently became a 98point6 customer and will roll out the service to their employees later this month.
98point6 is currently available on the Apple App Store, Google Play.