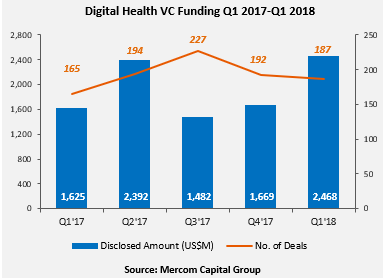 Digital health VC funding reached a record $2.5 billion raised in 187 deals from $1.7 billion in 192 deals in Q4 2017, according to a new report from Mercom Capital Group.  The latest report finds that digital health VC funding in Q1 2018 was also up compared to Q1 2017 when nearly $1.6 billion was raised in 165 deals. Q1 2018 was only the second quarter since since 2010 in which digital health companies surpassed $2 billion in VC funding. 
Mercom's comprehensive report covers healthcare IT and digital health deals of all sizes across the globe including: Social Health, Mobile Health (mHealth), Telehealth, Personal Health, Rating & Shopping, Health Information Management, Revenue Cycle Management, Service Providers and Security.
Key highlights of the Q1 2018 Digital Health (Healthcare IT) Funding and M&A Report include: 
– The report revealed the top funded categories in Q1 2018 were: $679 million raised by Data Analytics companies, Clinical Decision Support with $516 million, mHealth Apps with $247 million, Telemedicine's $178 million, Benefits with $160 million, and $146 million from Electronic Health Records.
– The top VC deals in Q1 2018 included: $240 million raised by Heartflow, $200 million from Helix, $200 million raised by SomaLogic, $146 million by PointClickCare, and Collective Health's $110 million raise.
– There were 55 early-round deals in Q1 2018, including three accelerator and incubator deals.
– A total of 412 investors (including one accelerator/incubator) participated in funding deals in Q1 2018 compared to 371 investors in Q4 2017, of which 13 were accelerators/incubators.
– There were 48 M&A transactions (13 disclosed) in the Digital Health sector in Q1 2018. There was one IPO launched in Q1 from Chinese fitness tracker and smartwatch maker, Huami, which raised $110 million and listed on the New York Stock Exchange.
– The top disclosed M&A transactions were: the $1.9 billion acquisition of Flatiron Health by Roche, ABILITY Network's $1.2 billion acquisition by Inovalon, Intermedix' $460 million acquisition by R1 RCM, Clearlake Capital Group's acquisition of ProVation Medical for $180 million, and the $100 million acquisition of Practice Fusion by Allscripts.
"Digital Health VC is off to a record start in 2018 with $2.5 billion beating the previous record of $2.4 billion from Q2 2017. Several large deals over $100 million pushed the funding total up in the quarter, with activity powered by over 400 investors," commented Raj Prabhu, CEO and Co-Founder of Mercom Capital Group.