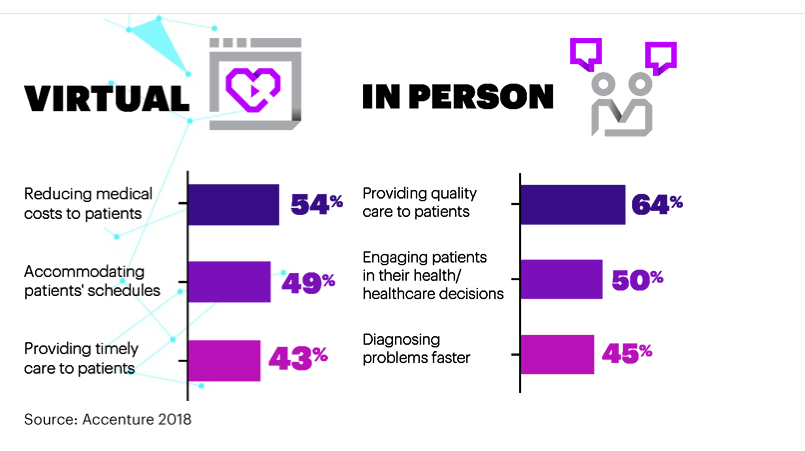 Consumers are increasingly using a variety of digital self-service tools for managing their health, according to results of a survey from Accenture 2018 Consumer Survey on Digital Health released this week at HIMSS18.
The survey of 2,301 U.S. consumers reveals that consumers are becoming more accepting of machines — ranging from artificial intelligence (AI), to virtual clinicians and home-based diagnostics — having a significantly greater role in their overall medical care. For example, one in five respondents (19 percent) said they have already used AI-powered healthcare services, and most said they are likely to use AI-enabled clinical services, such as home-based diagnostics (cited by 66 percent of respondents), virtual health assistants (61 percent) and virtual nurses that monitor health conditions, medications and vital signs at home (55 percent).
Other key findings from the report include:
Digital Self-Service Tools
– Consumer use of mobile and tablet health apps has tripled over the past four years, from 16 percent in 2014 to 48 percent today.
– More than four in 10 respondents (44 percent) said they have accessed their electronic health records (EHRs) over the past year, primarily to get information on lab and blood-test results (cited by 67 percent of respondents who accessed their EHRs this past year), view physician notes regarding medical visits (55 percent) and view their prescription history (41 percent).
Wearables
– Use of wearable devices by consumers has nearly quadrupled in the past four years, from just 9 percent in 2014 to 33 percent today.
– Roughly three-fourths of health consumers view wearables — such as those that monitor glucose, heart rate, physical activity and sleep — as beneficial to understanding their health condition (75 percent), engaging with their health (73 percent), and monitoring the health of a loved one (73 percent).
– 90 percent of survey participants said they are willing to share personal data with their doctor, and 88 percent said they are willing to share personal data with a nurse or other healthcare professional.
– The percentage of consumers willing to share with their insurance carrier personal data collected from their wearable devices has increased over the past year, from 63 percent in 2016 to 72 percent today.
– Consumers are now more willing so share such data and with online communities or other app users – 47 percent today, compared with 38 percent in 2016. Fewer are willing to share data with their employer (38 percent) or a government agency (41 percent).
Virtual Care Services
– One quarter (25 percent) of respondents said they had received virtual care services in the previous year, up from 21 percent in last year's survey. In addition, one in six (16 percent) of those consumers said they are taking part in remote health consultations, compared with 12 percent in 2016, and 14 percent are participating in remote monitoring, up from 9 percent in 2016.
– Three-quarters (74 percent) of respondents said they were satisfied with the virtual care they have received, with nearly half (47 percent) of those respondents saying that, given a choice, they would prefer a more immediate virtual medical appointment over a delayed in-person appointment.
– More than half (54 percent) of survey respondents said they believe that virtual care reduces medical costs to patients, and 43 percent said they like the timely care that virtual technology provides.
Report Background/Methodology
The Accenture 2018 Consumer Survey on Digital Health survey was conducted by Longitude on behalf of Accenture between October 2017 and January 2018. The purpose of the survey — of 7,905 consumers ages 18 and older, including 2,301 from the U.S. — was to assess consumer attitudes toward healthcare technology, modernization and service innovation. It is the latest in a series of annual health technology surveys tracking the perspectives of consumers across themes ranging from electronic health records and health management to virtual health and cybersecurity.