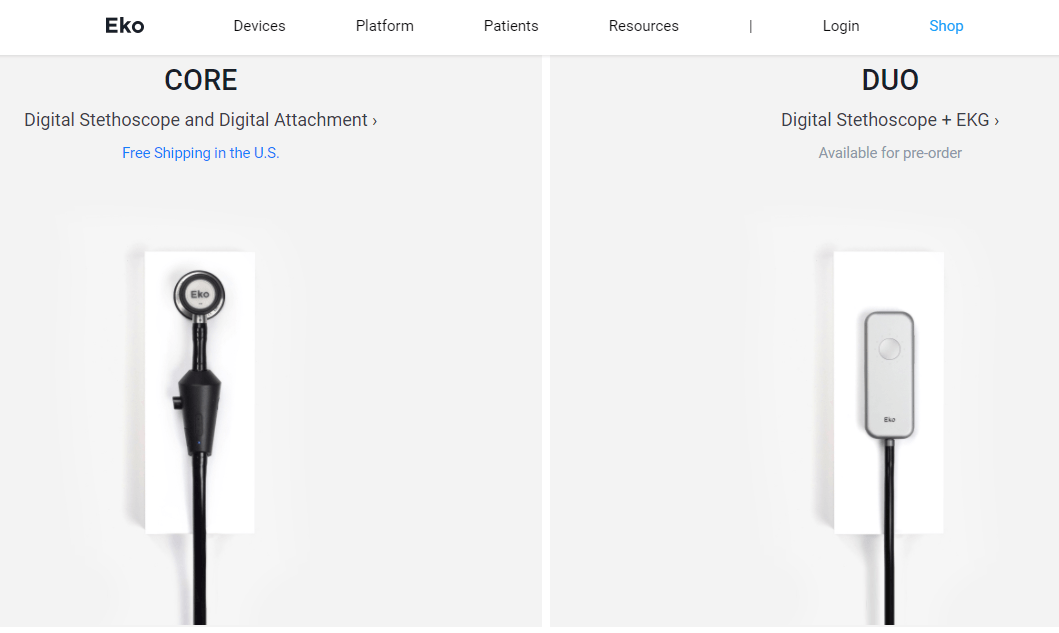 Eko, a San Francisco, CA-based platform of non-invasive cardiac screening devices, care coordination software, and machine learning algorithms has raised $5 million in Series A funding led by ARTIS Ventures. The round also included participation from Strategic Partners, Dreamlt Ventures, 1812 Ventures, and FOUNDER.org. Eko plans to utilize the funding to accelerate its commercial team and to expand clinical studies on the use of Eko's platform for valvular heart disease screening and heart failure monitoring.
According to the American Heart Association, more than 92 million adults are living with some form of cardiovascular disease or the after-effects of stroke, and direct and indirect costs of these ailments are estimated to total more than $316 billion.
Founded in 2013, Eko's FDA-cleared devices and accompanying software platform, which are used by clinicians at more than 1,000 hospitals and health systems, help physicians better monitor their patient's cardiac health, both in the hospital and at the patient's home.
Eko FDA-cleared devices include:
– Eko Core: the only stethoscope on the market to wirelessly stream heart sounds to a HIPAA-compliant smartphone app and the first to integrate heart sounds directly into the patient's electronic health record (EHR), paving the way for clinicians to better address a cardiovascular disease crisis that affects 1 in 4 people worldwide. The Eko Core is now available to millions of U.S. clinicians who rely on stethoscopes as a fundamental component of the physical exam.
– Eko DUO: combines EKG and electronic stethoscope technology into a portable, handheld device for unprecedented insight into cardiac function. The device allows clinicians to review rhythms and heart sounds quickly from the accompanying mobile application for advanced bedside analysis or groundbreaking remote care.
The Bluetooth-connected mobile app, available on the Apple App Store, allows clinicians to view a heart sound waveform, save heart sounds directly to a patient's electronic health record and securely collaborate with a cardiologist for a second opinion.
In addition to its recent FDA clearance of Eko DUO, Eko has received UCSF's Institutional Review Board (IRB) approval for a clinical study focused on valvular heart disease screenings. The study will be led by Dr. John Chorba, Associate Professor and Cardiologist at UCSF.
"We partner with investors that are passionate about solving meaningful problems; together we can transform the way clinicians and patients monitor heart disease," said Connor Landgraf, Eko's co-founder and CEO in a statement. "This investment will enable us to integrate cardiac decision algorithms into our platform to help physicians better track their patients' cardiac health."