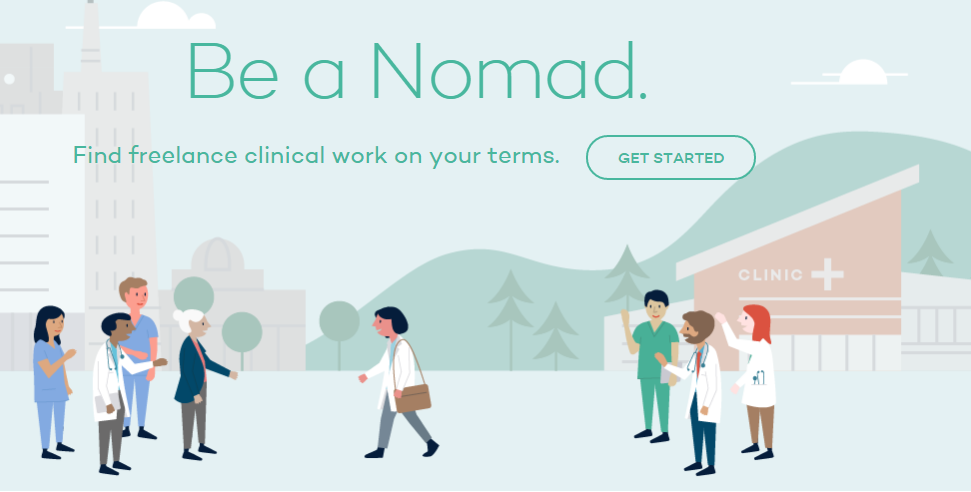 Nomad Health, a NYC-based freelance platform for doctors and nurses has raised $12 million in Series B funding led by Polaris Partners. The Series B round include participation from existing investors First Round Capital, RRE Ventures, and .406 Ventures.
Founded in 2015 by a team of entrepreneurial doctors and Kevin Ryan (the founder of Business Insider and Gilt Group), Nomad is a marketplace for short-term clinical work where medical facilities post shifts they need filled.  Nomad hopes to replaces an inefficient system of brokers with a streamlined, cloud-based platform that is simple to use and substantially less expensive.
Hiring in healthcare is remarkably complex, especially given growing clinician shortages. Nomad's powerful marketplace is addressing this challenge by making it simple, fast, and efficient for clinicians and medical employers to find jobs and get hired. By digitizing the entire hiring process for doctors and nurses – including job matching, applications, insurance, and payments – both sides of the marketplace save substantial time.
Plus, medical employers can save up to 40% on recruitment fees. More than 30,000 clinicians and 1,500 healthcare facilities have already joined Nomad and the network continues to expand rapidly.
Driven by the aging Baby Boom generation and a rise in chronic disease, there is an expected shortfall of over 100,000 doctors in the United States by 2030, according to the Association of American Medical Colleges. Similarly, there is an impending shortage of 1.2 million nurses by 2022, according to the Bureau of Labor Statistics. Nomad is uniquely positioned to help address these shortages by offering a much more efficient and cost-effective mechanism to find and hire freelance healthcare professionals.
"With Nomad we set out to solve the severe clinician shortages in this country," said Dr. Alexi Nazem, co-founder and CEO of Nomad Health in a statement. "Over the last year and a half, we have built a seamless digital experience that makes it simple and cost-effective for healthcare institutions to hire great clinicians in 12 states. Our goal has always been to bring this technology to bear across the country, and with this new infusion of capital, we can expand to all 50 states and hire new staff to propel our growth."