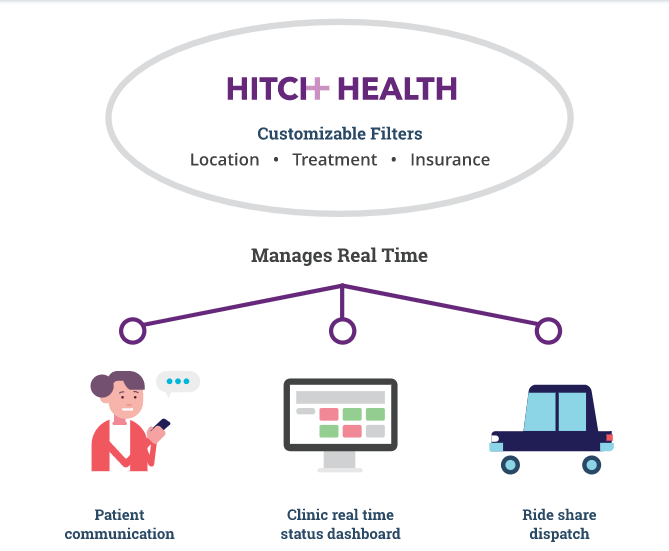 Hitch Health, a Minneapolis, MN-based healthcare technology company focused on innovative ways to improve patient health, today announced the launch of their partnership with ridesharing company Lyft. The announcement comes off the heels of a successful six-month pilot phase focused on at-risk populations served by Minnesota's Hennepin Healthcare, which operates Hennepin County Medical Center (HCMC) in Minneapolis, as well as primary care clinics in Minneapolis and suburban communities. Early results show patients who missed six or more appointments the prior year, showed up for their appointments after participating in the pilot. Patients who participated in the pilot ranked the experience 9.7/10 in terms of customer satisfaction. The partnership will now be live nationally.
Partnership Details
Together, Hitch Health and Lyft aim to mitigate the issue of missed medical appointments due to a lack of reliable transportation, addressing consequences that can include declining health, more emergency room visits, and hospital admissions – and can cost healthcare providers thousands of dollars for every missed appointment.
Hitch Health is the only non-emergency healthcare transportation company with a proprietary technology that securely connects healthcare providers' electronic health records to identify patients who may benefit from a free, convenient ride to and from a clinic, hospital or doctor's office. The patent-pending software automatically sends patients SMS texts to offer the ride. 
Hitch Health's software integrated with Lyft's seamless API integration removes barriers such as the need for a smartphone, an app, or a credit card that stand in the way of many underserved populations.
 "We're excited to partner with Hitch Health, an organization focused on creating and delivering health solutions that remove barriers for patients in underserved communities, in a collaboration that marries our unique API solution with their innovative technology to make it easier for people to get to and from their healthcare appointments," said Gyre Renwick, VP of Lyft Business. "Together with Hitch Health, we're able to get thousands of people to their doctor's office or clinic in an efficient and reliable way, working towards our mission of improving people's lives with the best transportation."
Hitch Health evolved out of work originally conducted at Upstream Health Innovations, the innovations arm of Hennepin Healthcare System, Inc., (HHS). HHS retains an interest in the company.