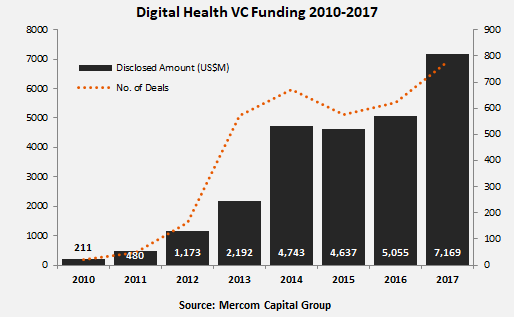 Global digital health funding, including private equity and corporate venture capital reached a record-breaking total of $7.2B in 2017 over 778 deals, representing a 42 percent increase from the $5.1B in 622 deals in 2016, according to the latest report from Mercom Capital Group. Mercom's Q4 and Annual 2017 Digital Health Funding and M&A report reveals total corporate funding for Healthcare IT companies – including debt and public market financing – climbed to $8.2 billion in 2017, a 47 percent increase from the $5.6 billion raised in 2016. 
U.S. companies raised a total of $4.9B in 2017 with $2.3B coming from other countries. Since 2010, the sector had $26B in VC funding in 3,450 deals and $8.6B in debt and public market financing (including IPOs), for a total of ~$34B.
The report covers both consumer-centric and patient-centric technologies and sub-technologies, including: Social Health, Mobile Health (mHealth), Telehealth, Personal Health, Rating & Shopping, Health Information Management, Revenue Cycle Management, Service Providers and Security. 
Other key findings of the report include: 
– Top categories 2017: Data Analytics $1.1B, mHealth Apps $759 million (M), Patient Engagement Solutions $708M, Telemedicine $624M, Appointment Booking $516M, Clinical Decision Support $514M
– Data Analytics was the top funded category driven by $419M to Artificial Intelligence-based analytics
– Categories with substantial year-over-year (YoY) funding growth were Data Analytics, Patient Engagement, Clinical Decision Support, and Appointment Booking companies
– Top VC deals 2017: Outcome Health $500M, Modernizing Medicine $231M, Hudong Feng Technology $200M, WuXi NextCode $165M, PatientPoint $140M, Alignment Healthcare $115M, Annoroad $105M, PatientsLikeMe $100M
– 2017 had 203 M&A transactions versus 205 in 2016.
– From 2010 to 2017, IMS Health acquired 12 companies, CompuGroup Medical AG 11, iMedX 10, McKesson and Quality Systems nine each, Allscripts, athenahealth, Emdeon, GE Healthcare, Harris Corporation and Philips acquired eight each, PracticeMax acquired seven.
– Notable M&A transactions in 2017: Internet Brands' $2.8B acquisition of WebMD, Optum's $1.3B acquisition of Advisory Board Company, McKesson's $1.1B of CoverMyMeds, Konica Minolta's $1B acquisition of Ambry Genetics Corporation, Navicure's of ZirMed for $750M.