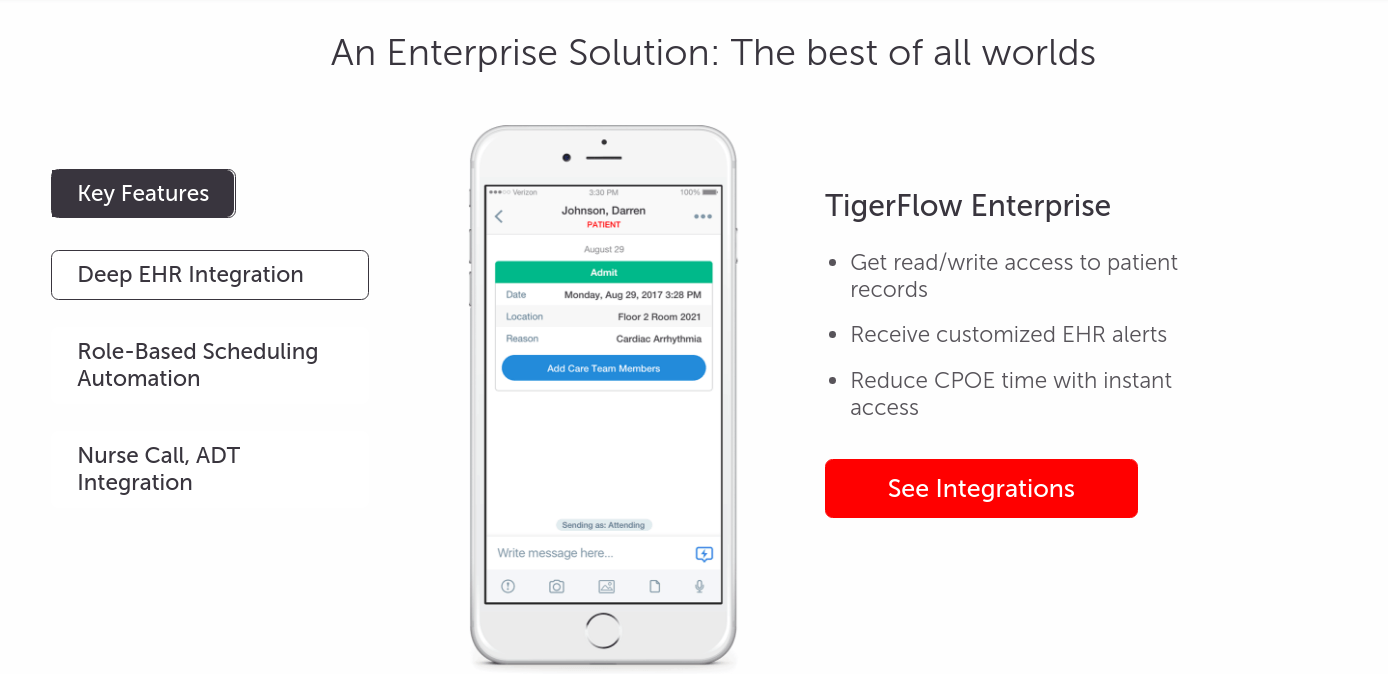 TigerText has launched TigerFlow Enterprise, a new clinical communication and collaboration (CC&C) platform that allows allow care organizations to solve for specific outcomes centered around resource optimization, faster transitions of care, fewer medical errors, and higher patient and provider satisfaction.
The capabilities in TigerFlow Enterprise allow care organizations to solve for specific outcomes centered around resource optimization, faster transitions of care, fewer medical errors, and higher patient and provider satisfaction. Among its many capabilities, TigerFlow Enterprise offers organizations an easy way to connect to the EHR, manage a wide range of clinical alerts, and place calls using integrated VoIP technology.
Kennedy Health, a three-hospital, 607-bed health system in Southwest New Jersey that credits TigerText with reductions in readmission rates of 22.2% for Congestive Heart Failure (CHF) cases and 8.8% for cases of Chronic Obstructive Pulmonary Disease (COPD). Westchester Medical Center, a 1,700-bed, 10-hospital system in Valhalla, New York saw similar results when they used TigerFlow to achieve an average reduction of 13.3 minutes in transport time between facilities while providing charge nurses with advanced warning of incoming transfers in a more efficient way than with phone calls or pages.
TigerFlow Enterprise's suite of communication capabilities specifically solve the 'last mile' problem in healthcare, namely the information gap between landlocked EHRs, audible-based bedside monitoring equipment, admissions, discharges, and transfers (ADT) systems, scheduling systems, desktop IP phone systems, and the place where care is actually administered – at the bedside.
TigerFlow Enterprise reduces inefficiencies and accelerates workflows in both clinical and financial areas, including:
·         Medical errors
·         Medicare reimbursements
·         Bed / Operating Room utilization
·         Readmission rates
·         Patient throughput
·         ED wait times
·         Consult requests
·         Alarm fatigue
·         Transfers and discharges
A Data Bridge to the EHR
One of the persistent challenges for hospital IT teams is finding a fast, cost-effective way to integrate their clinical communication platform with the EHR and avoid headaches or ongoing maintenance costs for IT. TigerFlow Enterprise's EHR Connect provides a fast, affordable bridge between system data and the smartphone, surfacing it through a feature-rich, easy-to-use app experience that allows hospitals to extract substantial, incremental value from their massive EHR investments at a tiny fraction of the cost.
Today, EHR events can sit idle for several minutes or even hours until a clinical staff member logs in and notices that a result is available or an order has been placed. EHR Connect closes this gap by routing alerts in real time to the appropriate care team member and providing actionable options for the user in the message feed that can dramatically accelerate patient care.
Available for practically any EHR system, including Epic, Cerner, MEDITECH, Allscripts, and others, EHR Connect provides detailed alerts around ADT, and other types of care team management.
Clinical Alerts
TigerFlow Enterprise's Clinical Alerting capability channels notifications for three key alert types: Nurse call, patient monitoring and lab results. Hospitals employ a wide array of systems that generate alerts, which originate from patient actions, patient monitors and more. When clinicians receive these messages in TigerText, they are able to digest this information quickly and take action outside of the EHR through the application's intuitive smart cards that show detailed information about the alert, along with action options for accepting, denying or escalating a particular task.
Rules coded into TigerFlow Enterprise allow the application to intelligently funnel different alert types to the appropriate physician, nurse or allied health professional where they can assess and act on the given alert. Vital signs from bedside monitoring equipment that deviate beyond normal ranges will immediately trigger detailed alerts to the appropriate nurse, while critical lab results can quickly be acknowledged by physicians through the app interface.
VoIP Options to Fit Today's Health Systems Needs
Because TigerFlow Enterprise's voice calling technology was built to adapt to the complex and multifaceted landscape of healthcare IT, the company's VoIP offering is focused on the most commonly requested use cases, including:
·         App-to-app calling between TigerText users
·         Calling between the TigerText app and PBX system and vice versa
·         Integration with Nurse Call systems
·         Instant, one-tap calling from a role (e.g. On-Call Cardiologist)
·         Calls from within the TigerText phone app – contacts are stored in the app's company directory
·         Video calls between clinicians
To ensure success from day 1, TigerText's VoIP offering also includes pre-flight recommendations and an inventory audit of current communication systems that can help avoid pitfalls and significantly improve the odds of a productive, perfectly functioning implementation. Some of these include ensuring 5GHz signal strength for the Wi-Fi system through a professional onsite inspection, fortifying any dead zones, and upgrading to more recent devices.