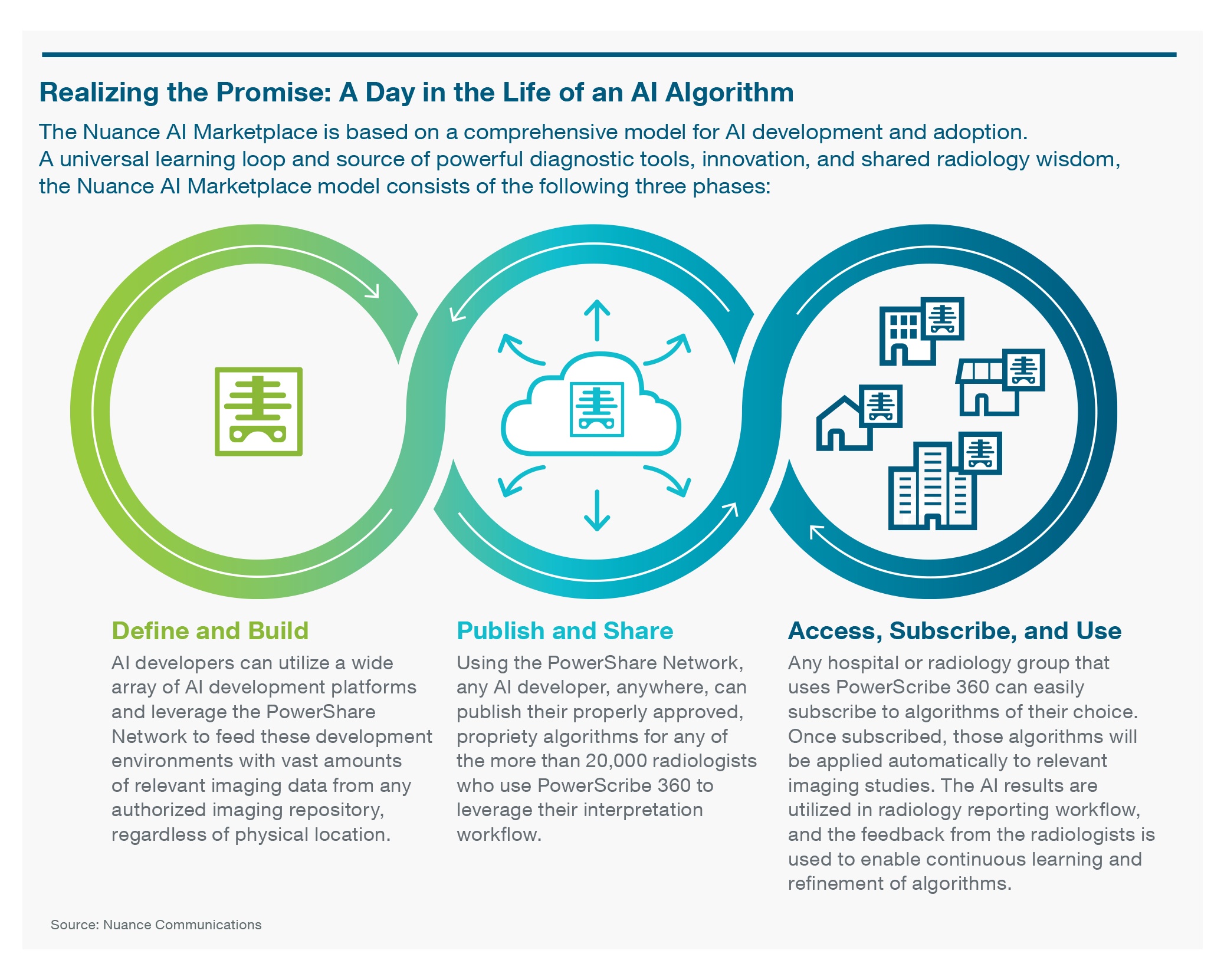 Today, Nuance introduced a first-of-its-kind, open artificial intelligence (AI) marketplace for diagnostic imaging that will speed the creation and adoption of AI by providing radiologists and data scientists with the ability to define, build, publish and improve imaging algorithms. It will provide radiologists with real-time intelligence needed at the time of care and within their usual workflow.
As part of this, Nuance is collaborating with NVIDIA, a company well-known for its deep learning capabilities, along with other partners. The AI Marketplace combines the power of NVIDIA's deep learning platform with Nuance's PowerScribe radiology reporting and PowerShare image exchange network, used by 70% of all radiologists in the U.S.
Radiologists increasingly spend more time on paperwork and routine processes than diagnosing and recommending follow-up care for their patients. AI-based tools can help overcome this challenge and can help radiologists improve the efficiency of disease detection, diagnosis and treatment. The Nuance AI Marketplace is designed to be a prime source for imaging algorithms that augment the capabilities of radiologists and provide rapid, open access to the industry's most advanced research.
 The algorithms can then easily be selected and accessed through the Nuance PowerScribe reporting platform in a radiologist's daily workflow, without having to acquire new reporting or image sharing systems or change their preferred workflow. 
More specifically:
–Define and Build: AI developers can use a wide array of AI development platforms and leverage the Nuance PowerShare Network to feed these development environments with vast amounts of relevant imaging data from any authorized imaging repository regardless of physical location.
–Publish and Share: Using Nuance's PowerShare Network, any AI developer, anywhere, can publish their properly approved, proprietary algorithms for use by the more than 20,000 radiologists who use PowerScribe.
–Access, Subscribe and Use: Any hospital or radiology group that uses PowerScribe can easily subscribe to any AI algorithms for imaging published in the PowerShare Network from any AI developer. Once an algorithm has been subscribed to, that algorithm will be automatically leveraged for relevant imaging studies and the appropriate AI-generated data will be sent to PowerScribe and/or will drive worklist prioritization – all designed to help radiologists work smarter and more efficiently.
Advances in imaging capabilities and increased deployment of imaging systems have resulted in the rapid growth of the volume and types of imaging data available. To derive clinical benefits from these systems, radiologists are spending more time on routine processes, rather than on diagnosis, consultation and patient treatment where their expertise is truly needed. With the rise of more powerful computing and cloud platforms, AI algorithms and deep learning tools are poised to help overcome this problem. These tools can leverage the vast amounts of imaging data that has been collected, and by augmenting human intelligence, improve the efficiency of disease detection, diagnosis and treatment.
"I believe that apps created, validated and shared in the Nuance AI Marketplace for Diagnostic Imaging can augment and improve all components of radiology practice," said Dr. Woojin Kim, chief medical information officer, Healthcare, Nuance in a statement. "AI apps can help clinicians make better-informed decisions on image interpretation, report creation, communication of findings and other areas. The technology can also optimize worklists for radiologists, for example, re-sorting the worklist to elevate those exams that contain more critical and urgent findings, such as intracranial hemorrhage or pulmonary embolism."