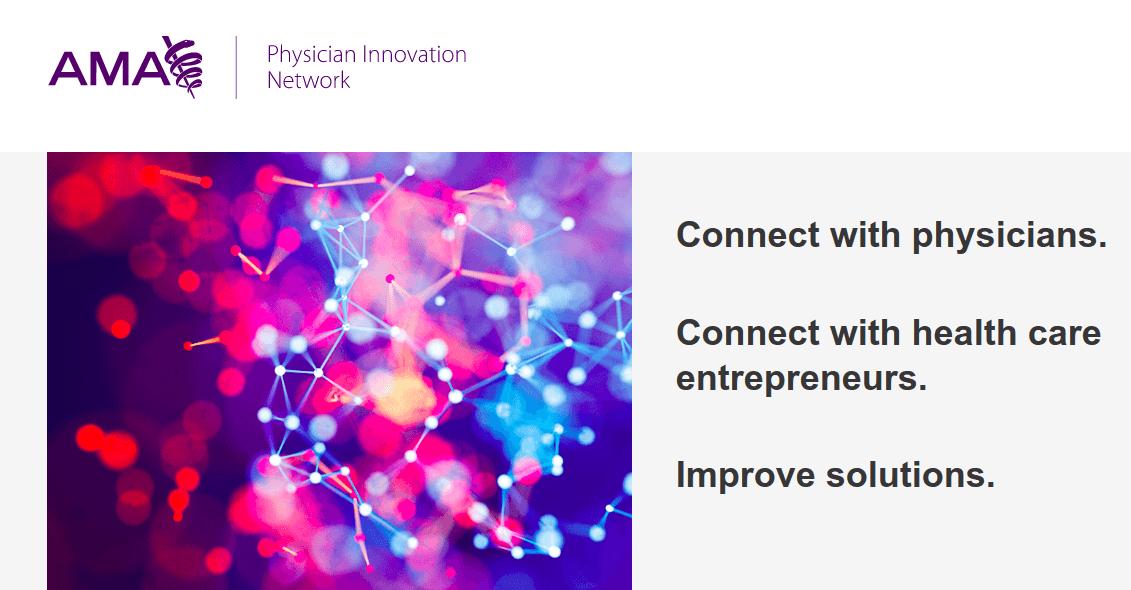 The American Medical Association (AMA) today announced the launch of Physician Innovation Network, an online community where physicians can find and connect with companies and entrepreneurs who are seeking physician input in the development of digital health products and services.The Physician Innovation Network builds on AMA efforts to ensure digital health tools are patient-centered, evidence-based, interoperable and outcomes-focused.
How It Works
The Physician Innovation Network provides an open online forum for physicians to explore paid and volunteer opportunities to collaborate with health tech companies, and allows companies to search for physicians with specific expertise who are interested in and can offer feedback on their solutions. The platform also provides both physicians and health tech entrepreneurs with opportunities to learn from like-minded innovators and medical professionals, including access to virtual panel discussions with experts. There is currently no cost for physicians or companies to join the network.
The AMA will continue to expand its efforts to advance digital health innovation by providing physicians with additional opportunities to engage in innovation and share their ideas, expertise and real-world perspective on the effectiveness of technology in medical practice settings.
"The AMA is committed to shaping a future where digital health tools are evidence-based, validated, interoperable, and actionable to ensure patients are receiving high-quality care. To make this a reality, the AMA is working with leaders across health care who are keenly focused on technologies that work better for patients and physicians and seeking ways to bring the physician voice into the innovation space," said AMA President David O. Barbe, M.D. in a statement. "We know that when physician expertise is aligned with input from partners on the leading edge of health technology, we produce meaningful results. The Physician Innovation Network will help ensure that physicians play a greater role in leading digital health innovations that expand the bounds of science, enhance patient care, and shape a better health care system, and improve the health of the nation."