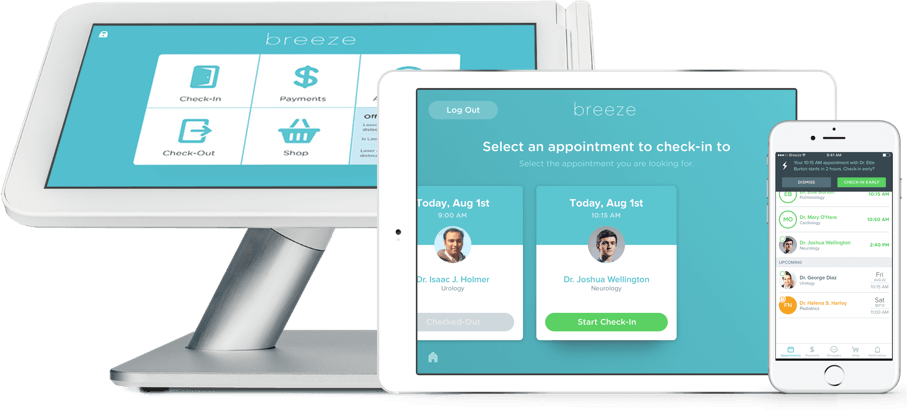 CareCloud and First Data have joined forces to help medical practices engage their patients through a new patient experience management platform called Breeze. Breeze's mobile and web apps allow patients to manage their doctors' appointments from their smart device, fill out necessary insurance and medical forms, and manage payments anywhere, anytime. This strategic alliance brings together the power and intuitive design of CareCloud's healthcare platform with First Data's commerce-enabling technology.
Breeze Availability
Available today, Breeze is the first CareCloud product to be developed in association with First Data, a global leader in commerce-enabling technology, and a strategic investor in CareCloud. Breeze will initially be marketed by CareCloud and a pilot group of channel partners. It will then be deployed to other First Data partners for commercialization, becoming available to the thousands of medical practices that use First Data's Clover payments technology directly or through First Data's channel partners and those looking to adopt Breeze in their practices.
Breeze Overview
Breeze applies consumer-centric innovations to healthcare, fundamentally transforming the interaction between a practice and its patients. The platform runs natively on First Data's Clover Mini and Clover Station, iOS or Android device, and any computer. Patients can access Breeze on any of these devices to check in, avoid wait times at the reception desk, and schedule their next appointment.
For payment, patients can view and manage existing balances on the go, using their payment method of choice, including credit, debit, mobile wallets, HSA, cash, or check. Patients also have the ability to set up partial payments or payment plans so they can pay when and how they want.
In addition, by digitizing the waiting room, Breeze helps physician practices of all sizes increase productivity, revenue, and patient satisfaction while reducing administrative costs. "From the moment that the patient walks in, they are happier, and my staff no longer has to spend time dealing with packets of registration papers. Our front office can now focus on patient care and delivering the excellent level of service that they deserve," says Barbara Arbide, a practice manager who is using Breeze in her allergy practice in Coral Gables, FL in a statement.
Practices using Breeze have access to more than 300 curated business applications — which simplify everything from inventory management to time tracking — through the Clover App Market. The flexibility of the platform enables CareCloud to continuously add new functionalities based on physician and patient needs. Additionally, the sleek look and feel of First Data's Clover devices will modernize any medical practice.