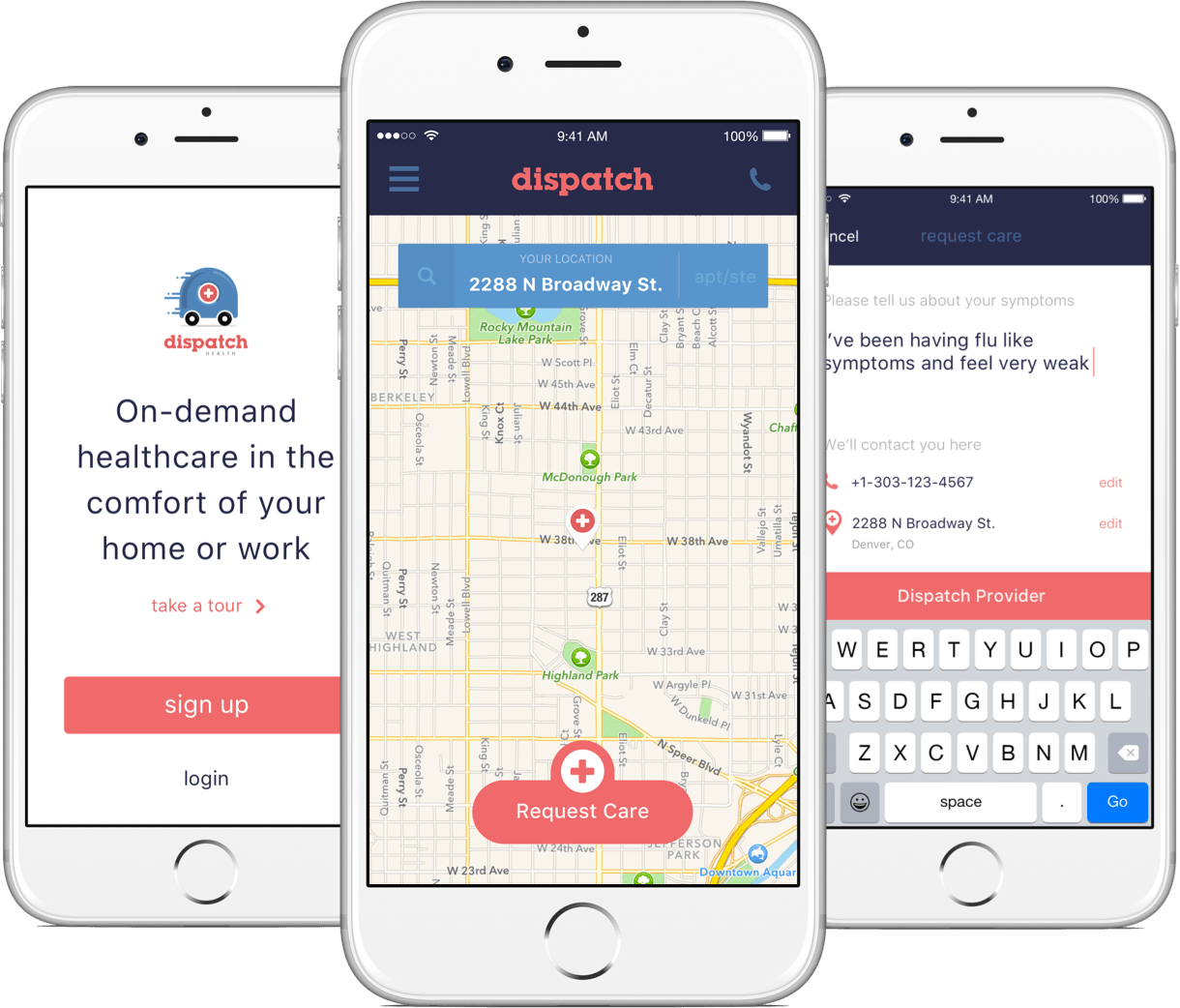 DispatchHealth (formerly known as True North Health Navigation), a Denver, CO-based provider of on-demand urgent care has raised $30.8M in funding co-led by Alta Partners and Questa Capital with the participation of strategic partner US Acute Care Solutions and existing investors. The company plans to use the funding to accelerate its mobile app-enabled on-demand healthcare delivery platform.
Founded in 2013 by two mobile health executives, DispatchHealth's team of board-certified caregivers delivers on-demand treatment with a call, click or tap of an app to a patient's home, senior community or office without the expense, inconvenience and time requirements associated with traditional acute care delivery.
How It Works
The service allows a patient to explain their symptoms and request care through a mobile app, the DispatchHealth website or a phone call. A patient is then connected to a skilled emergency-trained provider supported by DispatchHealth's technology infrastructure who is prepared to handle everything from minor illness and injury to more complex clinical cases. The right care is provided in the right place and at the right price, with an average price of $150 to $300 per visit, representing 80 percent in savings versus the cost of an emergency department visit.
"DispatchHealth was designed to promote access to care, improve patient experience and outcomes, and decrease the overall cost of care," said Mark Prather MD, MBA, CEO and co-founder of DispatchHealth in a statement. "There is a growing body of literature that suggests in-home care delivery produces superior outcomes, and this is consistent with our experience. To date, we have produced over $20 million in medical cost savings and our results are amplified by our ability to create optimized care plans while viewing, first-hand, the patient's surroundings and social determinants of health. This model is needed in every market across America. We are very excited to have Alta and Questa as our partners. They understand healthcare and are committed to the belief that the future of care delivery is in the home."
The service is currently available in Denver, Boulder, Colorado Springs and Phoenix, with additional service areas to be announced in the fourth quarter of 2017.