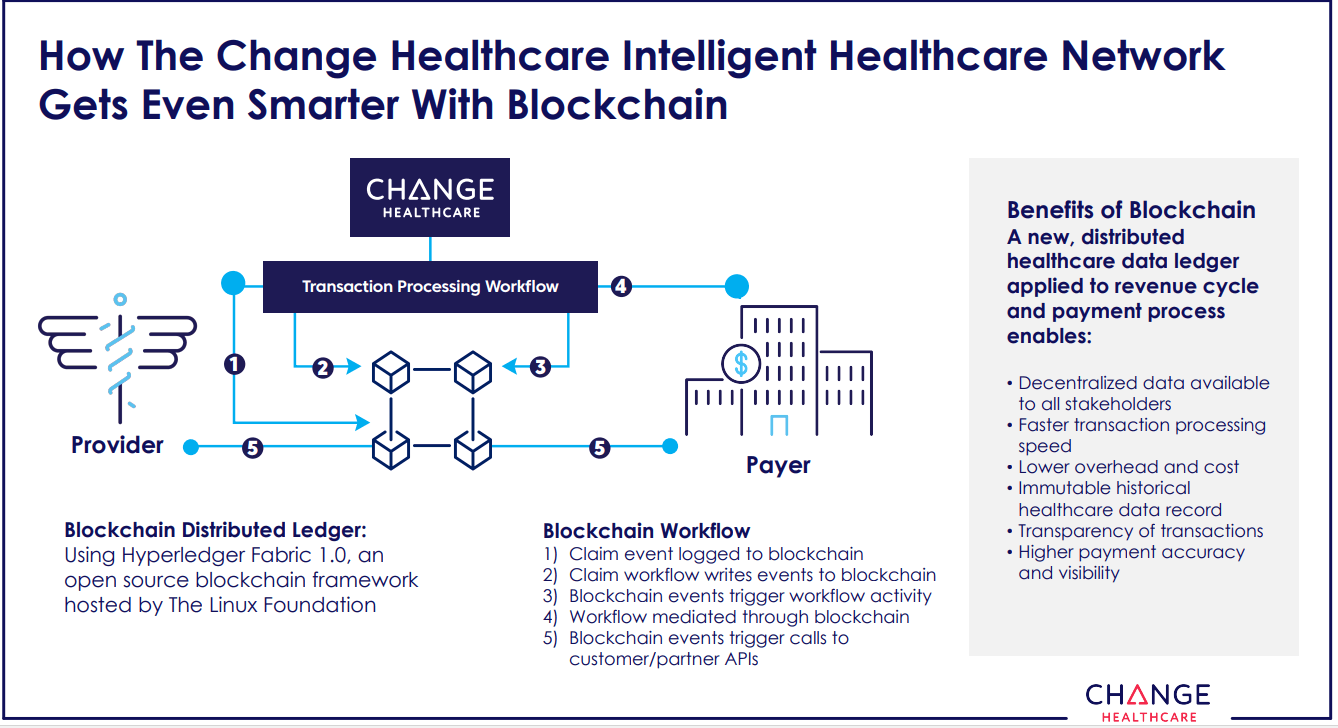 Change Healthcare today announced the launch of the first blockchain solution for enterprise-scale use in healthcare during Distributed: Health 2017 in Nashville, TN. The new blockchain solution will enable payers and providers to boost revenue cycle efficiency, improve real-time analytics, cut costs, and create innovative new services.
How it Works
Change Healthcare will employ Hyperledger Fabric 1.0, an open source blockchain framework hosted by The Linux Foundation, to create a distributed ledger that makes claims processing and secure payment transactions more efficient for payers and providers.
As one of the largest independent healthcare IT companies in the United States, Change Healthcare services customers across the continuum of care, using its Intelligent Healthcare Network™ to process 12 billion healthcare-related transactions covering over $2.0 trillion in claims annually.
Change Healthcare plans to have the Change Healthcare Intelligent Healthcare Network support blockchain transactions by the end of this year. Customers and vendor partners will not have to develop new code, interfaces, or data formats.
Change Healthcare Chief Executive Officer Neil de Crescenzo made the announcement during his keynote address at the Distributed: Health 2017 conference today in Nashville, Tenn. Mr. de Crescenzo said the company is collaborating with customers and organizations such as The Linux Foundation's Hyperledger project to make the benefits of blockchain technology broadly available and develop additional, advanced use cases. 
"We are excited to work alongside our customers and partners to make blockchain real in healthcare," said Mr. de Crescenzo in a statement. "As today's healthcare system becomes more value-based, it's essential that we aggressively and pervasively introduce new technologies into healthcare at scale—whether they leverage blockchain, artificial intelligence, or other emerging capabilities with the potential to improve outcomes and efficiencies. We are initially introducing blockchain technology to create a distributed ledger that makes claims processing and secure payment transactions work more efficiently and cost effectively for all healthcare stakeholders."