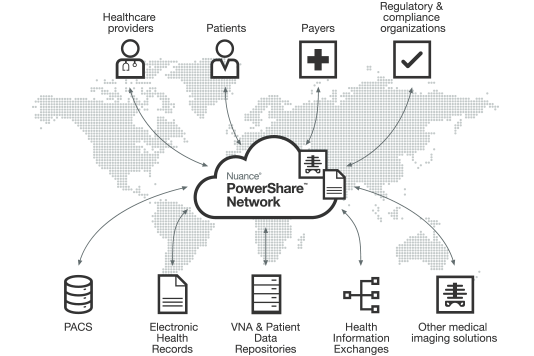 Nuance Communications announced that nine U.S. healthcare organizations have adopted the company's radiology solutions to enhance clinical collaboration as well as deliver more complete, timely and higher quality radiology reporting. Capital Health, City of Hope, Community Hospital of the Monterey Peninsula, Desert Radiology, LRGHealthcare, Medical University of South Carolina, Northeast Georgia Health System, Orion/Tower Imaging and Tennova Healthcare are representative organizations that have recently chosen Nuance to replace existing radiology solutions with Nuance's advanced diagnostic solutions, medical imaging exchange capabilities and clinical analytics to facilitate the transition to value based care.
Nuance's advanced radiology portfolio features image exchange, workflow orchestration, and advanced analytic capabilities that allow physicians to gain patient-specific insights, working to eliminate inefficiencies that can be frustrating for physician. 
When we talk about the struggles of interoperability in healthcare, we are often referring to data trapped in our electronic health records (EHRs). However, images also need to be easily exchangeable across disparate systems so that radiologists can access centralized and consolidated data to make informed care decisions. Coordinated Care Health Network (CCHN), Oklahoma's largest health information exchange (HIE) and a Nuance partner, uses Nuance to obtain greater insights into patients' imaging history and serve up patient-specific information through AI innovation to make more appropriate clinical decisions. With the PowerShare Network, CCHN is able to reduce members' costs – realizing up to 80% savings over previous costs for sharing data – as well as drastically improve workflow and information sharing among member organizations, with more time to devote to patient care.
"At a time when there is mounting industry pressure to prove value and increase efficiency, Nuance's suite of solutions enables our radiologists to simultaneously enhance patient care, manage their workload and meet documentation requirements. In fact, we chose Nuance PowerShare because of its proven track record to immediately deliver time and value back to our clinicians," said Dr. Brian Yeaman, chief executive and co-founder of CCHN. "Nuance's medical imaging solutions have helped us rewrite the playbook on information sharing among member organizations. The sophisticated integration capabilities and practical ease-of-use features allow our providers to devote more time to their primary mission – patient care."
Nuance provides intelligent systems that support a more natural and insightful approach to clinical documentation, freeing clinicians to spend more time caring for patients. Nuance healthcare solutions capture, improve and communicate more than 300 million patient stories each year, helping more than 500,000 clinicians in 10,000 global healthcare organizations to drive meaningful clinical and financial outcomes. Nuance's award-winning clinical speech recognition, medical transcription, CDI, coding, quality and medical imaging solutions provide a more complete and accurate view of patient care.