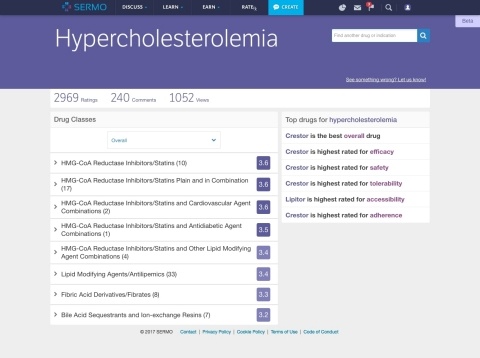 SERMO, a global social network for physicians has added a new feature to its Drug Ratings platform that enables physicians to search for and research prescription drugs by FDA-approved indications. Developed by SERMO and SERMO physicians, Drug Ratings gives physicians a clinical decision support tool where they can research, rate, and share their direct experience on specific drugs. With this new feature, physicians can evaluate different classes of drugs against each other for treating specific conditions, or compare unique brands.
Physicians can now examine the drug's overall rating, as well as see how other physicians rank classes and drugs on efficacy, safety, tolerability, accessibility, and adherence. This benefit enables physicians to find information as quickly or in as much detail as they need.
Since Drug Ratings launched in May, SERMO physicians have submitted an additional 100,000 ratings, bringing the total to 350,000, and an additional 3,000 comments, raising the number of insights to 23,000. An additional 23,355 physicians from 97 countries have searched the database to read peer reviews in that time. The database now includes over 3,000 drugs rated and ranked, more than 1,000 of which have over 100 ratings.
For example, if a patient were to walk into a doctor's office today with hypercholesterolemia, the treating physician could quickly query the Drug Ratings database right from the exam room to see what other doctors think of the available FDA-approved treatment options. They would see that statins are among the highest ranked drug classes for the condition, and that while physicians rate Crestor as the single best approved drug generally, Lipitor is ranked higher on accessibility – a subtlety that may be very important for some patients.
"Drugs don't walk into the doctor's office – patients with conditions do. Doctors tend to think of the patient's condition first and then think of the available treatment options. Now that physicians can search the Drug Ratings database by indication, they can discover the highest ranked treatment approaches for each indication as well as evaluate how peers rate all approved drugs against each other," said SERMO CEO Peter Kirk in a statement. "Drug ratings for doctors, by doctors are an entirely new resource in medicine, enabling doctors to discover new and physician-preferred treatment options for patients in real time."