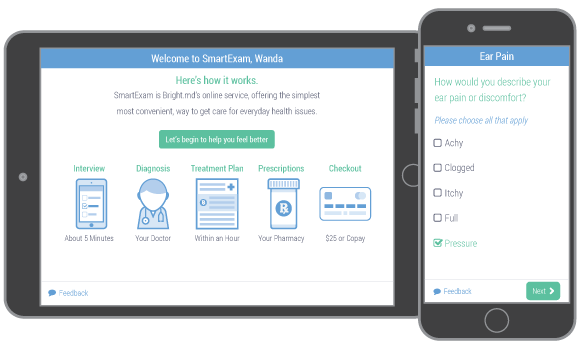 Bright.md, a Portland, Oregon-based  developer of a virtual care solution to improve efficiencies and reduce costs in the delivery of care for non-acute conditions has raised $8 million in Series B funding round led by B Capital Group with participation from existing investor Seven Peaks Ventures. The funding will support continued market development for SmartExam, Bright.md's cloud-based artificial intelligence (AI) software, including new implementations of healthcare delivery systems, increased sales and marketing efforts, expanded client engagements and additional hiring. The latest funding brings the company's to $11.5M.
Co-founded in 2014 by Ray Costantini and Mark Swinth, Bright.md's SmartExam acts as a virtual physician's assistant – think of it as the best automated medical resident ever – that enables primary care providers (PCPs) to deliver exceptionally efficient remote care, while cutting costs and improving outcomes. Using SmartExam, patients connect to their own PCPs using a mobile, tablet or desktop device. The intelligent software dynamically interviews patients, using answers to garner more information and support providers in the care delivery process.
By gathering information, referencing evidence-based criteria and creating an action report for use by PCPs within existing EHR workflow, SmartExam enables providers to achieve as much, or more, in a two-minute virtual patient visit as the 20 minutes of provider time needed for an office visit.
SmartExam is built on an AI platform that uses intelligent learning algorithms. The system gets smarter over time, as it learns more about a specific patient's health needs and conditions, and gains insights to improve the process with every patient and provider interaction.
Implementations in major health systems have improved patient visit efficiency by 90 percent, while dramatically improving per-visit margins and enabling providers to focus on making an informed diagnosis and treatment plan, including any necessary prescriptions.
In addition to the Series B funding round, the company also announced today that SmartExam is available to patients in Oregon, through West Coast health system Adventist Health. Adventist Health joins a growing contingent of large healthcare systems nationwide, including Greenville Health System and Rush University Medical Group, that are using the artificial intelligence-infused software to achieve benefits for patients, payors and providers. Together, those systems include more than 10,000 physicians and serve millions of patients nationwide.
"Providing convenient, affordable access to high-quality healthcare is a top priority for Adventist," said Ralph Prows, MD, chief medical officer at Adventist Health. "SmartExam provides patients with the simplest, quickest, least expensive access to medical care for acute conditions. It is the most convenient care for busy people, and is a breeze for our providers. It's an exciting addition to our suite of services to answer the needs of our community. This ability also helps our providers increase their top-of-license practice, making it a particularly valuable approach."
From a health system or large medical group perspective, the ability to rapidly implement SmartExam is also a key point of differentiation, according to Costantini. "We've helped multiple health systems go live with a robust set of EMR integrations in just seven or eight weeks," he said, as a result of the technology's attributes and the Bright.md support team.