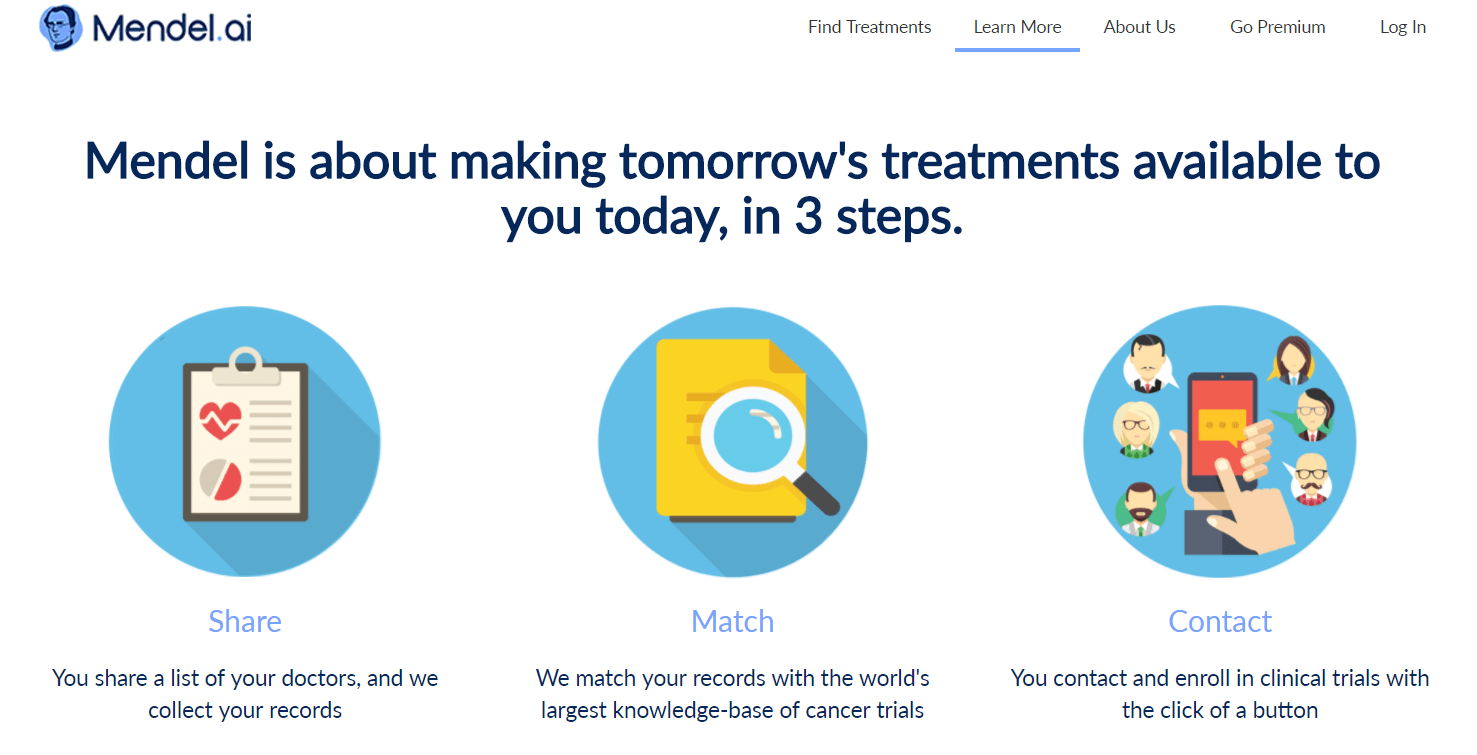 Mendel.ai, a San Francisco-based startup has raised $2 million in seed funding co-led by DCM Ventures and Bootstrap Lab to launch a new artificial intelligence engine for doctors. The company has developed a new artificial intelligence engine that enables doctors and patients to more quickly find the best diagnostic and treatment methods available for their patients' medical conditions.
Founded by Dr. Karim Galil, Mendel.ai has developed a sophisticated algorithm that understands the unstructured, natural language content within medical documents and is able to make exhaustive inferences without using pre-made, hard-coded rules – an undertaking that is too impractical for human experts to sustain over extended periods of time.
Powered by a patient's comprehensive medical record, rather than limited keywords, the search returns a fully personalized match and evaluates the patient's eligibility for each suggested treatment. Mendel.ai has built a team of physicians to train the artificial intelligence with real patient data and work with hospitals and cancer genomics companies to improve and introduce Mendel.ai.
Initially focus on connecting oncology and cancer patient populations with available clinical trials, the company has already successfully integrated the platform with the UCLA-affiliated Comprehensive Blood & Cancer Center (CBCC) in Bakersfield, CA. The integration will allow the Center's doctors to quickly and easily match their patients with available clinical trials in a matter of minutes — a time and resource intensive process that currently takes days or weeks to complete. The process for uncovering the latest, available treatments can often mean a patient never receives the treatment needed to save their life.
"As a physician, I have lost patients and family members to terminal cancer diagnosis, only to learn later about clinical trials that could have saved their life," says Dr. Karim Galil, founder of Mendel.ai in a statement. "Finding the right clinical trials can determine life or death for many cancer patients, but physicians just can't humanly stay abreast of the thousands of available clinical trials. After realizing the terrible inefficiencies in recruitment procedures for clinical trials, we set out to fix what can potentially save millions of cancer patients."
I work with a San Francisco-based startup called  which today announced it launched a new artificial intelligence engine that helps doctors and patients more quickly find the best diagnostic and treatment methods available for specific medical conditions — starting with cancer.