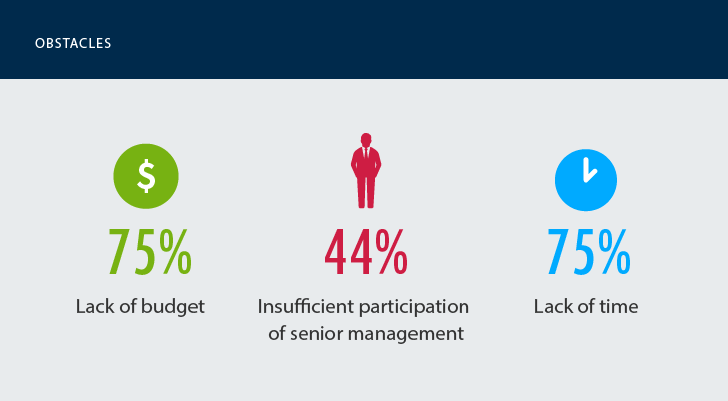 According to a recent Netwrix 2017 IT Risks Report, 75% of healthcare organizations indicated lack of budget and time as the main obstacles to taking a more efficient approach towards management of healthcare data breach prevention. Additionally, 44% stated appropriate participation of senior management as another key obstacle.
The 2017 IT Risks Report produced by Netwrix Corporation, provider of a visibility platform for data security and risk mitigation in hybrid environments asked IT pros from over 30 industries about their thoughts on:
–  adequacy of existing IT security controls
–  biggest IT risks they face every day
–  readiness to beat these risks
"While healthcare organizations continue to struggle with compliance and system availability, the security of electronic health records (EHR) remains their biggest concern by far. Despite the surge in malware attacks and the high price that healthcare records command on the black market, the healthcare industry still sees employees as the main threat to the security of their assets. Even though most employees do not have malicious intent, organizations need to gain visibility into user activity across the IT infrastructure," said Michael Fimin, CEO and co-founder of Netwrix in a statement. "Having a clear understanding of what is going on in the environment will help them mitigate the risk of human errors, detect and investigate incidents faster, and, as a result, improve the security of their sensitive patient data."
Other key findings from the report include:
95% of healthcare organizations do not use any software for information security governance or risk management.
68% of healthcare providers do not have a separate cybersecurity function.
56% of healthcare organizations perceive employees to be the biggest threat to system availability and security.
59% of healthcare organizations have had to deal with malware, and 47% of healthcare providers have had security incidents caused by human error.
Only 31% of healthcare organizations claim to be well prepared to beat IT risks.
56% of healthcare organizations plan to invest in security solutions to protect against data breach.