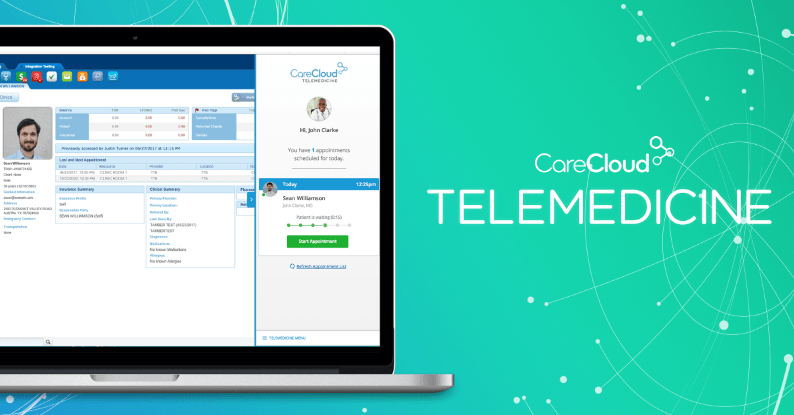 CareCloud, a practice management platform for medical groups has announced the launch of their new fully integrated pay-per-visit telemedicine solution. The integrated solution features a fully integrated solution that includes built-in insurance eligibility checking and scheduling tools, a unique pay-per-visit pricing model, and one-click activation. Simplifying clinical workflows, this approach to telemedicine seamlessly connects the dots between efficient practice management and secure video visits documented within the EHR.
CareCloud's research finds that, while patients and doctors largely support telemedicine, there are major hurdles to ambulatory telemedicine in the practice back office — where the technology poses more process change headaches than revenue cycle management (RCM) opportunities. Of the 922.6 million total U.S. physician office visits in 2016, only 1.2 million were telemedicine visits. With a back-office-first focus,
With a back-office-first focus, CareCloud Telemedicine key features include:

– Fast setup, which takes practices from enrollment to live patient visits in under 14 days
– Unique pay-per-visit pricing that offers major savings over standard per-provider monthly fees
– Scheduling for each telemedicine visit incorporated seamlessly within the platform
– Automated insurance eligibility verification, patient co-pay collection, and RCM billing services
– HIPAA-compliant video connections for patient privacy
Benefits to Practices Using Telemedicine
According to CareCloud's 2017 Practice Performance Index, high-performing practices are more than twice as likely to be using telemedicine compared to practices falling behind. Moreover, nearly 1 in 4 successful practices reports investing in telemedicine to improve patient experience. CareCloud Telemedicine provides revenue opportunities in converting phone consultations for tasks such as medication adjustments and reviewing abnormal lab results into reimbursable telemedicine visits. Additionally, the flexibility of per-visit pricing allows practices to use telemedicine based on the patient, not the payment schedule.
"Medical practices across the country have been telling us that they want telemedicine but were uncertain about the ROI and how to overcome the complexities of easily integrating video technology into their current workflows," said Ken Comée, CEO of CareCloud in a statement. "Our approach reduces friction and lowers the barrier to entry for physician practices across the country by helping to schedule telemedicine visits directly in our CareCloud Central practice management solution. The real growth for telemedicine is going to come from high-performing medical practices serving their existing patients using the technology — developing a better patient experience in an iterative way."