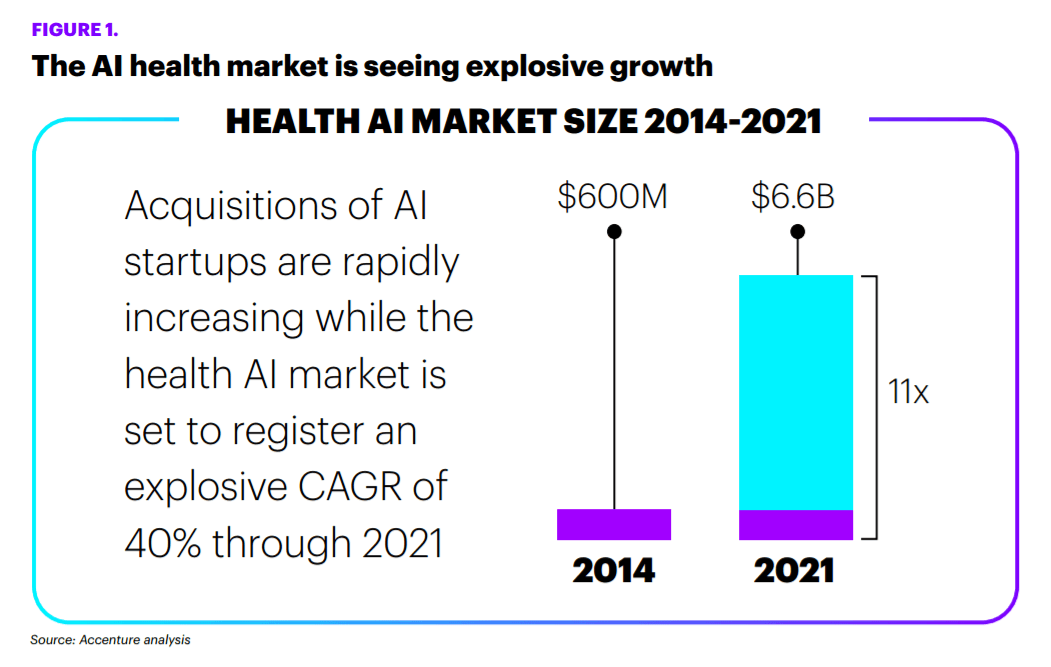 The artificial intelligence (AI) healthcare market is expected reach $6.6 billion by 2021, representing a compound annual growth rate (CAGR) of 40 percent over the next five years, according to a new report from Accenture. The report reveals key clinical health AI apps can potentially create $150 billion in annual savings for the US healthcare economy by 2026.
AI in health represents a collection of multiple technologies enabling machines to sense, comprehend, act and learn so they can perform administrative and clinical healthcare functions. Unlike legacy technologies that are only algorithms/ tools that complement a human, health AI today can truly augment human activity. With AI's popularity in healthcare exploring, the number of healthcare-focused AI deals increased from less than 20 in 2012 to nearly 70 by mid-2016.
Top 10 Healthcare AI Apps in Healthcare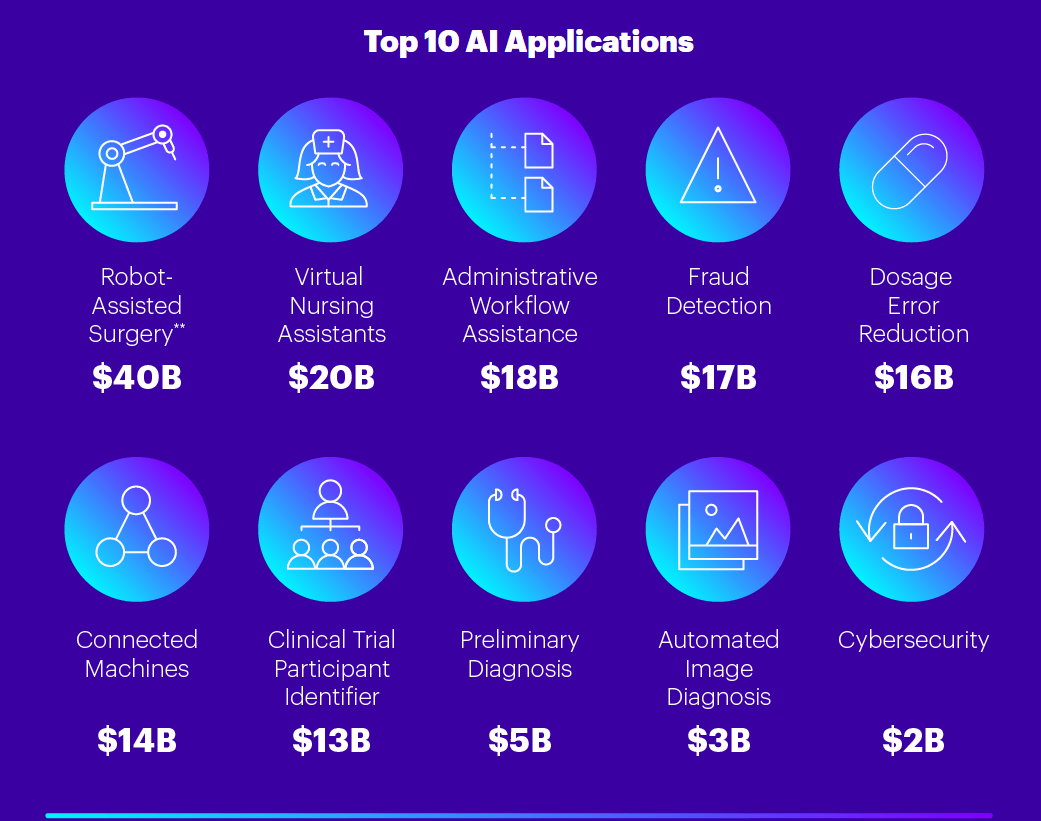 For the report, Accenture analyzed the top 10 AI healthcare apps with the greatest near-term impact. The assessment defined the impact of each app, likelihood of adoption and value to the health economy. The top 10 AI healthcare apps that represent the greatest near-term value are:
1.     Robot-assisted surgery ($40B)
2.     Virtual nursing assistants ($20B)
3.     Administrative workflow assistance ($18B
4.     Fraud Detection ($17B)
5.     Dosage Error Reduction ($16B)
6.     Connected Machines ($14B)
7.     Clinical Trial Participant Identifier ($13B)
8.     Preliminary Diagnosis ($5B)
9.     Automated Image Diagnosis ($3B)
10.  Cybersecurity ($2B)
AI Is Becoming the New OS in Healthcare
As AI continues to become more prevalent and adoption flourishes, healthcare organizations must enhance their underlying structure to be positioned to take full advantage of new AI capabilities. Accenture recommends healthcare organizations focus on the following four areas:
1. Workforce
The nature of work and employment is rapidly changing and will continue to evolve to make the best use of both humans and AI talent. For example, AI offers a way to fill in gaps amid the rising labor shortage in healthcare. According to Accenture analysis, the physician shortage alone is expected to double in the next nine years.
2. Institutional Readiness
To realize greater value from AI, healthcare players can incorporate AI expertise in their organization's structure and governance. For instance, assigning a lead who is tasked with keeping apprised of AI adoption within the organization.
3. Care Reach
Consumers want AI. In fact, they are six times more likely to view AI as having a positive impact on society. AI can magnify care reach by integrating health data across platforms. However, as new technology is introduced, various data sources must be connected to enable a seamless experience for patients.
4. Security
Parties in the ecosystem will need to work together in an ethical way, and be secure in how they manage critical information on patients. On average, every breached health record will cost $355.7 And not only do healthcare organizations lose money when data is compromised, they lose consumer trust.8 As AI delivers benefits of greater efficiency, transparency and interoperability, organizations must maintain a clear focus on informational security
For more details, see the full Accenture report here.