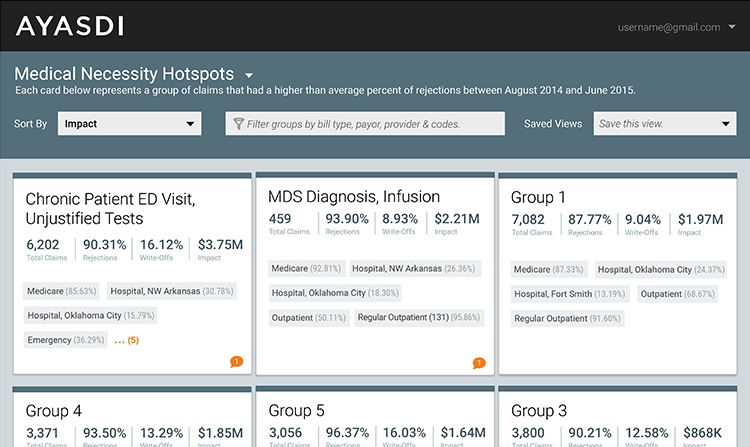 Ayasdi, a provider of machine intelligence software and AI apps, has announced the release of Ayasdi Envision, a new framework enabling health systems to become AI app incubators.  Starting today, health systems will be able to easily build their own apps on top of an enterprise-class Artificial Intelligence platform. The Envision framework will enable healthcare organizations to quickly create and consume intelligent apps that are purpose-built to solve a broad array of clinical and business problems.
"By 2018, Gartner expects most of the world's largest 200 companies to exploit intelligent apps and utilize the full toolkit of big data and analytics tools to refine their offers and improve customer experience," per Gartner's Top 10 Strategic Technology Trends for 2017. "However intelligent apps are not limited to new digital assistants – every existing software category from security tooling to enterprise applications such as marketing or ERP will be infused with AI enabled capabilities."
Breaking down the barrier between IT analysts and end-users
The new framework democratizes and accelerates the creation of intelligent applications. Designed for iterative development, its collaborative, workflow-oriented approach involves clinical end-users throughout the process, ensuring the requirements of subject-matter experts are met. Analysts, data scientists and IT groups can leverage the AI platform to build business-specific intelligent applications using a pre-built library of UI components. The new web-based framework features a simple user interface that is easy to learn and navigate to make it easy for clinical and financial department users and data analysts to work in lock-step together.
"Ayasdi Envision will transform how intelligent applications are designed, developed and deployed in the enterprise," said Ronaldo Ama, EVP, Product and Engineering at Ayasdi in a statement. "We've made it incredibly simple and natural for technical and non-technical counterparts to interact and collaborate on the development of intelligent applications using a visual, web-based workflow. These applications surface the power of Ayasdi to discover, predict, justify, act and learn on your data."