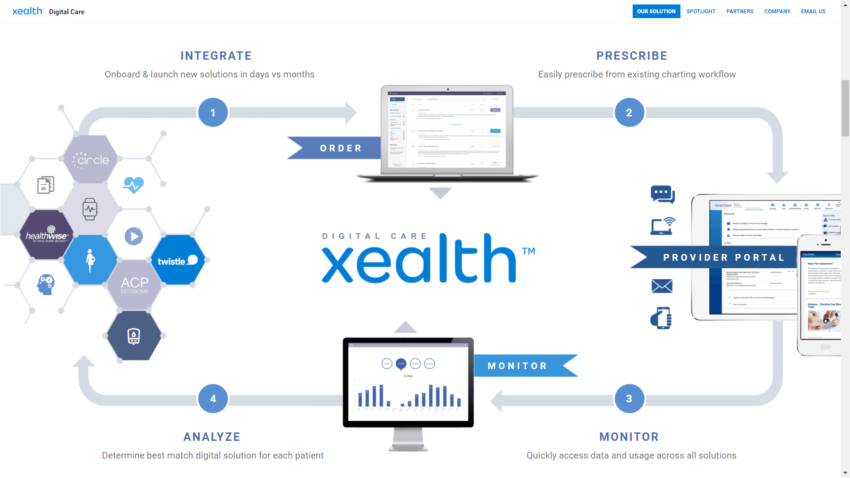 Xealth, a digital health startup incubated within Providence's Digital Innovation program has raised $8.5 million in funding led by DFJ to launch its digital prescription platform. The funding also included participation from leading healthcare organizations including Providence, UPMC, Hennepin, and Froedtert.
Xealth's digital prescribing and analytics platform is already being used by two of the largest not-for-profit healthcare systems in the US—Seattle-based Providence and Pittsburgh-based UPMC—enables  physicians and clinicians to prescribe customized digital health care content, apps, and services all from their electronic medical record (EMR) charting interface.
Xealth was incubated within Providence's Digital Innovation program. Mike McSherry, co-founder of Swype, a predictive text technology sold to Nuance in 2011, and several Swype team members joined Providence last year as executives-in-residence to find new innovations in health care. McSherry and team founded Xealth as a result.
Providence, UPMC, Hennepin Healthcare System, Froedtert Health and other health systems are using the Xealth platform to more easily integrate, prescribe, and monitor a variety of third-party digital solutions. These apps span patient education (articles and video), apps (oncology care, diabetes prevention), and connected medical devices (CPAP machines).
As provider systems continue to move more to preventative services, continuous care, remote monitoring and timely interventions, the Xealth platform will help teams provide better patient care. The technology was incubated within Providence's Digital Innovation program to support two initial use cases. In primary care, physicians can prescribe educational video content to engage patients in the discussion around advance care planning. In women's health, Xealth works with Circle, another digital service developed by Providence to provide personalized physician-led support for mom's from pregnancy to pediatrics.
"Providence and UPMC are our ideal launch partners, given their size and focus on the next generation of health care," said McSherry in a statement. "Together, we'll be able to better measure the impact of more engaged patients on their health outcomes, and the effectiveness of prescribed content, apps, and services. We're inspired by the possibility of this platform and its potential to become an industry-wide solution."