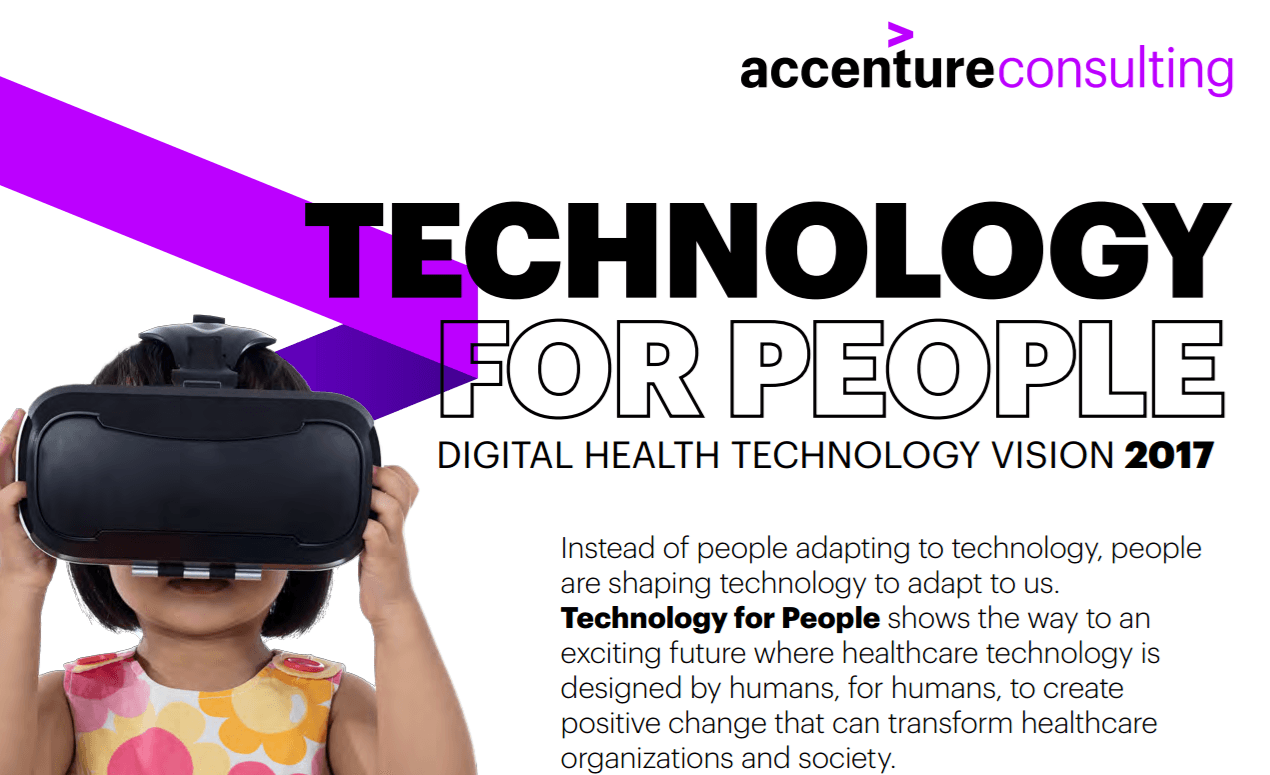 Leading healthcare organizations must embrace advances in artificial intelligence (AI), digital ecosystems and other technologies to empower consumer experiences and scale health expertise to meet changing demand, according to a new report by Accenture.
The Accenture Digital Health Technology Vision 2017 report reveals that digital breakthroughs are enabling healthcare enterprises to improve labor productivity, clinical outcomes and human experiences. This new era of healthcare innovation allows greater opportunities for self-management empowering consumers to access healthcare on their own terms. The Technology for People report illustrates the way to an exciting future where healthcare technology is designed by humans, for humans, to create positive change that can transform healthcare organizations and society.
In the report, Accenture identified five digital health trends that will reshape the healthcare experience over the next three to five years:
1. AI is the new UI: Healthcare Experience Above All
The growing role of AI in healthcare is moving beyond a back-end tool to the forefront of the consumer and clinician experience, becoming a new user interface (UI) that underpins the ways individuals transact and interact with systems. Today's AI-powered machines can perform triage to augment clinician decision-making, serve as advisors toward an optimal outcome, suggest options based on user behavior or patterns, and even orchestrate tasks across multiple channels to achieve desired outcomes. Emphasizing its growing importance of AI, more than four-fifths (84 percent) of healthcare executives surveyed as part of the research believe that AI will revolutionize the way they gain information from and interact with consumers, and nearly three-quarters (72 percent) of health organizations surveyed are already using virtual assistants to create better customer interactions.
2. Ecosystem Power Plays Beyond Healthcare Platforms
While health enterprises are increasingly integrating their core business functionalities with third-party platforms, they need to adopt a rich and robust portfolio of digital partners to compete with future business ecosystems. Accenture's research found that two-thirds (66 percent) of health organizations are taking steps to participate in digital ecosystems, 90 percent of health executives believe it is critical to adopt a platform-based business model, and more than three-quarters (78 percent) of the executives believe that competitive advantage will be determined by the strength of the partners and ecosystems they choose.
3. Workforce Marketplace: Invent Your Future Healthcare Workforce
Driven by a surge in on-demand labor platforms and online work management solutions, traditional hierarchies are being replaced with open talent marketplaces, which four-fifths (80 percent) of health executives surveyed believe will drive profound shifts in their economics. Case in point: More than two-thirds (71 percent) of health executives said they are already using on-demand labor platforms, and the same number (71 percent) believe that building a strong liquid workforce will help them win the war on talent.
4. Design for Humans: Inspire New Behaviors
The new frontier of digital experience is about designing technology for individual human behavior. Ninety percent of health executives believe there's a gap between the wants and needs of health consumers; four in five (81 percent) believe organizations need to understand where people want to be and shape technology to act as their guide, and four in five (82 percent) also believe that organizations that truly tap into what motivates human behavior will become the industry leaders. This shift is transforming traditional personalized relationships into something more valuable: interactions that span beyond a physical lifestyle or care setting.
5. The Uncharted: Redefining the Rules of Healthcare
Healthcare enterprises are not just creating new products and services; they're shaping the uncharted. More than two-thirds (68 percent) of health executives surveyed said their organizations are entering entirely new digital industries. From technology standards, to ethical norms, to government mandates, in an ecosystem-driven digital economy, one thing is clear: a wide scope of rules still needs to be defined. For example, two-thirds (66 percent) believe that many of their innovations in progress fall into gray regulatory areas. To fulfill their digital ambitions, 42 percent of these healthcare enterprises have already joined a consortium to self-regulate, taking on a leadership role to help shape the new rules of the game.
"When we adapt technology to the people that use it in healthcare, it creates new opportunities for patients to take control of when and where they want to receive care services," said Kaveh Safavi, M.D., J.D., senior managing director of Accenture's health practice in a statement. "With the convergence of these five trends, the health industry will increasingly tap digital technologies to empower human labor, personalize digital services and free-up clinician time to focus on where they're needed most."