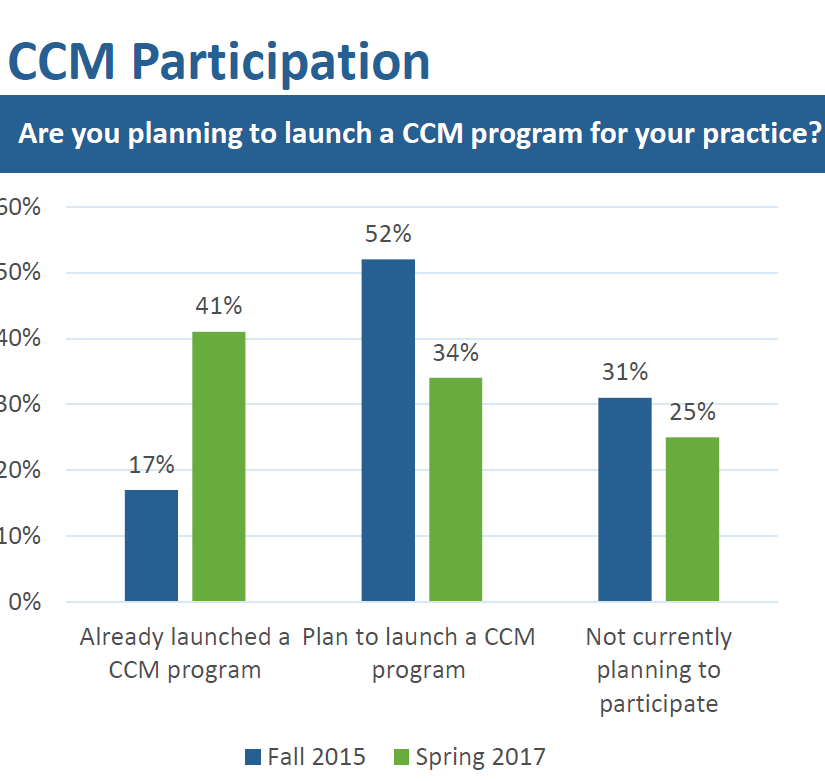 Following a slow start, U.S. physician groups have significantly accelerated their adoption of a key federal program aimed at improving the care of Medicare patients with chronic disease, while they remain relatively in the dark about the details of the 2015 law that the program has come to support.
Forty-one percent of physician groups have launched a Chronic Care Management (CCM) program that meets the requirements for reimbursement by the Centers for Medicare and Medicaid Management (CMS), according to a national survey by Smartlink Health Solutions (formerly Smartlink Mobile Systems), a provider of value-based healthcare technology solutions.  The online survey tracked the responses of 438 physicians, practice managers, and health system executives who were asked about MACRA and strategies like CCM that can help them meet MACRA's requirements.
The survey's findings should be reassuring for CMS, which launched an education initiative in March to education both physician groups and Medicare beneficiaries on the CCM program. The CCM program is an ambitious effort, launched shortly before the passage of MACRA, to curb the cost of caring for the 34.4 million Americans with two or more chronic diseases such as heart disease and diabetes. Improving care management for poly-chronic patients is a critical facet of the transformation to value based payment models such as MACRA.
The CCM program pays providers a monthly fee for historically unreimbursed services: non-face-to-face patient care between office visits such as coordinating with other health care professionals.  The program can potentially increase revenue for participating physicians by having qualified healthcare professionals spend at least 20 minutes per month monitoring patients diagnosed with two or more chronic conditions. CMS hopes the program will significantly improve the quality of life for patients struggling to self-manage their chronic conditions between episodes and to reduce high hospital readmission rates.
Other key findings from the survey include:
– Forty-seven percent of respondents said they don't know which of MACRA's two payment tracks they will fall under, indicating that most are still trying to figure out the ins and outs of the program.
– Of those who said they will fall under MACRA's "MIPS" payment track, a larger percentage than expected (47%) reported that they plan to participate in the program for the entire year in 2017. Only 14 percent of respondents said they will report MACRA at the minimum level, which CMS calls the "Test Pace."
– Nearly half of responding physician groups that fully outsource their CCM programs (46%) said they consistently bill 80-100% of their enrolled Medicare beneficiaries.  By contrast, only 7 percent of groups that use their own staff to provide CCM services reported consistently billing 80-100% of enrolled beneficiaries.
– Physician groups that participate in Accountable Care Organizations (ACOs) are more likely to have rolled out a CCM program (46%) than those in independent practice (41%) or non-ACO employed providers (34%). Adoption of CCM is highest among providers in large groups of 20 or more physicians; a turnaround from 2015 when groups of 6-10 physicians led in adoption. 
– Nearly all respondents (94%) say they provide Annual Wellness Visit (AWV) check-ups for their Medicare patients. The visits are the most common way for patients to learn about and be enrolled in a chronic care management program.  However only 1 in 10 respondents provide the visits for more than 80 percent of their patients; 44 percent are providing Annual Wellness Visits to fewer than 40 percent of their Medicare patients.  Physician groups that participate in Accountable Care Organizations (ACOs) provide the wellness visits to a higher percentage of their patients than independent or employed providers.
"MACRA has created a national competitive dynamic that wasn't there before. Winners in this new healthcare payment era will be those that act quickly to manage both short-term and long-term patient outcomes effectively, while leveraging insurer incentives to achieve better care," said Siu Tong, CEO, Smartlink Health in a statement. "High ROI government initiatives such as CCM and AWV are key variables in the value equation. The survey data bears out that while the market is now recognizing the importance of these programs, most clinics lack the resources and expertise to deploy them at a scale that will optimize the impact."