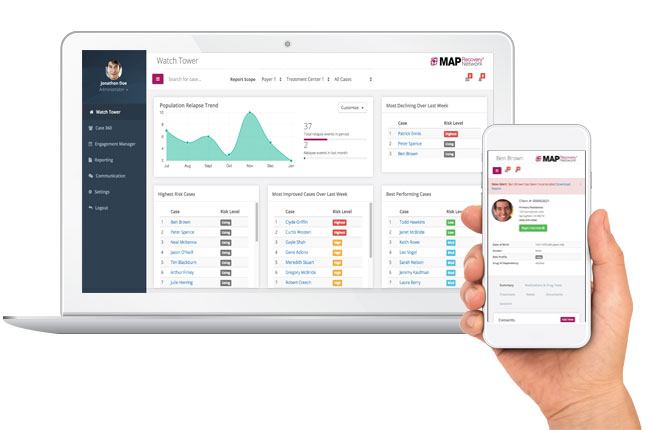 IBM Watson Health and MAP Health Management are teaming up to bring the data prowess of Watson to curb substance abuse and addiction in the United States. MAP will integrate Watson cognitive technologies into the MAP Recovery Network Platform to enhance the platform's existing capabilities around patient risk models. With this integration, it is anticipated that behavioral health and substance abuse treatment providers that use the MAP platform will be better able to predict and prevent incidence of relapse nationwide.
Substance abuse continues to be a major health problem in the U.S.  Addiction and substance abuse claim more than 125,000 lives per year in the U.S. alone and result in economic costs of up to 7002 billion annually. Last week the CDC released a new report that the ongoing American opioid and heroin epidemic is also fueling the rise in hepatitis C infections, with cases of hep C tripling between 2010 and 2015. More than 22.5 million Americans need help with a substance abuse disorder and only 2.6 million Americans are receiving treatment.
Unfortunately, current treatment programs do not provide sufficient support following acute treatment and lack a standardized means to collect data on long-term treatment program results. This means that many patients relapse following treatment and find themselves often back at square one as they fight their addiction multiple times.  
The Watson-powered MAP offering will help addiction treatment experts, care managers, and health care insurers take actions to prevent relapses before they occur. Watson's cognitive computing engine continuously learns, so MAP's solutions will increasingly be able to help identify those at risk of relapse and mobilize the information for earlier intervention and better outcomes.
For example, case notes from a treatment expert or care manager can often be omitted or lost as part of an increasingly automated treatment process because they are a form of unstructured data from which traditional tools cannot capture and extract value. A MAP platform that includes Watson functionalities has the ability to read such case notes, potentially allowing the MAP platform to surface insights for a clinician to consider when interacting with a patient.
Since 2011, more than 40,000 individuals in the United States have benefitted from MAP's support, data and technology. MAP has also conducted over 300,000 telehealth sessions domestically through providing post-treatment recovery support.  A minimum of 50,000 new individuals are expected to receive services in the next 12 months.  MAP's network includes members like Aetna Behavioral Health, who will deploy the Watson-powered MAP offering to help proactively tailor and deliver care management programs to those members to prevent a relapse before it occurs.
"IBM Watson Health and MAP have the potential to positively impact the tens of millions of people and families suffering from addiction in the United States," said Kathy McGroddy-Goetz, VP of Partnerships and Solutions, IBM Watson Health in a statement. "MAP Health Management is widely recognized as having a robust addiction outcomes database. IBM's Watson cognitive computing technology is a natural fit to further empower what MAP is doing to help improve qualitative and quantitative outcomes in the behavioral health and addiction treatment fields."