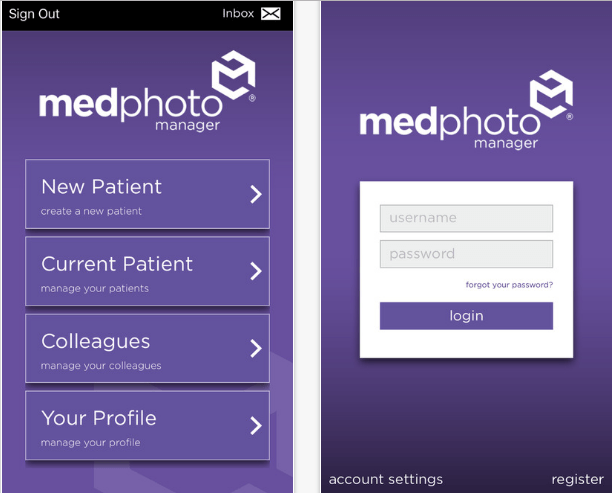 MedPhoto Manager, a healthcare technology firm improving physician and patient access to medical images has launched a MedPhoto Manager app that provides physicians with a secure real-time tool for taking, storing, and sharing patient photos. The app was developed by MedPhoto Manager Founder Dr. Michael Samuels, an optometrist based in Raleigh, North Carolina who saw the opportunity for a secure and reliable service that allows doctors to take and distribute medical photos. The app is currently implemented at an eye care center in North Carolina across its practice to increase efficiency, provide a better patient experience and better care.
Prior to development, he initially started using mobile device to take pictures, but saw the need for a HIPAA compliant solution that properly stored the photos and allowed sharing. However, the typical procedure for taking medical photos is time-consuming and cumbersome and can involve nurses and other staff going back and forth from diagnostic machines back to the patient.
The iOS app enables physicians to provide more personalized care for patients, which in turn improves the patient experience and retention, resulting in increased practice revenues in excess of $100k annually per doctor. With MedPhoto Manager, doctors can utilize their own mobile devices to take and then automatically store images in a HIPAA-compliant cloud server.
With MedPhoto Manager, the doctor simply takes the photo in the exam lane, and then immediately shares it with colleagues for expert opinions, and other approved caregivers. Patients will have access to their photos by simply logging into the app.
Key features and benefits of the MedPhoto Manager app  include:
– Includes a secure database of medical professionals using the application, with the ability for doctors to add "colleagues" for professional communication and networking.
– For patients, medical photo capture/messaging to their doctors and access to the photos taken during their exams.
– Seamlessly links patients and their associated photos, giving physicians a fast and accurate reference tool to gauge patient progress/prognoses.
– Allows improved and more transparent communication between healthcare providers and patients, creating a better patient experience.
– Reduces expense of utilizing medical imaging technology when it isn't necessary.
– Increases practice flow for doctors allowing them more opportunities to capture images that are billable to medical insurance
"I created this application, because I'm a doctor who saw the need for a simple yet powerful image storage and sharing tool," said Dr. Samuels in a statement. "The healthcare community needs to embrace applications such as MedPhoto Manager in order to improve efficiency and patient care. It also provides practices with a new revenue stream. While I utilize the app for my optometry practice, it's suitable for a wide range of disciplines that require photographic records. Our application provides physicians with a HIPAA compliant tool that better organizes patient photos and encourages inter-doctor collaboration."