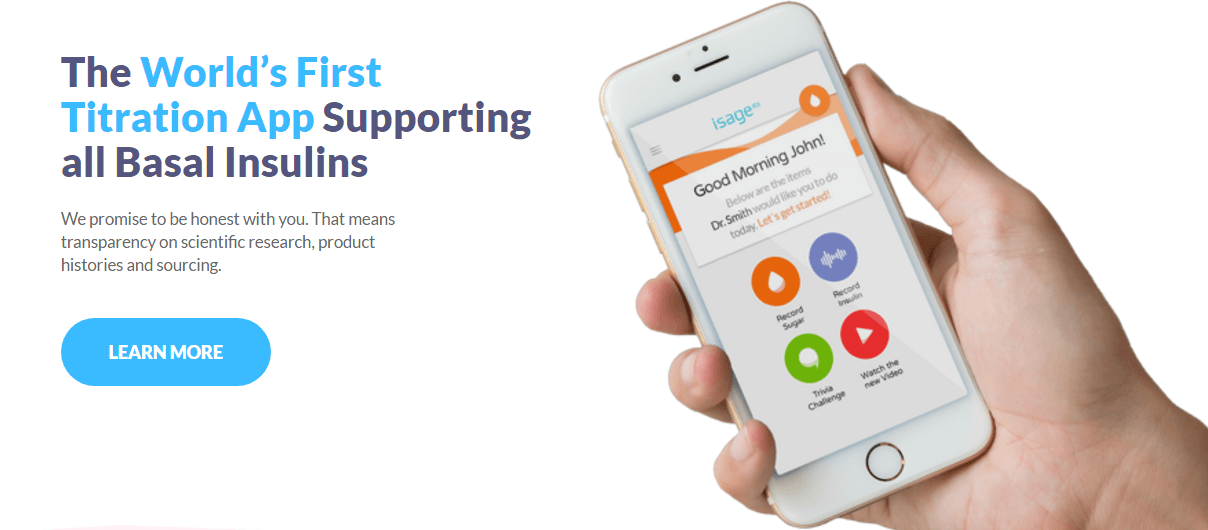 The team that created the first FDA-cleared mobile app for diabetes management at WellDoc has launched a completely new digital health company, Amalgam Rx. The new company is focused on developing next-generation, evidence-based digital therapies that empower and engage patients with chronic diseases. Amalgam's first product, iSage Rx is the first FDA 510(k)-cleared, prescription-only, mobile insulin titration app of all brands of basal insulin including Lantus, Levemir, Toujeo, Tresiba and Basaglar.
50 million people around the world that has Type 2 diabetes use basal insulin; however, getting their specific insulin dosage (or titration) right can take up to 6 years. Not only is starting daily insulin injections scary, but many diabetics are afraid of what happens if they get their dosage wrong. Worse yet, during that time they can have serious health problems like stroke, heart disease, vision loss and nerve pain. 
To solve this, Ryan Sysko and Dr. Susanne Clough (an endocrinologist) designed iSage Rx to help the millions of basal insulin users worldwide, who are not using prandial insulin or an insulin pump, reach their optimal dosage. It is the first of several new digital therapies being developed by Amalgam in partnership with leading life sciences companies to accelerate the development and commercialization of clinically-validated and regulatory-cleared solutions targeted to support specific chronic conditions. These solutions help healthcare providers, payers and life sciences companies meet the challenges of emerging outcomes and value-based care delivery models.
In addition to its insulin titration app, iSage Rx keeps patients motivated with the educational tools, resources and social support to help them eat healthily, get enough rest, remember to take their medication and other behaviors to keep their diabetes in check.. 
"People living with a chronic disease make a multitude of seemingly minor decisions every day that have a major impact on their condition. We founded Amalgam Rx because we have seen how technology can empower patients to make better decisions and lead healthier lives," said Suzanne Clough, MD, chief medical officer and founder, Amalgam Rx in a statement. "Decades of research and experience have proven that the right balance of clinical, behavioral, psychosocial, analytical, and gaming principles can create effective, highly personalized digital therapies. For healthcare providers, technology that makes patients' self-management easier is the only way that we can scale to meet the growing need while also improving outcomes and reducing costs."