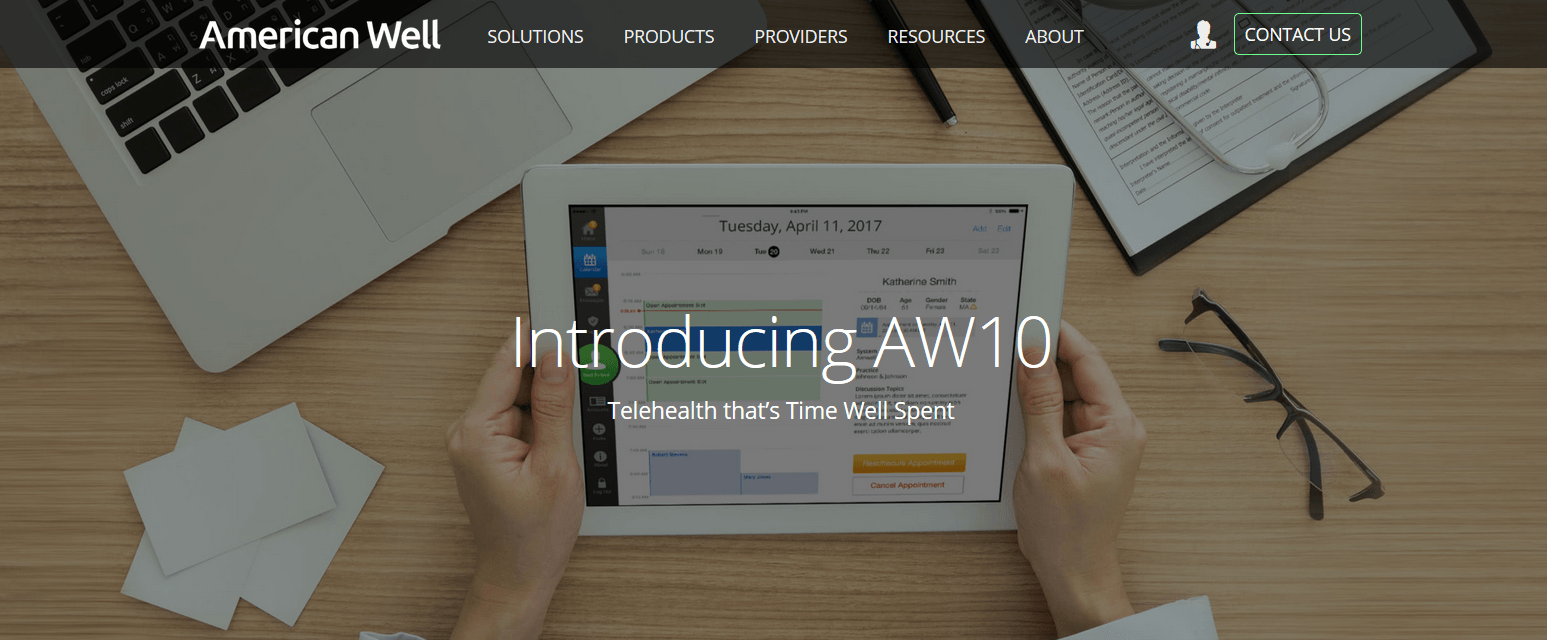 Telehealth provider AmericanWell has rolled out its newest enterprise telehealth platform, AW10 this week at the American Telemedicine Association (ATA) Annual Meeting. The new telehealth platform focuses on minimizing the time a doctor operates telehealth technology while maximizing the time a doctor interacts directly with the patient during a live visit.
AW10 aims to simplify the provider telehealth experience across four critical areas, bringing them closer to interchangeably seeing patients in person and via technology.
Key features of AW10 for physicians include:
– Streamlining the process of getting doctors enrolled on the telehealth platform and up and running, so that they can be verified and ready to deliver a live visit in minutes.
– Reduces the overhead and administration associated with telehealth visits, leaving doctors free to focus on clinical care.
– Using automated tools and workflows, patients are now fully prepped in advance of a telehealth visit – including insurance verification, payment vetting and technical setup. There are dozens more features that reduce provider headaches including text reminders, fast-track intake and a modernized look-and-feel of key screens.
– A completely revamped coding module makes it easy to access common diagnoses and procedures during follow-up visits, seamlessly switch between automated and manual prescribing, and instantly send prescriptions to the patient's preferred pharmacy.
– Doctors also have greater visibility into non-billable ICD-10 codes, and an easier way to view patient images in the visit console.
– Unlike "brick and mortar" medicine, telehealth programs require specific tools related to billing and claims. These new tools are incorporated into AW10 and include the ability to collect payment during the scheduling process or defer payment to a later date. Other features/enhancements include automated retry of failed billing transactions, automated follow-up when there are payment issues, and improved financial reporting to monitor end-to-end payment flow.
"With AW10 we're introducing more than 100 new features to the provider user experience that, when put together, let doctors focus more on seeing patients than operating the technology behind the telehealth visit," said Dr. Roy Schoenberg, CEO, American Well. "Everything from patient and provider sign-up, to visit pre-checks, documentation, prescribing and payment are simplified, automated or eliminated from the doctor and their staff's to-dos. We strive to make the provider experience with telehealth time well spent so that more clinicians can see their patients through telehealth without sacrificing efficiency or intimacy."
American Well plans to expand this technology to enable eligible clinicians – whether practicing within a health system, hospital, practice group, or independently – to sign up and immediately launch and start their telehealth practice this summer.