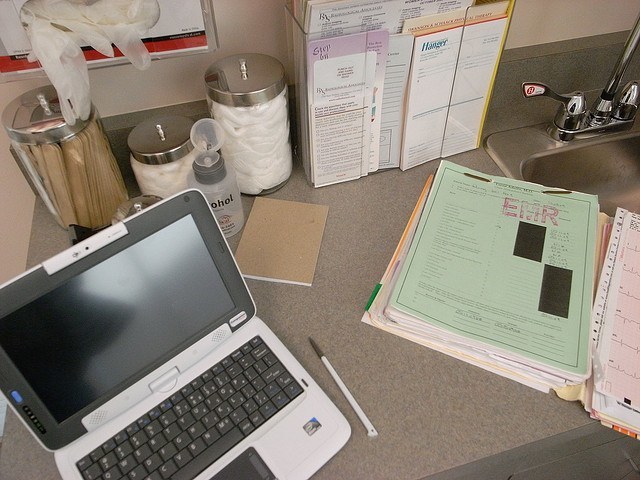 Regardless of how well or poorly your EHR was installed, EHR optimization ensures that your healthcare organization's EHR is changing with it.
Why, if over 95 percent of hospitals have implemented EHRs, are so many planning to invest in improvements or replacements this year? A new Healthcare IT News survey of hospital executives showed that 24 percent are conducting a major EHR system upgrade, and 21 percent are replacing their EHR at one or more sites. KPMG's survey of CHIME members last month found that at least 38 percent of CIOs are investing in EHR optimization projects this year; in fact, they plan to spend more on EHR optimization than any other area of HIT. These numbers are huge when you consider that most hospital EHRs are newer versions implemented to meet MU attestation requirements. A central reason for the continued need to upgrade or optimize, cited by both groups, was straightforward. Doctors and nurses still don't like their EHRs. The problem seems straightforward, but it's not.
Strange but true: the same EHR products get widely varying reviews. 
When you talk to doctors in some hospitals, you'll find strong appreciation for their systems, describing them as well designed tools that prompt users only when needed, save time, and support logical workflows. In other hospitals, physicians using the same commercial products as their satisfied counterparts are very unhappy. Complaints are that EHRs add work, decrease face time with patients, reduce the quality of relationships with patients, create usability slowdowns, and cause new errors. These physicians complain that the EHRs are not designed for the way they think and work.  A shorter interpretation: The EHRs are not user-friendly. Why the disparate responses to the same EHR products?
Poorly executed implementations
These are probably the single greatest reason physicians and other users dislike their EHRs. Every EHR approaches clinical problems differently, but federal requirements ensure a common set of necessary functionalities. Beyond these standards, each system does some things particularly well and other things not so well, depending on a hospital's needs and priorities. Given the disparities between individual implementations, does one EHR have innate superiority over others?  The context of the question is everything. What were the specific needs of your hospital? What upcoming challenges would need to be addressed? If these and other questions were not included in your hospital's implementation planning, it is not surprising that complaints about serious problems abound.
Start over with a new EHR, or optimize what you have? 
For some hospitals, post implementation issues have been severe because IT used a slam dunk approach to install new EHRs in time to attest to MU and earn incentive dollars. If a bungled install has been followed by poor vendor support and non-resolution of serious functional and user issues, starting anew with a different EHR may be a logical alternative. If the vendor relationship has gone so far downhill as to be irreparable, EHR replacement may seem a necessity.
Before investing millions more to replace an EHR "unsuccessfully implemented" in recent years, the idea of a successful implementation should be evaluated. The fact is, EHR design and customization is a process that is never finished. The changing state of the art, medical practice guidelines, and federal and state regulations mean that EHRs and the workflow of users continue to change. Your organization, regardless of how well or poorly your EHR was installed, will have to make sure the EHR is changing with it.
This is why so many hospitals are investing in optimization. Savvy CIOs know that their organization's EHR will never be done.
Optimization is needed after all implementations — both smooth and rocky.  
Capturing information is only the most basic feature of an EHR. The next is using and sharing that information to create more efficient processes and better clinical outcomes—in other words, optimizing to meet the needs of users and the goals of the organization. Essentially every hospital, whether the recent EHR transition went well or not, must continuously dedicate time and talent to process-related and other operational improvements.
For hospitals that experienced bungled implementations, making corrections and reengineering must be a first step.  If you didn't hire additional support for your systems early on — a common problem for hospitals that moved to more robust EHR systems — it's time to bite that bullet. Employing qualified application support staff will help reduce the hundreds of aging trouble tickets and ugly crowd of frustrated users that may have accumulated. We've seen a major difference in physician appreciation of EHRs just by competently tackling the chaos of ticket backlogs. Those new application support people will also be key to effective EHR optimization.
All hospitals, including those that have had relatively smooth transitions to their new EHRs, will need to continue process-related modifications based on user needs, but also on changes in the healthcare world. Payment reform, for example, is already impacting IT systems and how they function, as John Halamka, MD, CIO at Beth Israel Deaconess System and a professor of medicine at Harvard University reminds us: "EHRs were put in basically as dumb data communication systems without emphasis on exchange and workflow. But because of payment reform, we have incentives to do data exchange."
Key factors in successful EHR optimization
One of the biggest problems for doctors and other clinicians is they feel new EHRs were dumped on them and haven't been set up to mesh with how they work. The same holds true for so-called optimizations that don't centrally involve the clinical team. EHR optimization needs to cover key objectives:
– Achieving the basics: reliability, usability, security, privacy, training, and application support.
– Redesigning workflow to improve efficiencies, continuity of care and the patient experience; eliminating gaps in care; creating better outcomes, not just technology improvements.
– Involving physicians and nurses who understand that IT can help them transform care and want to make it happen; "buy-in" is not committed engagement.
– Incorporating professional project planning and design. If the hospital IT staff does not include a crack project planner, the costs of hiring one are far less than the price of a failed optimization. Professional implementation and optimization specialists abound in healthcare.
– Creating a realistic budget that includes dedicated staff. We all know the budget is a hurdle for the conscientious CIO dealing with bottom line-focused leadership. The term "optimization" reeks of fuzzy value to a stressed-out CFO or CEO. Overcoming the hurdle means solidifying the project's value—always a challenge for IT leaders. Not overcoming it may doom the project to failure.
– Planning and managing a silo-neutral project, which in larger hospital systems may be very difficult. Meaningful EHR optimization requires integration across every affected department, just as implementation did. The biggest difference is that optimization should never end.
– Making hospital-wide improvements and not the pet projects of particular departments the goal of optimization.
– Ensuring interoperability—first, internally within and across your hospital's systems and then externally among other providers, HIEs, and other community-centered healthcare provider groups.
Quality assurance: Making sure optimization works
Few IT-related projects are ends in themselves, unless you are designing an iTunes game. IT is used in hospitals as a means to ends focused on patient care and organizational viability. A major factor in optimization must be development of operating and outcomes standards, plus monitoring, assessment and reporting. This quality assessment process can get complicated and compromised as organizational goals, staff, industry trends and requirements change. Q/A tends to be one of the first must-do's that slips through the cracks between new initiatives. If you take at face value my argument that EHR optimization should never end, then defaulting on quality assessment is a sure sign that the long-term (maybe even short-term) value of your EHR is in jeopardy.
D'Arcy Guerin Gue is a co-founder of Phoenix, with over 25 years of experience in executive leadership, strategic planning, IT services, knowledge leadership and industry  relations —  with a special focus on patient engagement and federal compliance issues. She currently serves as the VP of Industry Relations at Phoenix Health Systems, a division of Medsphere Systems.